News > Pacific NW
Boeing's difficult journey from racism to diversity
Jan. 16, 2017 Updated Mon., Jan. 16, 2017 at 6:12 p.m.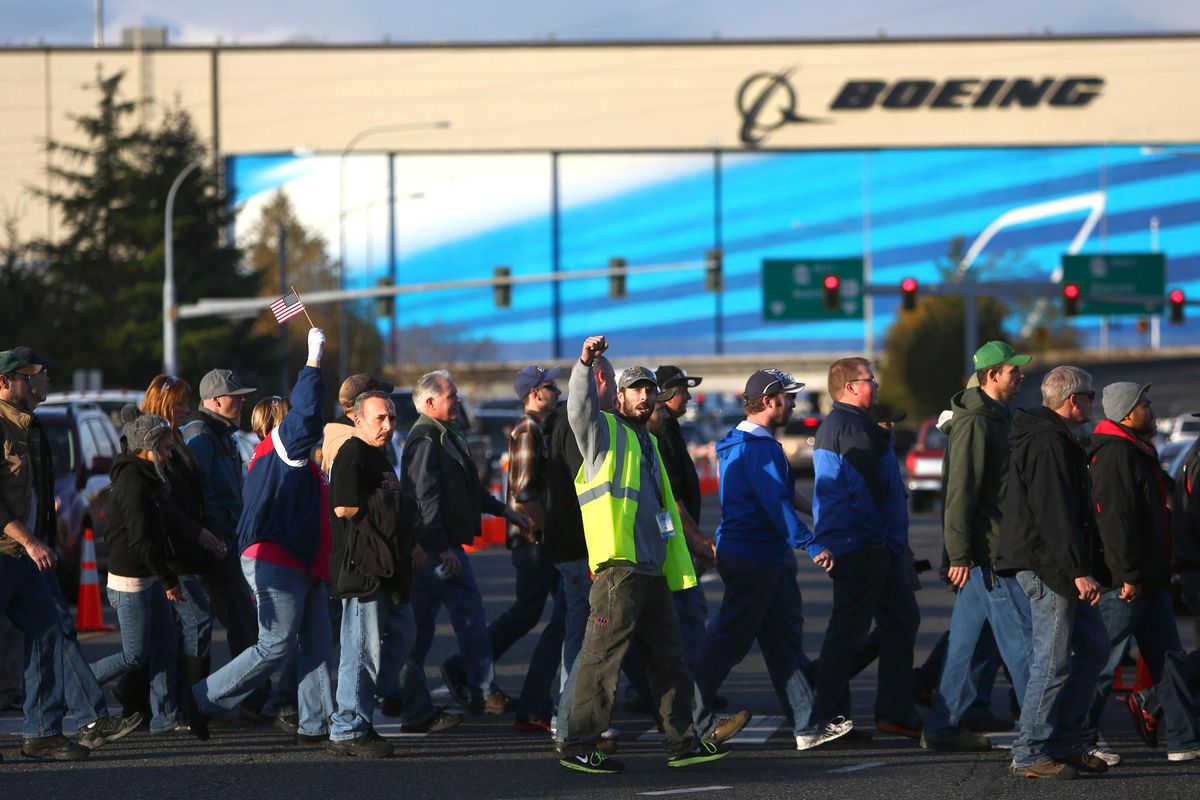 Boeing Machinists march to cast their vote at the International Association of Machinists union hall Nov. 13, 2013, in Everett, Wash. The union, which organized the Boeing workforce in Everett in 1935, was hardly the sole barrier to racial integration at Boeing. (Joshua Trujillo / seattlepi.com)
"I will not recommend for membership in this union any other than members of the white race."
That may sound like some old declaration from the Deep South. But until after World War II, that was part of the oath sworn by members of the International Assocation of Machinists union, which represented Boeing workers in the Puget Sound region.
The union, which organized the Boeing workforce here in 1935, was hardly the sole barrier to racial integration at Boeing. From the company's founding in 1916, management had not hired a single black person.
Prewar, such employment bans were pervasive throughout U.S. industry, even here in what's now one of the country's most politically liberal regions.
Boeing hired its first two black "Rosie the Riveters" in 1942 to build bombers for the war effort – more than nine months after a presidential order banning discrimination at defense companies – and afterward progressed only slowly toward equality.
Interviews with current and former employees trace a difficult journey spanning 75 years from the reluctant hiring of those black Rosies through today – when young African-Americans can take advantage of Boeing's official policy encouraging diversity and equal opportunity. (Boeing declined to share the racial demographics of its current workforce.)
In recent years a handful of African-Americans have risen to prominent positions in the company.
Joan Robinson-Berry held various engineering and supplier management roles at Boeing and now heads the company's growing Charleston, South Carolina, complex.
The highly regarded former chief financial officer James Bell in 2005 served for four months as Boeing's interim chief executive after a scandal ousted his boss. Marc Allen, president of Boeing International, is widely viewed as a possible future chief executive.
Yet even now, with race remaining a divisive issue in America, some black employees find the workplace reality at Boeing still falls short of the colorblind ideal.
Racist history
Even as World War II approached and the nation began a rapid buildup of defense workers, Boeing management resisted a federal edict to cease discrimination, according to Battle at Boeing, a Seattle Civil Rights and Labor History project at the University of Washington.
In the fall of 1940, Thurgood Marshall, then a lawyer for the National Association for the Advancement of Colored People and later a Supreme Court justice, wrote to the Seattle branch of the organization noting that Boeing had just been granted a $7 million government bomber contract.
Marshall encouraged the local branch to push for the hiring of blacks.
After black leaders threatened to bring thousands of protesters to the White House in April 1941, President Franklin Roosevelt issued an executive order requiring companies with government contracts to cease racial discrimination.
Local activists in Seattle mounted an intense public campaign to have Boeing comply with the order.
Yet in the following months, although Boeing was hiring 1,000 people a week, none of them were African-Americans.
That July, in a letter to the NAACP's Washington state branch, Boeing personnel manager Paul Fredrickson conveniently ignored the company's pre-IAM history of never hiring African-Americans and put the blame entirely on the union.
He cited the closed-shop bargaining agreement with the IAM's Local 751 and pointed out that "only those of the Caucasian race are acceptable" to the union.
By 1942, the needs of the war effort finally forced a management reversal and African-Americans, mostly women at first, were hired.
The union only reluctantly acceded, according to Seattle's African-American newspaper at the time, Northwest Enterprise.
"We rather resent that the war situation has been used to alter an old established custom," IAM representative James Duncan said.
The African-Americans that Boeing hired were required to pay for special temporary "work permits" that cost more than union dues, allowing them to work even though they were still barred from the union.
By 1944, about 1,600 blacks worked at Boeing locally, in a workforce of nearly 43,000 that was churning out B-17 bombers at phenomenal rates.
Defense hiring at Boeing and at Puget Sound shipyards brought an influx of African-Americans to the region, mostly from the South. According to a history of Seattle race relations by Howard Droker, Seattle's black population doubled between 1940 and 1944 to about 8,000.
The racist clause in the IAM oath was removed in 1946, after the war. Only then did Boeing truly begin to open up to African-Americans.
A black Rosie the Riveter
Lou Annie Charles, now 94, was one of those early black "Rosie the Riveters." She still lives in her Central District home, paid for, in large part, by her long career at Boeing.
Born in Muskogee, Oklahoma, she was raised on a farm where she picked cotton and grew vegetables. Charles trained as a riveter in the early 1940s under a New Deal program and was hired in 1943 to work for 60 cents an hour at Boeing's airplane plant in Wichita, Kan., where she assembled B-29 Superfortress bombers.
"It gave me an opportunity to help my parents," Charles said. "I sent money home. That was a good feeling, to have money to help them."
After the war when Charles and many other Wichita workers were laid off, she moved to Seattle, where the company rehired her in 1950.
At the old Plant 2 in Seattle and later in Renton and Everett, Charles worked at Boeing for another 38 years until her retirement in 1988.
"I did nothing but rivet," she said. "I enjoyed it."
The Boeing job allowed her to buy her home in 1956 – a time when the Central District was the only neighborhood open to black people for homeownership – and to put her two children through college. Her daughter became an airline flight attendant, her son a police officer and later an attorney.
Recalling her early days working at Boeing, Charles said she met very little racial bias.
"Most of the time, I'd be the only black woman in the shop," she said. "I never had any problem with anyone not wanting to work with me." She got on well with her workmates, though she said some of her supervisors were prejudiced and "not too nice."
Charles recalls her working life at Boeing fondly and still sends Christmas cards to the remaining members of her old crew.
The union's record
Emerson Hamilton, an IAM union official, will be 70 next month and plans to retire in two weeks.
Starting in 1979, he worked at Boeing in Seattle and Auburn, making airplane parts for 20 years, then was hired by the union as a full-time staff member.
"The Boeing Company is a good company to work for," Hamilton said. "They provide good jobs. I have no complaints about the benefits and pay. Just some people in management."
In his experience, said Hamilton, the company slapped down any instances of overt racial harassment. "They did not allow that," he said. "If they ever caught anybody doing it, they always took corrective action."
Yet he recalls having to fight for his rights in his early years on the shop floor. He found that management constantly left him behind under a grading system that determined whether workers could move up to better positions.
"I was training some of the young white guys who came in and they'd get upgraded before me," he said. "I fought against that."
After he protested to an official in the company's equal employment-opportunity unit, he got his upgrade.
Hamilton said it was similar issues that in 1994 led several dozen African-American employees in the Puget Sound region to file a class-action lawsuit against Boeing, representing about 4,000 black employees.
"African-Americans were getting fed up," he said. "They didn't think they were being upgraded like they should."
After civil-rights activist Jesse Jackson helped broker a $15 million settlement, Boeing donated $50,000 to Jackson's Rainbow Coalition organization.
However, an appeals court reversed the settlement in 2002 and a federal jury later ruled that Boeing had not discriminated in its handling of the promotion system.
Hamilton recalls how former district 751 President Bill Johnson and his successor, Mark Blondin, worked to try to make up for some of the union's history of racism.
One gesture involved giving special recognition to Roman Mayfield, one of the first African-Americans in the union who became a long-serving shop steward. Though in his early years at the company Mayfield wasn't allowed in the union, the IAM in 2000 retroactively granted him membership for those years, and honored him with various awards before his death two years later.
Yet Hamilton said the union still has some way to go. He says there have never been more than one or two black faces among the slate of full-time union officials, his being one of them.
"I take that as a token," Hamilton said.
A double minority
Omar Abdul-Alim, 50, joined Boeing in 1989 after leaving the Army. He works as a mechanic in Renton, pressurizing 737 fuel tanks to test the seals before the planes roll out.
Abdul-Alim is a double minority: An African-American, he grew up Baptist in Rainier Beach, then converted to Islam at age 30.
In 2000, he married a Somali immigrant and is active today at a Tukwila mosque popular with the Somali community.
He's grateful that the job at Boeing has given him what it gave generations of local workers without a college degree: the chance to earn good money and create a comfortable middle-class life.
Some of the African-American males he hung around with as a youngster sank into lives of drugs and prison. "A few of us were able to escape," Abdul-Alim said. "I and a few of my friends, we've been the blessed ones."
Yet management actions have recently soured his view of Boeing.
"It's not the same company we hired into," Abdul-Alim said, a common lament among Boeing veterans of every skin color since the last contract froze their pensions.
A forceful personality, he said he won't put up with disrespect on matters of race or religion, whether it comes from a Somali immigrant treating him as an outsider or from a prejudiced white American.
"There are people who are ignorant," Abdul-Alim said. "But I have a thick skin. I have no problem defending myself."
Even though he's endured a few incidents of hostility to Islam at work, he says "my being an African-American was more of an obstacle for me at Boeing than being a Muslim."
Boeing grants accommodations in his schedule to allow him to do his Islamic prayers five times daily. He has a prayer rug at work.
What he finds harder to fight against than open hostility from an individual is what he perceives as covert racism from some supervisors.
Echoing the complaints of those in that 1990s lawsuit, he said at times he's seen less-qualified white workers given transfers to better jobs ahead of him.
And he said he's been unfairly disciplined for arguments at work that grew out of racial harassment.
"Boeing says it's open opportunities for everybody. I don't find that to be true," he said.
Young, black, hopeful
For LaDonna Perkins, 25, who next month will complete two years as an engineer at Boeing, the experience so far has been entirely positive, full of openness, encouragement and possibility.
She grew up in the small city of Wetumpka, Alabama. The daughter of a clothing-factory worker and a carpenter, she's the first in her immediate family to go to college.
Perkins did two summer internships at Boeing before being hired full time. She now works in Renton in the cabin-interiors unit, as a project manager working on an airplane lavatory-lighting system.
Of about 50 engineers who graduated with her from the University of Alabama, six were black and three were women.
Although she's the only woman in her five-person work group at Boeing, the larger organization of some 120 people that she's part of has about 10 percent African-Americans, she estimates.
"I was very surprised. On my first day at work, I saw three African-American women in my first group," Perkins said. "In the interiors organization we do have a really diverse group, different people of color and from different countries."
She hasn't come across any bias.
"I grew up in Alabama. I've seen prejudice," she said. "I haven't experienced that at Boeing."
The encouragement of her manager "pushed me to think of all the things I can do at Boeing," she said, and she's taken advantage of Boeing-sponsored courses in professional development and technical matters. She also attended a company diversity conference in California with about 900 employees from all over the country, where she met chief executive Dennis Muilenburg and several vice presidents.
"The culture at Boeing is very inclusive," Perkins said.
She's become an evangelist for engineering and for Boeing to people back home in Wetumpka.
"I've had a couple of people Facebook message me asking what are the steps to become an engineer," Perkins said.
In 10 years, she said, her goal is to be a Boeing vice president herself.
Local journalism is essential.
Give directly to The Spokesman-Review's Northwest Passages community forums series -- which helps to offset the costs of several reporter and editor positions at the newspaper -- by using the easy options below. Gifts processed in this system are not tax deductible, but are predominately used to help meet the local financial requirements needed to receive national matching-grant funds.
Subscribe now to get breaking news alerts in your email inbox
Get breaking news delivered to your inbox as it happens.
---