News > Spokane
Dialogue key to keeping Martin Luther King Jr.'s 'Dream' alive
Jan. 16, 2017 Updated Mon., Jan. 16, 2017 at 10:47 p.m.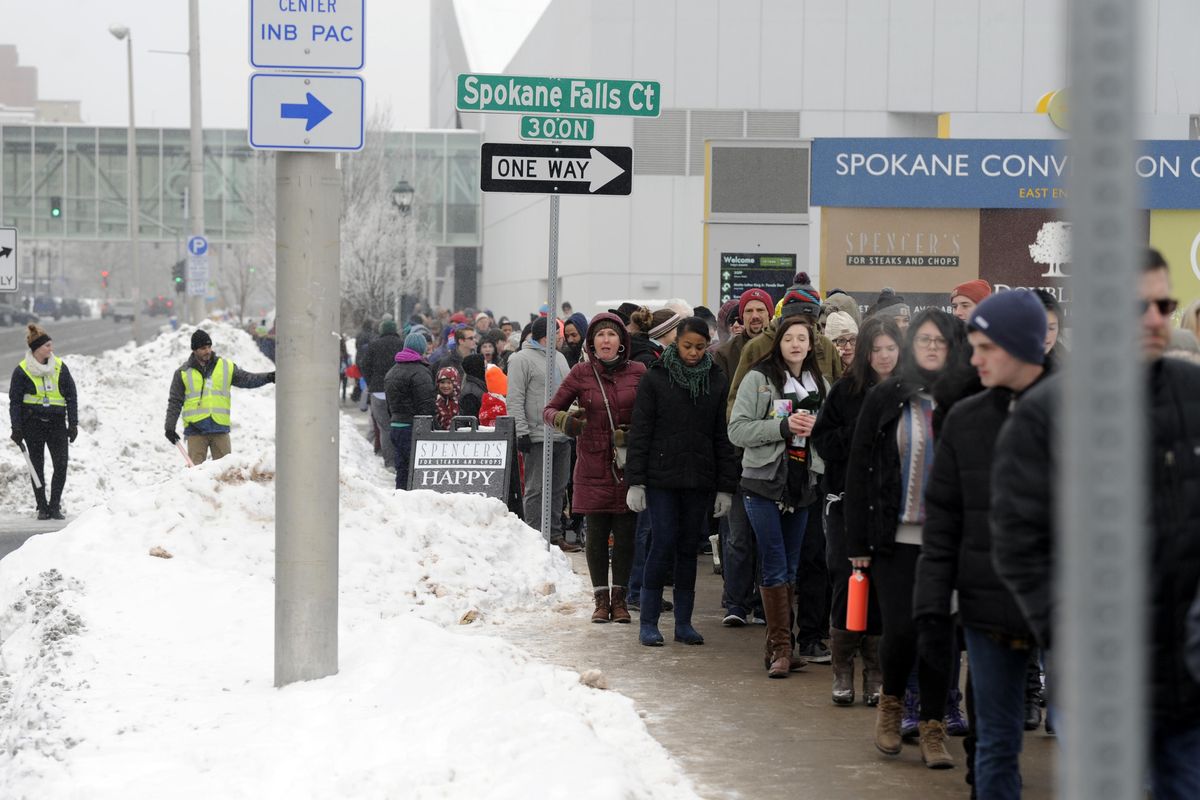 Hundreds wait in line on Spokane Falls Boulevard to get into the Spokane Convention Center for the Martin Luther King Jr. Day march Monday, Jan. 16, 2016. Security had metal detectors set up, causing a slowdown in entry to the building. (Jesse Tinsley / The Spokesman-Review)
Local leaders, before a crowd of about 2,500, called for more dialogue and more action to help keep Dr. Martin Luther King Jr.'s fight against injustice alive.
Fresh snow and temperatures near 10 degrees did little to deter a large crowd from showing up Monday to the Spokane Convention Center for the annual rally and march.
NAACP President Phil Tyler gave a rousing speech about the importance of ongoing action to address injustice.
"Silence is betrayal," he said, quoting King. "Do not betray your neighbor. Do not betray yourself. Today and from this point forward, do something."
The audience cheered as he said Spokane needs to talk about "justice for all, criminal justice reform, education and health care reform."
Echoing the themes of his first year leading the NAACP, Tyler also spoke about the importance of dialogue and nuance as tools for addressing partisanship and polarization.
"Talk is cheap. If it's so cheap … why are we not doing more of it?" he said.
Attendees packed into a room at the convention center and overflowed into the hall as they listened to speeches, songs and the traditional delivery of King's "I Have a Dream" speech by the Rev. Happy Watkins.
Security screenings delayed the start of the rally as attendees waited in long lines to go through metal detectors at the convention center doors. The Spokane Public Facilities District recently began screening attendees at all of its events. Midway through the morning's speeches, people were still trickling in.
Mayor David Condon read the city's proclamation in support of the Martin Luther King Jr. Day celebration, and City Council President Ben Stuckart helped Freda Gandy, director of the Martin Luther King Jr. Outreach Center, pass out community service awards to young people.
Tensions rose as Rep. Cathy McMorris Rodgers took the stage to speak about the importance of unity and working for positive change in the wake of a divisive presidential election.
Though she earned applause when she said, "More needs to be done to address racism in America," some in the crowd heckled her or turned their backs as she spoke.
Toward the end of her speech, audience members began chanting, "Save our health care," drowning out her final sentences. Some booed as she left the stage, while others applauded.
The response earned a rebuke from Gandy, the organizer and emcee for the event. She implored attendees to think of the children in the audience, who didn't know McMorris Rodgers' voting record and would only see her being booed.
"What divides us will destroy us," she said.
Athena Mason, an Eastern Washington University student who attended the rally, said she appreciated McMorris Rodgers' sentiments about addressing injustice, but found her inclusion in the rally "tone deaf," given her longtime support for repealing the Affordable Care Act.
"It's one of those things that disproportionately affects poor people" and people of color, Mason said.
The march route was shorter, in part to account for the cold weather, but many who had attended before said the turnout seemed much higher than in previous years.
A number of groups were represented, including the county Democratic and Republican parties, the NAACP, Eastern Washington University and Whitworth University.
Six-year-old Elijah Sarria walked with his mother, Natalie. He held a sign he drew in black and blue markers with the word "love" accompanied by hearts and other shapes.
A group of students from the Spokane Falls Community College Black Student Union walked together. For nearly all of them, it was their first time attending the march.
"It's a cause that's important to us," said CanJarri McKinley, the vice president of the group. She said she was happy to see local politicians attend and show they cared about equality for all.
Stephanie and Michael Conlin walked with their two sons. They have all attended the rally before and decided it was important to come again this year.
"I think it's very important, especially in this climate, to stand up and be seen and be heard," Stephanie Conlin said.
Her 8-year-old son, Eamon, said he wanted to be there, too.
"It's Martin Luther King's birthday and he stood up for people to get equal rights," he said.
Local journalism is essential.
Give directly to The Spokesman-Review's Northwest Passages community forums series -- which helps to offset the costs of several reporter and editor positions at the newspaper -- by using the easy options below. Gifts processed in this system are not tax deductible, but are predominately used to help meet the local financial requirements needed to receive national matching-grant funds.
Subscribe now to get breaking news alerts in your email inbox
Get breaking news delivered to your inbox as it happens.
---