News > Idaho
Five Idaho legislators stand with Rep. Heather Scott and asked to have their committee assignments stripped
Jan. 16, 2017 Updated Mon., Jan. 16, 2017 at 8:58 p.m.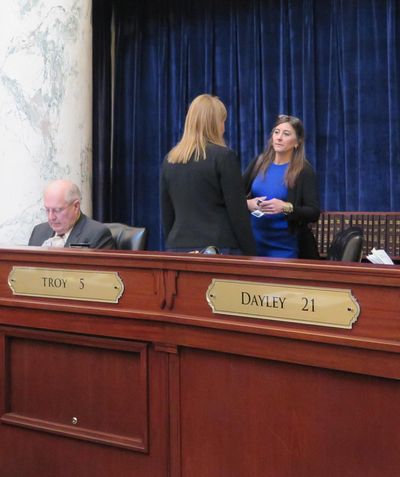 BOISE – Five Republican state representatives stood on the floor of the Idaho House Monday morning and asked to be removed from their committee assignments until Rep. Heather Scott, R-Blanchard, gets hers back.
"I'm deeply concerned about the integrity of this body and mixed messages being sent to the communities of Idaho," said Rep. Ron Nate, R-Rexburg.
Similar requests came from Reps. Karey Hanks, of St. Anthony; Dorothy Moon, of Stanley; Christy Zito, of Hammett; and Priscilla Giddings, of White Bird.
But House Speaker Scott Bedke, R-Oakley, said later, "I don't think I'll be acting on those requests soon."
House Republicans went into a closed-door caucus meeting immediately after Monday's floor session, but Bedke said no action was taken on the five lawmakers' requests. On Monday afternoon, they attended their scheduled committee meetings as usual.
Scott was stripped of her committee assignments last week after she said that female representatives only advance in the House, getting chairmanships, vice-chairmanships and the like, if they "spread their legs." Other lawmakers also complained about Scott's actions, including going to their districts to hold meetings where she criticized them to their constituents. Rep. Christy Perry, R-Nampa, submitted a formal letter to the speaker complaining about Scott's behavior.
Asked if the five members' statements on the House floor mean that the five are now off their committees, Bedke said, "I would have to take that action, according to the way I read the rule book."
One of the five, Giddings, said, "This has been a crazy week. I've been blown away by the way things are being handled, and it could've been handled so much better."
Four of the five are freshman representatives, serving their very first week in office; the only exception is Nate, who, like Scott, is in his second two-year term. He is Scott's closest House ally; over the past two years, the two often have been the only two "no" votes in the House.
Zito said, "For me, this is not a personal issue, this is a First Amendment issue – it has nothing to do with any particular person." Zito and Hanks were at a meeting Monday of the House Agricultural Affairs Committee.
Meanwhile, Scott on Monday emailed a newsletter to constituents in which she accused Bedke of stripping her committee assignments for "no addressed reason in order to flex his muscle to intimidate new liberty legislators."
Giddings, an A-10 fighter pilot who's currently a major in the Air Force Reserves, said she was pulled into a closed-door meeting last week and asked to be a witness about various comments, but hadn't witnessed anything. "I witnessed that there is a tremendous lack of integrity, transparency and accountability," she said. "That was very alarming for me. I had to decide what do I do."
Giddings said her request to be relieved of her committee assignments was designed to make a point. "I'm not trying to be rebellious – I want to work with them, I want to understand," she said. "I want to be part of the team. I don't know that I've been given that opportunity."
She said all she's heard about why Scott lost her committee assignments has been from the media, and she wants House leaders to bring House members together. "Let's heal these wounds," she said.
Bedke said as speaker, he's obligated to maintain "basic civility and decorum."
"I'm in charge of keeping a minimum of that, and I will," he said.
He said he hopes lawmakers can get past the Scott brouhaha and get back to work. "We have got important business to conduct here," he said.
He added, "Each of those committees has important issues that the citizens want resolved this session, and that's what we need to get to."
On Friday evening, Scott went on talk radio and reiterated her comments, and pointed to wrongdoing by others, from Gov. Butch Otter's 1993 DUI to a state representative's extramarital affair with a state senator. She also made reference to two state representatives who married in December. "We have all these documented lawbreakers," Scott said on the radio show. "Why was I chosen because I said something? That's my freedom of speech. I didn't break any laws. … Why were my committees stripped without any judge, jury, just stripped like that? There's something else going on here."
Local journalism is essential.
Give directly to The Spokesman-Review's Northwest Passages community forums series -- which helps to offset the costs of several reporter and editor positions at the newspaper -- by using the easy options below. Gifts processed in this system are not tax deductible, but are predominately used to help meet the local financial requirements needed to receive national matching-grant funds.
Subscribe now to get breaking news alerts in your email inbox
Get breaking news delivered to your inbox as it happens.
---