News > Spokane
Then and Now: Western Union Life Building
Mon., Jan. 16, 2017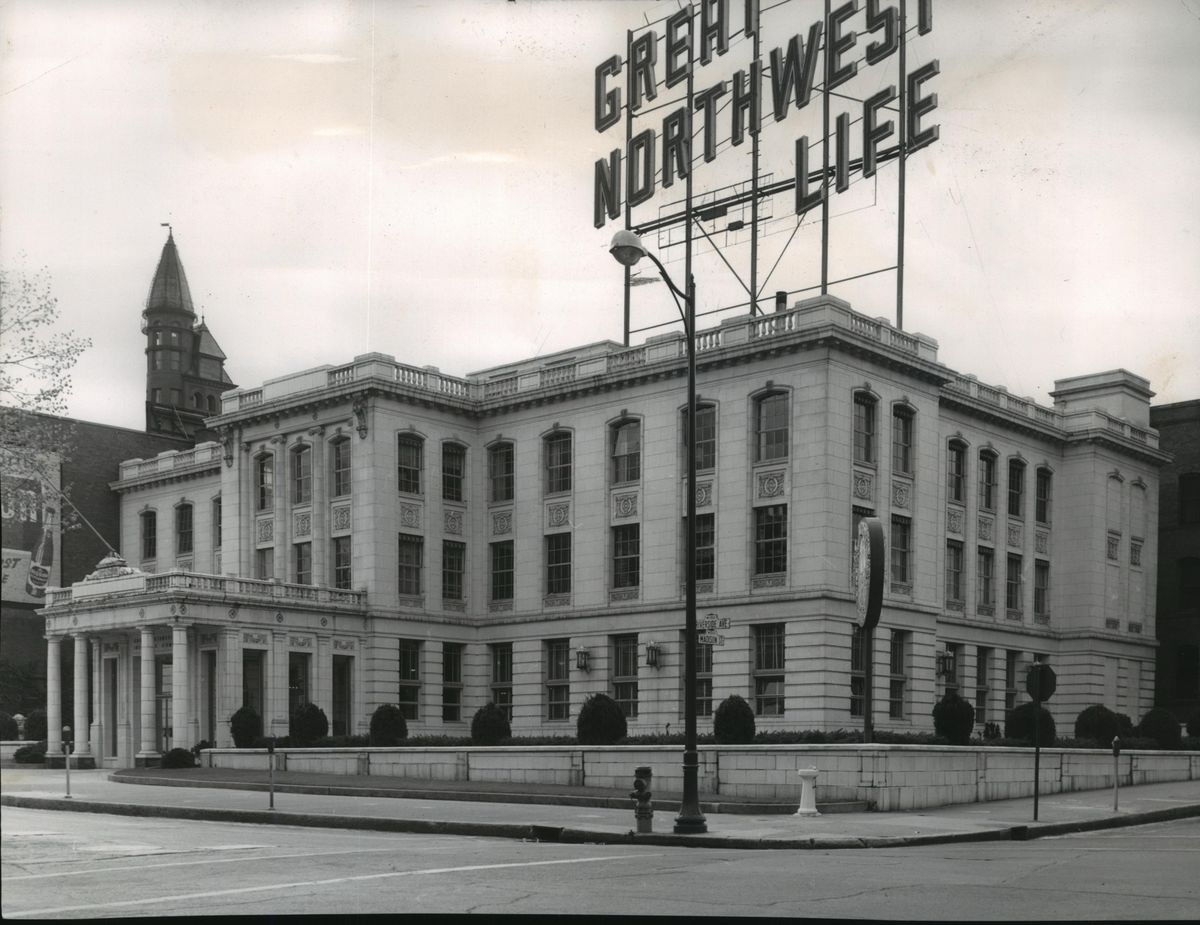 1962: Gustav Pehrson remodeled the original 1910 Western Union Life building in the Italian Renaissance style in 1923. The building was home to Western Union Life, Sun Life Assurance and Great Northwest Life insurance companies until it was sold to the Catholic Diocese of Spokane for their new chancery in 1966. (Spokesman-Review Photo Archive)
Banker Robert Rutter, hotel man Louis Davenport, mill owner J.P. McGoldrick and Henry Richards of Washington Water Power, along with several others, organized Western Union Life Insurance in 1906. It was immediately successful, writing more insurance in 1907 than all the other Washington-based insurance carriers.
Architect Kirtland Cutter designed an elegant and sturdy brick building in the Dutch style for the company offices, which opened in 1910.
Western Union Life quickly outgrew the building and needed to expand. Cutter had just left Spokane and moved to California in 1923 after suffering major financial losses. So the company hired architect Gustav Pehrson, who had worked for Cutter for 10 years, to expand the original structure in 1923. Pehrson added a story and glazed the entire structure in white tile.
Historian Bill Hottell wrote, "Pehrson created a dazzling pearl-white palace in the Italian Renaissance revival style and decorated its glazed terracotta surface with flowers, swags and medallions of ancient Roman design." Pehrson, both with Cutter and on his own, worked on many projects, including the Paulsen Medical and Dental Building, the Sherwood Building, the Roosevelt Apartments, the Greek Orthodox church, Eldridge Buick and the Chronicle Building.
Western Union Life was bought by Sun Life Assurance Co., of Canada, in 1927, and the building was remodeled for the new owner. Another insurance company, Great Northwestern Life, purchased the building in 1943 and stayed until the 1964, when the company merged with Sunset Life Insurance Co., of Olympia.
The Catholic Diocese of Spokane had lost the church offices, or chancery, to the path of the new interstate and purchased the former insurance office in 1966.
For 40 years, the new chancery on Riverside housed the church's administration. Our Lady of Lourdes, the diocesan cathedral, was next door.
The diocese sold the chancery building in 2006, along with other church properties, to raise money to settle mounting sex-abuse claims against priests. Centennial Real Estate Investments, a subsidiary of the Cowles Co., which publishes The Spokesman-Review, purchased the building for $2 million. Now called the 1023 West Riverside Building, its office space is now leased. The diocese still has offices on the third floor.
– Jesse Tinsley
Local journalism is essential.
Give directly to The Spokesman-Review's Northwest Passages community forums series -- which helps to offset the costs of several reporter and editor positions at the newspaper -- by using the easy options below. Gifts processed in this system are not tax deductible, but are predominately used to help meet the local financial requirements needed to receive national matching-grant funds.
Subscribe now to get breaking news alerts in your email inbox
Get breaking news delivered to your inbox as it happens.
---