Sports
GSL girls: Lexie Hull helps Central Valley win 42nd straight
Tue., Jan. 17, 2017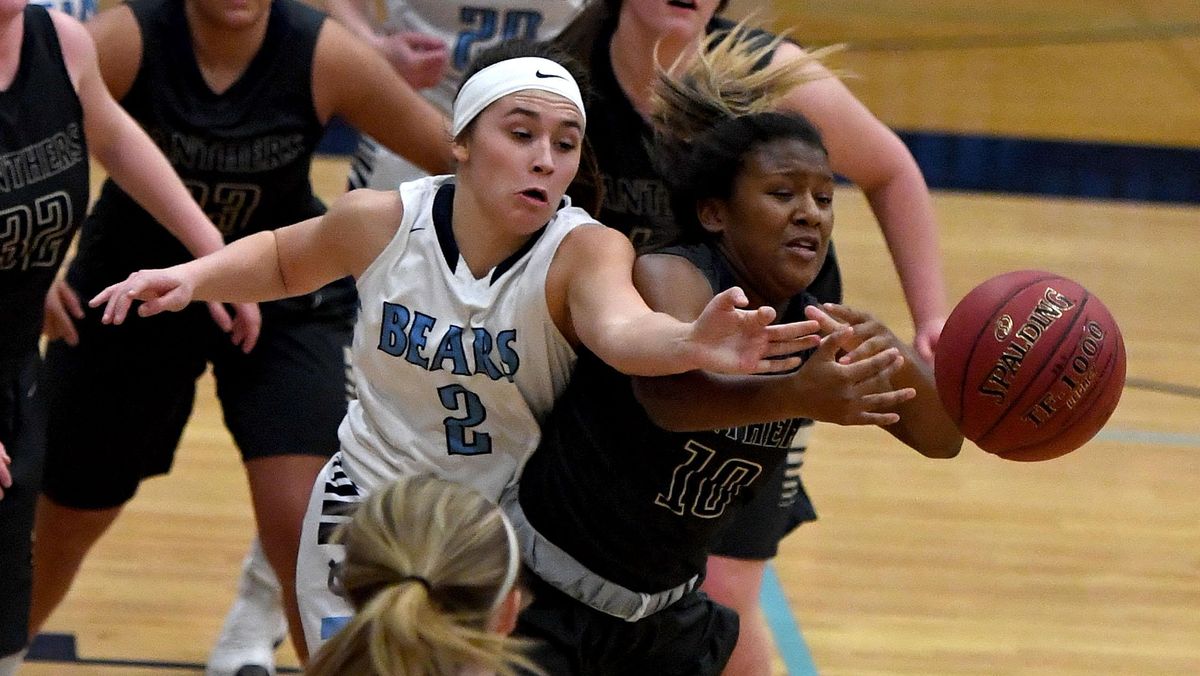 Central Valley's guard Courtney Carolan (2) and Mead guard Cheris Brown (10) chase a loose ball during a high school basketball game, Tues., Jan. 17, 2017, at Central Valley High School. (Colin Mulvany / The Spokesman-Review)
Lexie Hull scored 15 points with eight rebounds and Central Valley (14-0, 12-0) got a big win Tuesday night as the Bears toppled visiting Mead (9-5, 7-5) 58-22 in Greater Spokane League play.
Hailey Christopher scored 11 points with eight boards while and Lacie Hull added 10 points, seven boards and six assists for Central Valley.
Central Valley increased their win streak to 42 games dating back to last season and have held its opponents to under 40 points since the third game of the season, a 10-game span.
Gonzaga Prep 38, North Central 24: Olivia Mayer tallied 13 points and the visiting Bullpups (9-5, 9-3) topped the Indians (4-10, 3-9).
It's G-Prep's third straight win. The Pups raced out to a 13-5 lead after the first quarter and led 22-7 at intermission. Mayer had five of her points in a 9-2 second-quarter run.
Molly McDermott nailed two 3-pointers and finished with eight points for G-Prep.
Quincy McDeid led all scorers with 14 points for North Central.
Mt. Spokane 54, University 39: Jaidyn Lyman sparked the Wildcats (13-1, 11-1) as they used a 16-9 run in the third quarter to take control and defeated the visiting Titans (8-6, 7-5).
Aspyn Adams scored 18 points for the Wildcats. Adams had an off night from the floor thanks to some tough U-Hi defense, but was able to be a big contributor, hitting 13 of 16 free throw attempts to help the Wildcats.
Jasey Ramelow led University with 11 points and Claire Dingus added nine.
Lewis and Clark 76, Rogers 40: Dominique Arquette scored 20 points, including a pair of 3-pointers, and the visiting Tigers (7-7, 7-5) downed the Pirates (3-11, 2-10).
Arianna Reeves added 14 points for Lewis and Clark, which made 17 of 19 free throw attempts.
LC's Claire Mann nailed a 3-pointer and Arquette completed a traditional three-point play to put the Tigers up 6-0 and they never looked back. LC led 32-13 at halftime and put up a pair of 20-plus point quarters after intermission to run away.
Akon Aleu led Rogers with 17 points and 16 rebounds, while Kendal Tillett added 12.
Ferris 45, Shadle Park 31: Carin Scott scored 11 points and the Saxons (2-12, 2-10) outlasted the visiting Highlanders (0-13, 0-12).
The teams were tied at 20 at halftime and Ferris used a 9-2 run in the third, sparked by a Brook Goodwin 3-pointer, to seize the momentum.
A 3-pointer by Katie Uphus early in the fourth put Ferris up by 11 and the Saxons held Shadle at arm's length the rest of the game.
Local journalism is essential.
Give directly to The Spokesman-Review's Northwest Passages community forums series -- which helps to offset the costs of several reporter and editor positions at the newspaper -- by using the easy options below. Gifts processed in this system are not tax deductible, but are predominately used to help meet the local financial requirements needed to receive national matching-grant funds.
Subscribe to the sports newsletter
Get the day's top sports headlines and breaking news delivered to your inbox by subscribing here.
---