News > Idaho
Two Idaho GOP reps say they witnessed Scott cutting off purported 'bug' from Capitol ceiling
Jan. 17, 2017 Updated Tue., Jan. 17, 2017 at 10:53 p.m.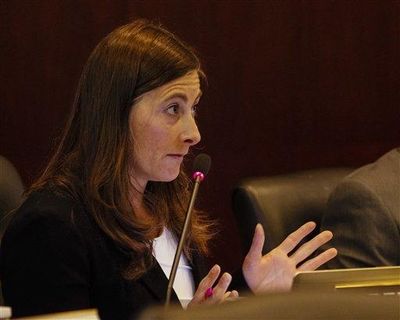 BOISE – Two Idaho representatives have released a statement saying they saw Rep. Heather Scott damage property in the Idaho Capitol building during her first week in office in 2015 out of fear that she was being spied on.
That same allegation, which Scott has denied, was mentioned in a letter submitted to the speaker of the House last week by another representative.
"While moving into our office spaces in the 'garden' level before the start of the 2015 session, we witnessed Rep. Scott climbing up on her desk to more closely examine a small, black object that dangled from a thin wire from the ceiling directly above Rep. Scott's office," the statement said. "She asked our opinion if the object could be a 'listening device,' before cutting the object off at the ceiling tile with a knife she had on her person."
The statement by Reps. Caroline Nilsson Troy, R-Genesee, and Don Cheatham, R-Post Falls, continued, "We later learned that the object was believed to be a part of the Capitol building's fire suppression system."
Rep. Christy Perry, R-Nampa, referenced the January 2015 incident in a Jan. 11 letter to the speaker that said, "Rep. Scott has displayed paranoid and aggressive behavior. One such example includes her damaging the historical Capitol building. Convinced she and others were being 'spied' upon by leadership, she has previously damaged the Capitol building looking for the 'bugs' she believed were installed in the ceiling."
In a radio interview on Friday evening, Scott denied that allegation, saying it was "completely false and she's probably going to be getting a letter from my attorney on this one."
A public records request submitted on Thursday to the state Department of Administration turned up no work order for repair of a fire sensor above Scott's basement office cubicle in the Capitol during the first week of the 2015 legislative session. But the department advised that if it were a lesser repair – not a damaged fire sensor – no contractor would have been called in.
"If damage is minor, such as a cover that has fallen off, Facilities Services staff would make the repair and the repair is either not recorded or is recorded as an Outlook Prevent work order," wrote Diane Blume, program specialist for the Department of Administration. Those work orders for repairs previous to March 15, 2015, has been deleted from the archive.
The allegation about damaging the Capitol building was among an array of concerns Perry listed in her letter, including a comment Scott made during this year's organizational session – within hearing distance of multiple representatives – that female House members only advance to leadership positions if they "spread their legs." Last week, Bedke stripped Scott of all three of her committee assignments.
On Monday, four first-year GOP House members and one second-term member said they, too, wanted to be stripped of their committee assignments until Scott got hers back. But all five have continued to attend and participate in their assigned committees since then.
Scott did not immediately return a call requesting comment. The outspoken conservative from Idaho's northernmost district won her second term in November.
Cheatham also is a second-term Republican, as is Nilsson Troy.
Local journalism is essential.
Give directly to The Spokesman-Review's Northwest Passages community forums series -- which helps to offset the costs of several reporter and editor positions at the newspaper -- by using the easy options below. Gifts processed in this system are not tax deductible, but are predominately used to help meet the local financial requirements needed to receive national matching-grant funds.
Subscribe now to get breaking news alerts in your email inbox
Get breaking news delivered to your inbox as it happens.
---