Sports > Seattle Mariners
Grip on Sports: Martinez won't make the Hall this year, but he'll get close
Wed., Jan. 18, 2017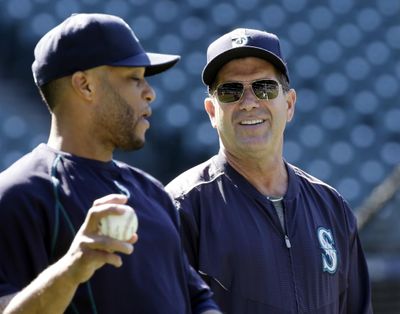 A GRIP ON SPORTS • Today Edgar Martinez will watch the baseball Hall of Fame voting announcement. For the eighth consecutive year, he won't earn the needed 75 percent for induction. But he will be a lot closer than he's been in the past. And will immediately become one of the favorites for next year. Read on.
••••••••••
• Being a designated hitter is harder than most people think. Not physically. No, it's easier than playing catcher or centerfield or shortstop. Mentally, now that's where it's harder.
Hitting a baseball is hard. The hardest thing in the galaxy according to the Washington National's savant, Jason Werth. And when you are not doing it well, it preys on your mind.
I used to see the baseball field two ways. When I was stroking the ball – admittedly, not as often as I would have liked – I would step to the plate, look out and think "look at all that green space."
But when I was in a slump? The same walk would end with, "geez, there are eight guys out there."
Same field, different vision.
For a majority of his career, Edgar Martinez was a DH. He didn't play the field. All he did was hit. And he did it incredibly well. Better than any designated hitter before and, arguably, better than any DH since.
I would argue – and have – not playing in the field made Martinez more valuable for his team. Look, Mike Piazza was voted into the Hall last year despite being a liability as a catcher. And as a first baseman. He actually hurt his team putting on a glove.
Martinez, if you watched him as a young man, wasn't all that bad. He just was brittle. By not playing in the field, it increased his chances of playing every day. The M's needed him. The DH was a great fit.
If you're only argument for keeping Martinez out of the Hall of Fame is the position he played, change your view. Please.
I once heard Ted Williams talk about the DH. Williams was one of the top handful of hitters of all time, arguably the best at blending power and average. But he was an indifferent outfielder. I didn't say poor, he was actually athletic enough to be good. But he was indifferent. He was caught, more than once, with his glove on the ground, miming his swing in the outfield.
That's what he cared about. Hitting.
But in this interview I saw, an older, wiser Ted Williams was saying he didn't think he would have been a great DH. The idea of only hitting intrigued him, sure, but he admitted he might have destroyed his swing – and his career – by overthinking things. He had that tendency.
Martinez didn't. He just came to the plate and stroked line drives all over the field. He did it well enough to be in the Hall of Fame. He won't get there this year. But the future seems bright.
• By the way, I didn't go through and list all of Martinez's numbers or the testimonials he's received from other Hall of Famers. That's for others to do. They are contained in the links.
•••
Gonzaga: The Bulldogs are blessed this year with two point guards in the lineup most of the game, Nigel Williams-Goss and Josh Perkins. Jim Meehan has this story on the duo. … It was Gonzaga day on the NCAA.com site, with stories featuring Williams-Goss and Jill Barta. … The chair of the NCAA tournament selection committee attended Gonzaga's win at USF recently. … BYU has found a player it needed. 
WSU: June Daugherty's Cougars are reeling. Not from losses, but from injuries. Her team has lost four key players, three probably for the season. Jim Allen has more in this college women's basketball notebook. … Utah visits Pullman to face Ernie Kent's squad tonight. Jacob Thorpe has an advance. … Another wide receiver has given WSU a commitment, but may end up playing defense in Pullman. … Elsewhere in Pac-12 football, new California coach Justin Wilcox met the media yesterday and said all the right things. Especially for the Cal crowd. … Former WSU player John Rushing has signed a two-year contract as an Oregon State assistant. … The biggest news story, nationally, is from Eugene, where the Ducks are doing damage control after an offseason workout went wrong. Oregon's new strength coach has been suspended a month, the organizational chart has been reworked, two players remain hospitalized and every columnist in the state is weighing in, some twice. … Washington quarterback Jake Browning had shoulder surgery. I guess he was hurt during the year. … One Arizona State recruit is already getting acclimated. … The conference's coaching turnover isn't all that bad. … The Cougars are among the winners in the NFL early entry sweepstakes. … Who will Arizona tab as its new athletic director? … In basketball, Washington is trying to figure out how to win any type of game. … So what is really causing Colorado's problems? … Oregon is on a winning streak but still has some shoring-up to do.
EWU: Whomever Bill Chaves picks to be the Eagles' next football coach, it will say a lot about which direction he wants the program to take. Jim Allen looks at the question facing Chaves and how he might answer it. … Jim also touches base with the guys caught in the middle, this year's recruits. Letter of intent day is only a couple weeks away. … Another football assistant is headed to Utah. … Jake Wiley earned a Big Sky honor.
Preps: We're leading today's section with an obituary, one I wasn't sure where to spot. When George Chalich died Sunday, he left a life that not only touched Gonzaga University, but other places as well. Being that I knew George mainly as a high school basketball official, I decided to put John Blanchette's tribute here. … There were games throughout the area last night, though some were postponed due to weather conditions. We still have a GSL girls roundup, with Colin Mulvany's photo report from Central Valley's win over Mead, and a GSL boys roundup. We also can pass along boys and girls roundups from around the Inland Northwest.
Seahawks: Once again the NFL is examining whether the Hawks broke rules, this time as they pertain to Richard Sherman's recently revealed injury. … Are the Arizona Cardinals more likable than the Hawks? In Phoenix, sure. … Tom Cable pulled his name from the 49ers' coaching search. Probably two minutes after they told him they were going in another direction. … Two Hawks were named to the Pro Bowl as injury replacements.
Mariners: Differing views are good. Great actually. So we pass along Larry Stone's column explaining his Hall of Fame vote and another from John McGrath. They view some players on the ballot differently. I respect Stone immensely, but I side with McGrath on this one.
Sounders: Hercules Gomez went out a winner. Now he's moving on to the broadcast booth.
•••
• For those of you wondering how UC Irvine is doing this college basketball season, we pass along this story. The Anteaters are in first place in the Big West. (In the business, those last two sentences are known as "click bait." After all, UCI is big in the Inland Northwest. At least my corner of it.) Until later …
Local journalism is essential.
Give directly to The Spokesman-Review's Northwest Passages community forums series -- which helps to offset the costs of several reporter and editor positions at the newspaper -- by using the easy options below. Gifts processed in this system are not tax deductible, but are predominately used to help meet the local financial requirements needed to receive national matching-grant funds.
Subscribe to the sports newsletter
Get the day's top sports headlines and breaking news delivered to your inbox by subscribing here.
---