Sports
Area boys: Jake Albright helps Clarkston stay perfect in GNL play
Jan. 20, 2017 Updated Fri., Jan. 20, 2017 at 11:43 p.m.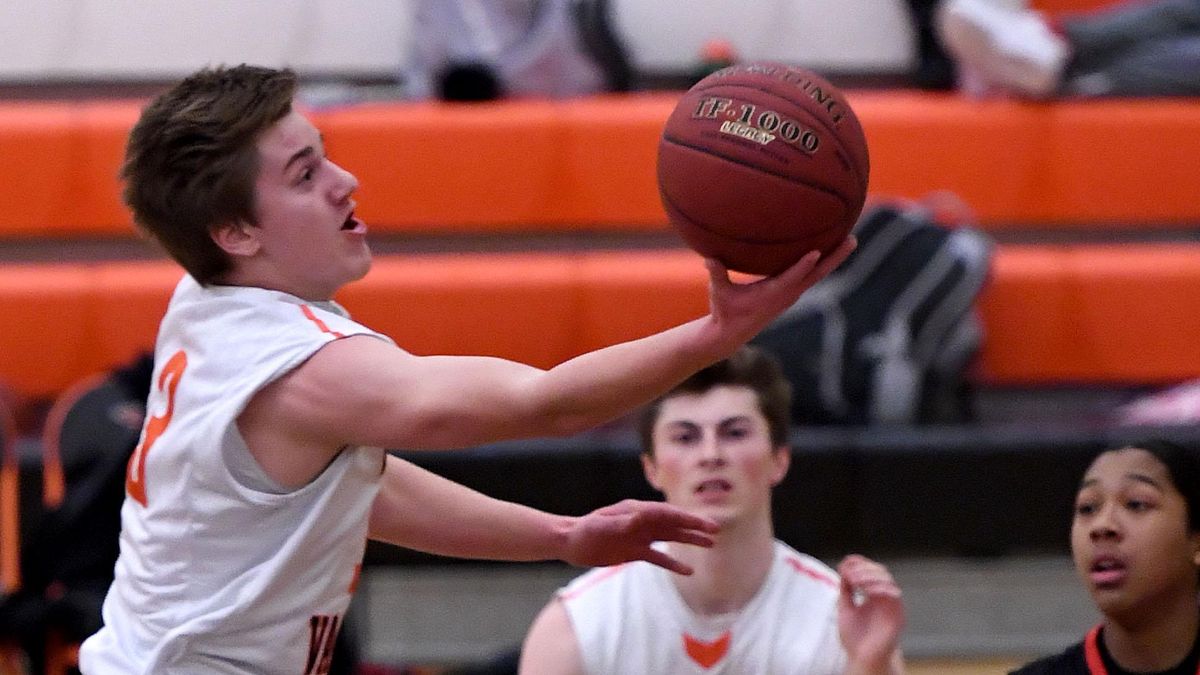 West Valley's Collin Sather (3) takes a shot during first half of high school basketball game, Fri., Jan. 20, 2017, at West Valley High School. (Colin Mulvany / The Spokesman-Review)
Jake Albright scored 10 points and visiting Clarkston (12-2, 7-0) stayed perfect in the Great Northern League with a 50-32 win over West Valley (8-7, 3-4) on Friday.
The Bantams outscored the Eagles in each of the four quarters, limiting West Valley to single digits in the final three. Clarkston used a 13-6 run in the fourth to put it away.
Travis Hansen scored nine points, while Clarkston's leading scorer, Jett Sobotta, was held to eight.
Ariez Daniels led West Valley with nine points.
Pullman 67, Cheney 26: Jake Cillay scored 21 points to help the visiting Greyhounds (10-4, 3-3) defeat the Blackhawks (8-7, 1-6).
Isiah Strong and Joey Vannucci added eight points apiece for Pullman.
Northeast A
Freeman 73, Colville 60: Michael Coumont scored 23 points and the Scotties (14-1, 9-0) beat the visiting Indians (3-12, 1-8).
Ryan Maine added 22 points and eight rebounds for Freeman, while Dylan Oja scored 10 points.
Alberto Cisneros led Colville with 23 points, while Devin Lembcke scored 13 points and Silas Say added 11 points.
Chewelah 47, Medical Lake 45: Elan Krausz scored 13 points and the visiting Cougars (6-7, 3-6) upset the Cardinals (11-4, 7-2).
Nizhole Sherman paced Medical Lake with 15 points and Trenten Garza added 12.
Lakeside 72, Riverside 56: Tristan Cox scored 21 points on seven 3-pointers, and the visiting Eagles (8-7, 6-3) shot their way past the Rams (2-14, 0-9).
Cox made five triples in the first half and the Eagles converted 15 of 26 (58 percent) from deep in the game.
Blayne Baerwald chipped in 16 points, Micah Holmes notched 13 and Jacob Gifford scored 10 for Lakeside.
Mikel Bias led all players with 22 for the Rams, while Kory Cross netted 10.
Newport 61, Deer Park 53: Koa Pancho scored 17 points and came down with seven rebounds to help the Grizzlies (9-6, 6-3) maul the visiting Stags (6-9, 4-5).
Danny Bardbury added 16 points and Robby Owen had 15 for Newport.
Isaac Berglund led Deer Park with 16 points.
Northeast 2B
Northwest Christian 92, Asotin 64: Ryan Ricks had a career night as he scored 50 points for the visiting Crusaders (13-1, 11-0), tying a school record for 3-pointers in a game with 10, to help them defeat the Panthers (6-4, 6-4).
Ricks finished 10 of 15 from the 3-point line and 17 of 25 overall.
Northwest Christian, fifth in state 2B, jumped to a huge lead of 30-13 after the first quarter and never looked back thanks to Ricks. Asher Cox scored 22 points and Rolf Veenstra had eight assists for NWC.
Asotin was led by Eli Engledow with 14 points.
Liberty 64, Davenport 51: Tyler Haas scored 20 points, added eight assists, and grabbed six rebounds to help the Lancers (10-5, 8-3) defeat the visiting Gorillas (5-9, 4-7).
Thomas Redder came alive in the second half scoring 12 of his 18 total points after intermission. Liberty won the turnover battle 25-14.
Jaden Flett paced Davenport with 22 points and Peyton Buchanan added 13.
Springdale 71, Lind-Ritzville/Sprague 52: Chandler Carr scored 24 points and the visiting Chargers (9-5, 6-5) defeated the Broncos (6-8, 4-6).
In the final 2 minutes of the first half, Springdale went on a 10-2 run and was able to carry that momentum.
Camden Smith led LRS with 16 points.
Tekoa-Rosalia 52, Wilbur-Creston 45: Mitchell Billings scored 12 points and the Timberwolves (4-10, 2-9) beat the visiting Wildcats (5-9, 5-7).
T-R trailed 20-18 at halftime but used a 19-12 run in the fourth to escape with the win.
Doug Rosman led W-C with 12 points.
Kettle Falls 60, Reardan 52: Matt Thompson scored 23 points to help the visiting Bulldogs (4-10, 1-9) defeat the Indians (2-12, 1-10).
Reardan was led by Andrew Alsept with 17 points. Cade Francis added 13 points and grabbed 11 rebounds.
Northeast 1B
Almira/Coulee-Hartline 62, Wellpinit 53: Payton Nielsen scored 20 points and the visiting Warriors (15-2, 12-0) defeated the Redskins (11-3, 7-3)
Nielsen shot 10 of 14 from the field in the win as the Warriors, fourth in state 1B, stayed undefeated in league play.
The Warriors took a 10-point lead at halftime. Gage Burchill scored 17 points and Charle Hunt added 16 for ACH.
Brandon Flett scored 14 points, collected 13 rebounds, had six assists, and blocked seven shots for Wellpinit, ranked 14th in state 1B.
Selkirk 66, Curlew 39: Austin Robertson scored 15 points and the visiting Rangers (12-4, 9-3) defeated Curlew 66-39 (5-10, 5-9).
Steven Issakideas and Ryan Zimmerman added 11 points apiece for Selkirk, which outscored Curlew 34-10 in the second half.
Liam Chamberlain led Curlew with 18 points.
Republic 52, Inchelium 51: Jasper Sunny made all three of his free throws with 0.1 seconds left on the clock to give the Tigers (6-10, 4-9) an exciting 52-51 victory over the visiting Hornets (8-7, 8-5).
Sunny finished with 18 points on the night.
The Tigers brought the ball down with 12 seconds left and attempted a 3-pointer for the win, only to get fouled in the act and put Sunny at the line. Joe Koepke added 17 points for Republic.
McKennon Andrews scored 21 points Terrence Holford added 13 points for Inchelium.
Cusick 55, Northport 41: Dylan Hendershott scored 16 points for the visiting Panthers (7-9, 7-5) in a victory over the Mustangs (6-10, 4-8).
Colton Hansen brought in 15 points for Cusick, while Bryce Nomee added 11 points.
Aiden Middlesworth led Northport with 17 points, 14 rebounds and five assists.
Odessa-Harrington 77, Columbia 30: Ryan Moffet scored 28 points for the Titans (8-6, 8-5) as they overwhelmed the visiting Lions (2-12, 2-9).
Marcus King scored 14 points to help out the Titans, which led 57-10 at intermission
Riley McLain led the Lions with 13 points.
Pomeroy 66, Colton 50: Ryan Wolf and Oscar Morfin scored 17 points apiece to help the Pirates (12-1, 10-0), seventh in state 1B, defeat the visiting Wildcats (8-7, 5-5).
Colton was led by Grant Kinser with 17 points.
Garfield-Palouse 65, Oakesdale 56: Mason Bates scored 17 points, Eli Hawkins added 15 and the Vikings (9-4, 7-3) beat the visiting Nighthawks (5-9, 3-6).
Oakesdale led by two after three quarters, but Bates scored 10 of his 17 points in the fourth quarter, contributing to a 24-13 run for the win.
Evan Henning scored 11 points and Kieron Anderson had 10 points and 15 rebounds for Oakesdale.
Prescott 66, St. John-Endicott 59: Jose Gonzales scored 19 points and the Tigers (4-2, 3-2) outlasted the visiting Eagles (2-10, 1-8).
Noah Servi added 11 points for Prescott, which used a 23-13 second quarter to seize momentum.
Cooper Lundberg paced SJ-E with 25 points, Parrish Griffin added 13 and Adam Blakeley had 11.
Inland Empire 5A
Coeur d'Alene 67, Lewiston 65: Joey Naccarato scored a game-high 32 points with six 3-point field goals to help the Vikings (5-7, 2-2) defeat the visiting Bengals (8-5, 0-2).
The Vikings finished the Bengals off with 9-of-10 shooting at the free throw line in the last three minutes. Colson Yankoff added 10 points for CdA.
Trystan Bradley and Riley Way scored 17 points apiece for the Bengals.
Inland Empire 4A
Lakeland 45, Sandpoint 42: Kaden Davis hit the game-winner with only three seconds left to lift the Hawks (5-10, 1-1) over the visiting Bulldogs (2-12, 0-2).
Davis finished with 10 points and grabbed five rebounds for Lakeland, which rallied with a 13-3 third quarter.
Dylan Knight led Lakeland with 16 points.
Alex Stockton carried Sandpoint with 17 points.
Intermountain
Priest River 62, Coeur d'Alene Charter 30: Hunter Hartwig led the Spartans (4-6, 1-1) with 21 points and eight rebounds in a victory over the visiting Panthers (2-5, 0-2).
Kobe Haggerty earned 17 points for Priest River, while teammate Keagan Haegel scored 12 points. Eli Putren led Coeur d'Alene Charter with 10 points.
Local journalism is essential.
Give directly to The Spokesman-Review's Northwest Passages community forums series -- which helps to offset the costs of several reporter and editor positions at the newspaper -- by using the easy options below. Gifts processed in this system are not tax deductible, but are predominately used to help meet the local financial requirements needed to receive national matching-grant funds.
Subscribe to the sports newsletter
Get the day's top sports headlines and breaking news delivered to your inbox by subscribing here.
---