News > Nation/World
Harry Belafonte talks Trump, women's march, peaceful protest
Fri., Jan. 20, 2017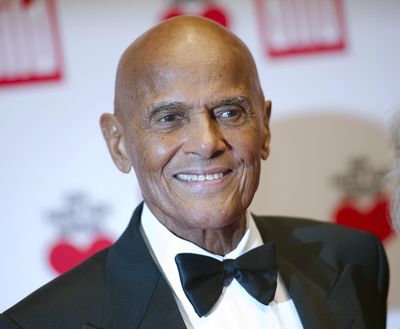 LOS ANGELES – Entertainer and activist Harry Belafonte, who's been advising organizers of Saturday's Women's March on Washington, said peaceful protest is the best way to show political leaders that the electorate is paying attention.
"Let us get off to an early start demonstrating that the country is alert, that it is aware of the manipulations that are taking place by the new administration," Belafonte told the Associated Press in an interview Friday. "Mr. Trump will have to understand that there are people who are prepared to make the environment aware of the fact that people will not be governed with tyranny."
Donald Trump was inaugurated as the 45th president of the United States on Friday. Belafonte and fellow activist Gloria Steinem are serving as honorary co-chairs of Saturday's march.
Belafonte said he counseled organizers on content, strategy and logistics based on his experiences with the Rev. Martin Luther King Jr. in the historic 1963 March on Washington and the five-day march from Selma to Montgomery, Alabama, in 1965.
"I'm playing a role that I feel equipped and I feel knowledgeable about," Belafonte said. "I'm going to be 90 years old in a couple of weeks, and I think that to be of mind and capacity to be able to still contribute to helping to make our union a better place, to help our country become a better place is a joyous task…
"We've discussed content, we've discussed speeches. We've tried to discuss long-term sustainable efforts on the part of issues that genuinely affect women, but affect all of us."
He said he's not a voice for the women's movement, but "supports all feminist issues and will be willing to volunteer and otherwise on any causes that support the liberation of women." A dynamic group of young activists are leading the women's march effort, he said.
"I'm just the plumber," he laughed. "I come in to fix the pipes."
He hopes the Women's March on Washington, which has inspired hundreds of "sister marches" across the country, will be a reminder of the power of nonviolent protest.
"If it accomplishes nothing more than to say that the rest of the nation is maybe stuck in a place of ambivalence, that may be not quite sure what all this is about, people who do not traditionally come from a protest culture, all those things are going to be demonstrated tomorrow," he said. "That it is not only desired, but required. And that when it is done, it can yield very positive results."
For those concerned about President Donald Trump's leadership, Belafonte urged, "Do not despair."
"There are many reasons why black people in the past could have despaired," he said. "When Dr. King stepped into the breach and said, 'Let us stop being victims and let us focus on the victimizer,' that made everything OK. When black people stopped being the victim, they went out and got the vote. They went out and got all sorts of things done through the electoral process and through the social process that would never have been done had we not marched on Washington and marched on Selma and done all of the things the nonviolent protest movement is endowed to do."
Local journalism is essential.
Give directly to The Spokesman-Review's Northwest Passages community forums series -- which helps to offset the costs of several reporter and editor positions at the newspaper -- by using the easy options below. Gifts processed in this system are not tax deductible, but are predominately used to help meet the local financial requirements needed to receive national matching-grant funds.
Subscribe now to get breaking news alerts in your email inbox
Get breaking news delivered to your inbox as it happens.
---