Sports > Outdoors
Peak Experiences on the Powder Highway
Fri., Jan. 20, 2017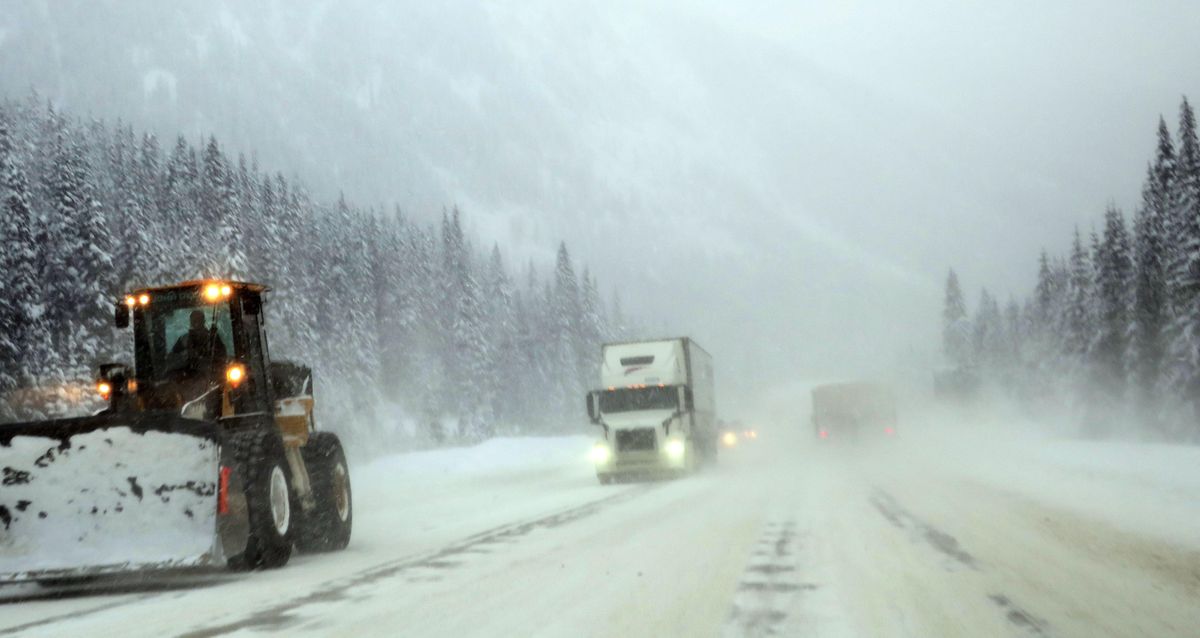 Blizzard conditions on the Powder Highway: the Trans-Canada near Rogers Pass in British Columbia. (COURTESY PHOTO / Courtesy of John Nelson)
With a foot of new snow, it's a day skier's dream at Revelstoke Mountain Resort, the spiritual center of the Powder Highway in British Columbia.
"I had face shots all the way down!" says Chris Pawlitsky excitedly after our first run. Pawlitsky, a resort snow host, is showing me around in a maze of tree runs off The Stoke chairlift, an upper-mountain high-speed quad. For the next several hours, we shred lap after lap of powder turns amid the trees on Revy's front side. It's spectacular.
A day later, I find myself standing on a rocky ridgeline at Kicking Horse Mountain near Golden, B.C. Right off the Golden Eagle Gondola, Emile Lavoie, marketing and events coordinator for Kicking Horse, is proudly showing me the resort's extreme terrain.
"Revy is known for tree-skiing," he says. "We are known as an alpine resort."
By that, Lavoie means we are about to descend a downright scary chute etched into the north side of a rocky ridgeline.
We negotiate the narrow drop, traverse under a cliff and let loose on the open slope below, clouds of blower snow trailing behind. We whoop, we scream, and down we go to the gondola to do it all over again.
And then, two days later, I'm attacking more primo powder at Whitewater, a legendary resort near Nelson, B.C. Whitewater is much smaller than Revelstoke or Kicking Horse, but with a base elevation of 5,400 feet, it starts much higher and is known for exceptional snow quality.
I hit the trees with Ed Wall, a snow host from the resort, as we make our way over to the Glory Ridge chair, added to the resort in 2010.
"This chairlift has been great," he says as we take a breather from shredding. "It has doubled our terrain."
We scoot through the trees, dropping down occasional steep shots and open glades 2,000 vertical feet below. We see maybe three other skiers during the descent.
If you want to explore the famed Powder Highway, these three resorts – Revelstoke, Kicking Horse and Whitewater – offer some of the best experiences you can possibly have.
Revelstoke – Big vertical
Storms seem to zero in on Revy, as nearly everyone in B.C. calls it. The resort receives an average of 480 inches a year, more than double what Sun Peaks Resort receives just three hours away to the west.
The lift area is relatively new, established in 2007 with the opening of the Revelation Gondola. Revelstoke also has two high-speed quads serving more than 3,000 acres of skiing.
Rising a jaw-dropping 5,620 feet from its village, Revy has the most vertical in North America. Much of the terrain falls off the front side of Mount Mackenzie, but the resort also boasts some cliffy drops in its North Bowl area, accessed by a short hike/traverse.
The front side runs seem to go on forever from the top of The Stoke chair, eventually hitting a village base at 1,680 feet. There, you'll find high-end lodging at the Sutton Place Hotel.
The town of Revelstoke is just a few minutes from the village base and offers many cheaper alternatives. It is a historic mining town and remains an important Canadian Pacific Railway crossroads, although ski tourism is fast taking over as the No. 1 industry.
Kicking Horse – Champagne powder
Take the Trans-Canada highway two hours east and you'll arrive in the outdoors mecca of Golden, B.C. Unlike the touristy Banff, Alberta, 90 minutes away to the east, Golden retains its rough edges and authentic mountain-town flavor. It offers many options for affordable lodging and dining.
The dramatic wall of the Purcell Mountains rises to the west of Golden, home to Kicking Horse Mountain Resort. Served by a gondola and three chairlifts, Kicking Horse is another mountain with big vertical: 4,133 feet from a top elevation of 8,033 feet.
Kicking Horse doesn't always get the huge dumps of Revelstoke, but being farther east makes the snow lighter. And the many chutes and cliffs collect wind-driven snow, making some drops thigh-deep after even modest dumps the night before.
Beyond the lift-served terrain, a short hike takes skiers to the top of the Terminator Peak (7,900 feet) with more incredible chutes and bowls.
Kicking Horse also offers one of the very best top-of-the-mountain dining experiences you'll ever find. Step off the Golden Eagle Gondola and step into the cozy Eagle's Eye, at 7,705 feet, the highest restaurant in Canada.
Whitewater – Community love
Nelson, B.C., might be the coolest town along the Powder Highway. With 350 heritage buildings, Nelson retains its historic charm amid an artsy, welcoming population that values good food.
"We have more restaurants per capita than San Francisco," says Dianna Ducs, executive director of Nelson Kootenay Lake Tourism.
That love of food is apparent at Whitewater Ski Resort, where local, organic ingredients are found on creative lodge menus that go well beyond the burgers and fries of most ski resorts. The menus even sport a number of vegan and vegetarian options.
Whitewater is a small resort, with three chairlifts serving a vertical drop of 2,044 feet and 1,184 acres of terrain, but it feels much bigger. Hikeable backcountry abounds at Whitewater, with powder drops falling off nearby Ymir Peak (7,874 feet) and in Five Mile Basin to name two popular destinations.
Most of all, Whitewater has a friendly vibe you won't find at most ski resorts.
"People say this place is like going home," says Rebeckah Hornung, sales and marketing director for Whitewater.
"We are a community based-resort," she says while sitting in the popular Coal Oil Johnny's Pub inside the funky Whitewater base lodge. "This whole lodge we're sitting in was built by volunteers."
John Nelson is a freelance outdoors writer based in Seattle. Follow his blog at skizer.org.
Local journalism is essential.
Give directly to The Spokesman-Review's Northwest Passages community forums series -- which helps to offset the costs of several reporter and editor positions at the newspaper -- by using the easy options below. Gifts processed in this system are not tax deductible, but are predominately used to help meet the local financial requirements needed to receive national matching-grant funds.
Subscribe to the sports newsletter
Get the day's top sports headlines and breaking news delivered to your inbox by subscribing here.
---