News > Nation/World
POTUS Twitter account shifts to Trump
Jan. 20, 2017 Updated Fri., Jan. 20, 2017 at 9:50 a.m.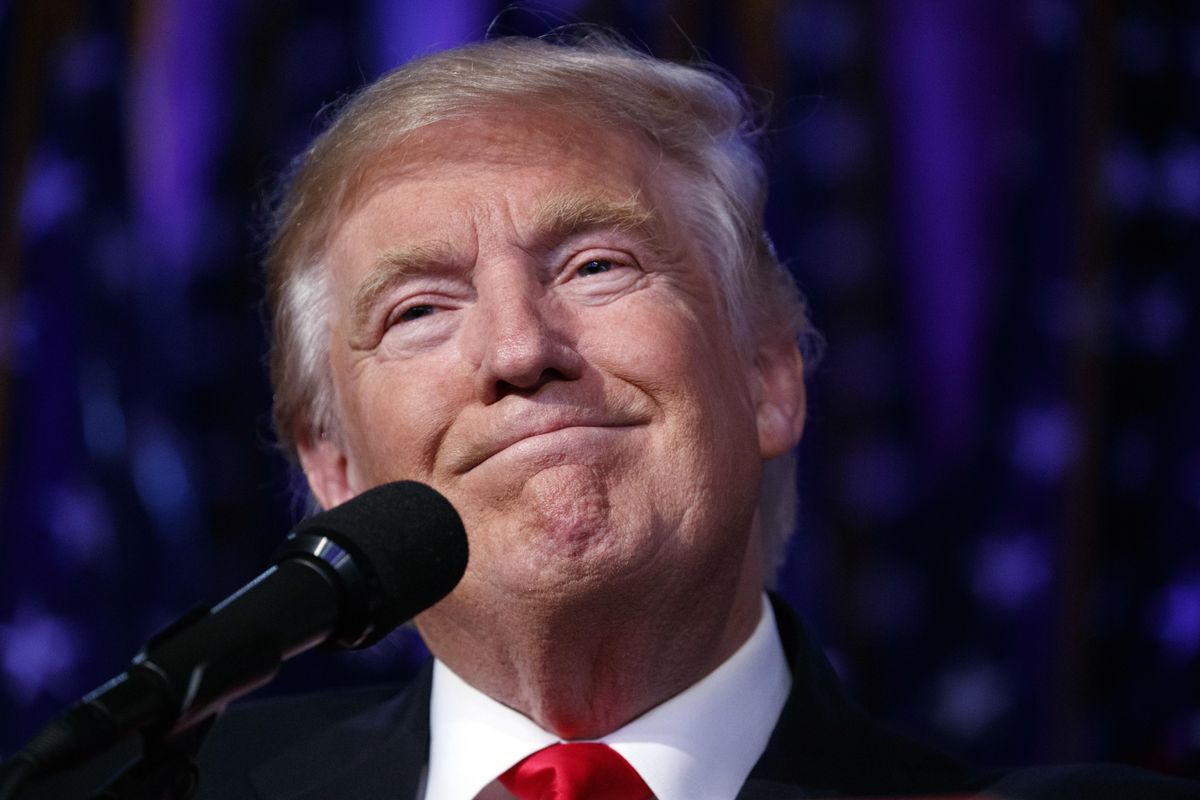 In this Nov. 9, 2016, file photo, President-elect Donald Trump smiles as he arrives to speak at an election night rally, Wednesday in New York. Donald Trump enters the White House on Jan. 20 just as he entered the race for president: defiant, unfiltered, unbound by tradition and utterly confident in his chosen course. (Evan Vucci / AP)
At about 9 a.m. on the day that President Obama prepared to become a former president, the official @POTUS Twitter account was still tweeting on his behalf.
But @POTUS belongs to whoever is President of the United States. And as President Trump takes office, that means Trump gets @POTUS, along with its 13.7 million followers. If you're following President Barack Obama on Twitter on the @POTUS account, you'll be following President Trump too, unless you manually unfollow.
One thing President Trump doesn't inherit? The archive of Obama's tweets. As part of the "digital transition" plan laid out by the Obama White House shortly before the election, the incoming administration starts with a clean slate.
The same is true for the @WhiteHouse, @FLOTUS, @PressSec, and @VP accounts, which will be turned over and wiped clean of tweets, a fresh start for the new administration. They'll follow a similar plan for the official White House accounts on other social media platforms, like Instagram and Facebook.
So where does all that content from the Obama team go? The shortest answer is that the National Archives and Records Administration (NARA) is responsible for preserving every social media post from the Obama administration. A lot of it will remain accessible online, on the same platforms as before.
On Twitter, for instance, the archive of the Obama administration's @POTUS tweets will move to @POTUS44.
Just before Trump's inauguration, that Twitter account was protected, with a note in the bio explaining that it would serve as a NARA-run archive of President Obama's Twitter history. The same was true for archival accounts of @VP (the Biden-era VP tweets move to @VP44) and @FLOTUS (the archive becomes @FLOTUS44). In the case of @POTUS44 at least, Twitter will automatically follow the archival account for anyone currently following @POTUS.
The Obama administration's Instagram archive will move to Instagram.com/ObamaWhiteHouse and the Facebook archive will move to Facebook.com/ObamaWhiteHouse. In each case, the policy is to hand over the account, and all its followers, but not the content from the previous administration.
As the White House noted in its explanation of all this, there's never before been a digital transition like this for an outgoing U.S. president. But the way this is being handled is a lot like the way whitehouse.gov transitions are handled. Each current president has control of whitehouse.gov, but the previous administration's versions of that URL are archived and accessible to the public. Here's the George W. Bush White House site preserved.
Both of the Obamas already have their own Twitter accounts, @BarackObama and @MichelleObama, which are both run by Organizing for Action staff. They'll host future tweets from both, as the @POTUS44 and @FLOTUS44 accounts are basically just archives.
Of course, Donald Trump also has his own Twitter handle @RealDonaldTrump, which currently has several million more followers than @POTUS. Trump recently expressed a preference for keeping his Twitter presence on the personal account, but like many things with the Trump administration, we're just going to have to wait and see what actually happens.
Local journalism is essential.
Give directly to The Spokesman-Review's Northwest Passages community forums series -- which helps to offset the costs of several reporter and editor positions at the newspaper -- by using the easy options below. Gifts processed in this system are not tax deductible, but are predominately used to help meet the local financial requirements needed to receive national matching-grant funds.
Subscribe now to get breaking news alerts in your email inbox
Get breaking news delivered to your inbox as it happens.
---