News > Spokane
Trump protesters gather at Washington Capitol in Olympia
Jan. 20, 2017 Updated Fri., Jan. 20, 2017 at 10:32 p.m.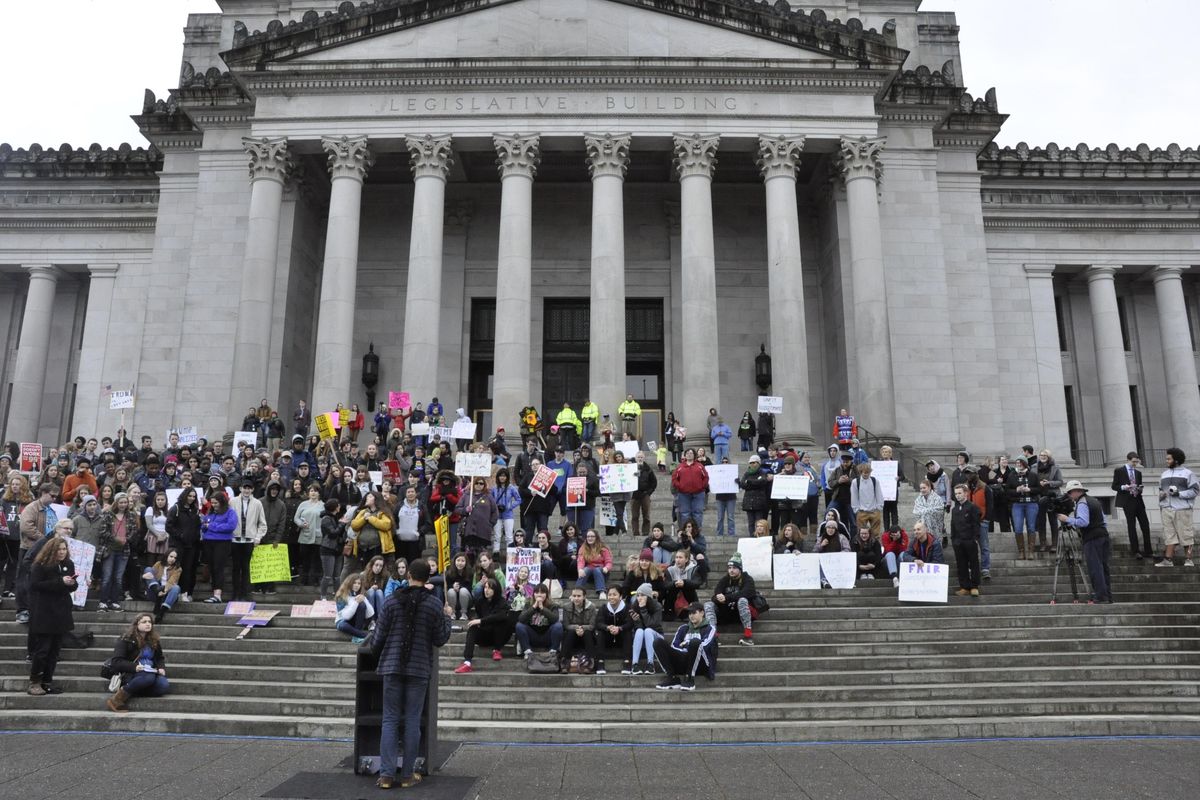 OLYMPIA – About 200 protesters gathered on the steps of the Washington Capitol Friday for a Youth Unity Rally against Donald Trump as the new president was being inaugurated in Washington, D.C. (Jim Camden / The Spokesman-Review)
OLYMPIA – While the new president was taking the oath of office in front of the U.S. Capitol, some 200 protesters held a "Dump Trump" rally on the steps of the state Capitol.
Officially titled a Youth Unity Rally, the amalgamation of high school students, anarchists and religious groups had mixed messages. Some called for unity regardless of race, creed, nationality or sexual orientation; others called for an end to capitalism or made lewd suggestions about what should happen to Donald Trump.
Anarchists dressed in black, some with their faces partially covered by scarves or balaclavas, held a banner proclaiming "No War but Class War."
Up the steps of the Capitol, Mike Bane had covered himself in plastic blue and white "Trump/Pence, Make America Great Again!" campaign signs. It was partly a statement and partly protection against the rain. Bane said he disagreed with almost everything that people making speeches at the microphone below were saying. "But I support their right to say it," he added.
By Olympia standards, it was a fairly small gathering. A demonstration Monday for better state support of public schools drew an estimated 5,500. The Women's March on Olympia, which also will protest Trump's election, is expected to bring about 2,500 to the Capitol grounds where it will begin and end. Next Monday's annual March for Life, to protest the U.S. Supreme Court decision that legalized abortion, also is expected to draw 5,000.
Local journalism is essential.
Give directly to The Spokesman-Review's Northwest Passages community forums series -- which helps to offset the costs of several reporter and editor positions at the newspaper -- by using the easy options below. Gifts processed in this system are not tax deductible, but are predominately used to help meet the local financial requirements needed to receive national matching-grant funds.
Subscribe now to get breaking news alerts in your email inbox
Get breaking news delivered to your inbox as it happens.
---