A&E > Entertainment
EWU Gallery of Art space a bucket list spot for installation artist Jenene Nagy
Mon., Jan. 23, 2017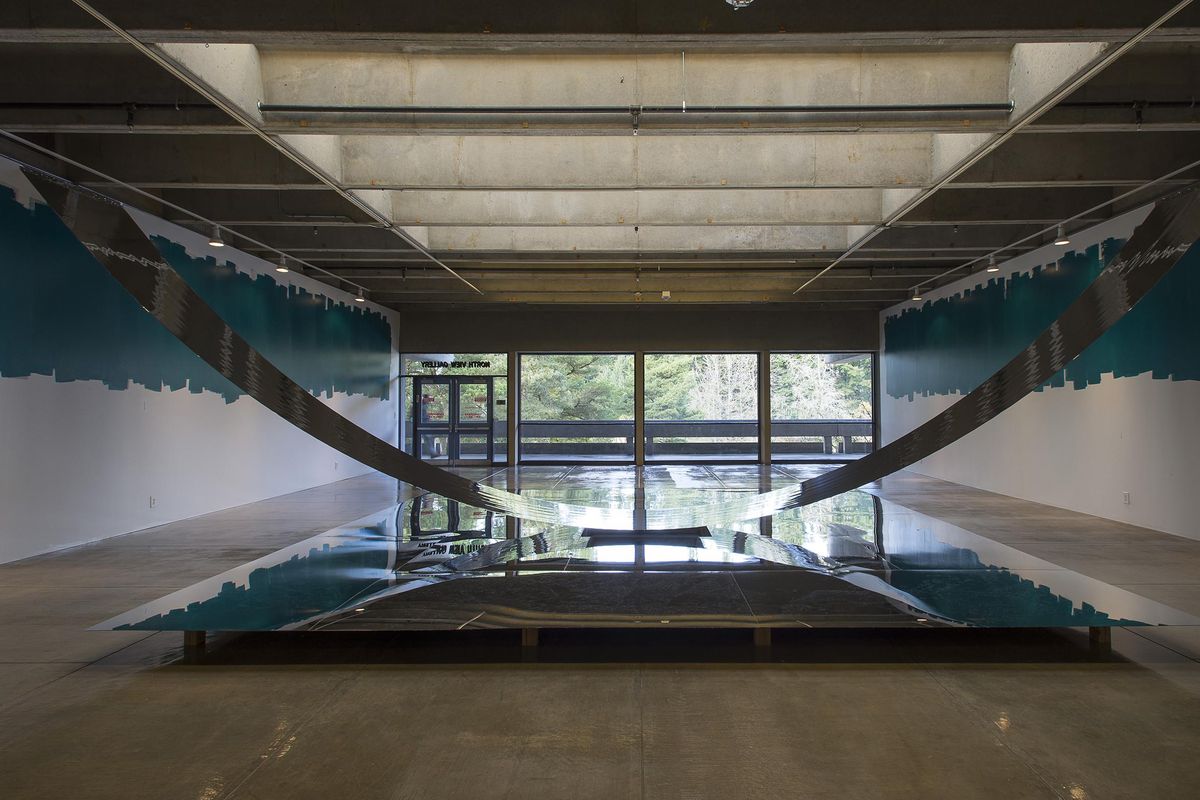 "The Crystal Land" (latex, Mylar, plexigalss, wood) is a 2014 work by Jenene Nagy that was installed in the North View Gallery at Portland Community College/Sylvania (Jenene Nagy)
Award-winning artist Jenene Nagy first heard about the quirky exhibit space at Eastern Washington University's Gallery of Art in Cheney in 2007 when she still owned a gallery in Portland. After an artist who had just shown at EWU described the round space to her, Nagy added EWU to her bucket list of places where she needed to create one day.
Almost a decade later, after continuing to exhibit nationally and internationally at venues such as the Portland Art Museum, Southern Exposure in San Francisco, Takt Kunstprojektrum in Berlin, and Samuel Freeman in Los Angeles, that day has finally come.
The installation artist now based in Southern California is creating a large-scale "fully immersive experience" on EWU's campus called "scablands." She will give a talk Wednesday in the Art Building. A reception will be held immediately following, in the EWU Gallery of Art. "scablands" will continue through Feb. 23.
"The gallery at EWU is already such a unique, architecturally charged space, the roundness of it and the positioning of the walls, " Nagy said. "I feel fortunate that timing worked out for me to finally go there."
Nagy's plan is to plunge the viewer into a mind-blowing landscape by wrapping her piece around the entirety of the gallery. She is working alone for the first few days, and then she will employ an assistant to help her finish. Visitors can witness her process by climbing the stairs to the second floor to watch from above.
Borrowing from the tradition of landscape painting, Nagy's exhibition will look deeper into the natural world of Eastern Washington, right through to its foundation, the basalt rock of its floor. Using the hexagonal shape of basalt's molecular structure as a launching point for abstraction, Nagy is transforming the entirety of the EWU art gallery into a geometric illusionistic painting. It will be a landscape like no other.
"I hope the piece causes viewers to question their connection to the physical world," Nagy said.
"It's like when you close your eyes so hard, that you see stars or like when you stare at something so long you forget the name of the thing you are looking at," Nagy said. "It's pure observation."
Like the impressionist painters who interpreted their natural surroundings in new ways, Nagy likes the idea of playing with the history of landscape painting. She uses her art to change our expectations of landscapes, in what can seem a tongue-in-cheek perspective. What would a vista of basalt molecules look like?
During her research, the word "scablands" itself evoked powerful and irresistible imagery for Nagy. At first she shied away from naming the exhibit after something so direct and literal, but she kept coming back to it.
"I loved reading about the Spokane area, how the scablands are just raw and rocky, with nothing growing on it," Nagy said. "Thousands and thousands of years after this gigantic cataclysmic (flooding) event, the scar is the residue that's left."
EWU art professor Nancy Hathaway is intrigued to see how Nagy interprets Eastern Washington's landscape within the art gallery's space.
"Her work is all site-specific and large-scale, so the spatial relationships within the gallery space will be interesting to see," Hathaway said. "For the students to be able to watch an artist with her depth of experience at work, and then to ask her questions, it's going to be a remarkable experience."
Remarkable, perhaps, but fleeting. Nagy is fascinated by that contrast between the temporary nature of her work and the permanent imperfections left behind thousands of years ago by water scouring rock.
"My work is so much build-up and days of physical, intensive labor that gives people pause," Nagy said. "Because right after it's up, then it's gone away forever … what do you keep?"
Local journalism is essential.
Give directly to The Spokesman-Review's Northwest Passages community forums series -- which helps to offset the costs of several reporter and editor positions at the newspaper -- by using the easy options below. Gifts processed in this system are not tax deductible, but are predominately used to help meet the local financial requirements needed to receive national matching-grant funds.
Subscribe to the Spokane7 email newsletter
Get the day's top entertainment headlines delivered to your inbox every morning.
---