Sports
Former Washington State linebacker Jeremiah Allison tackles new duties in Olympia
Mon., Jan. 23, 2017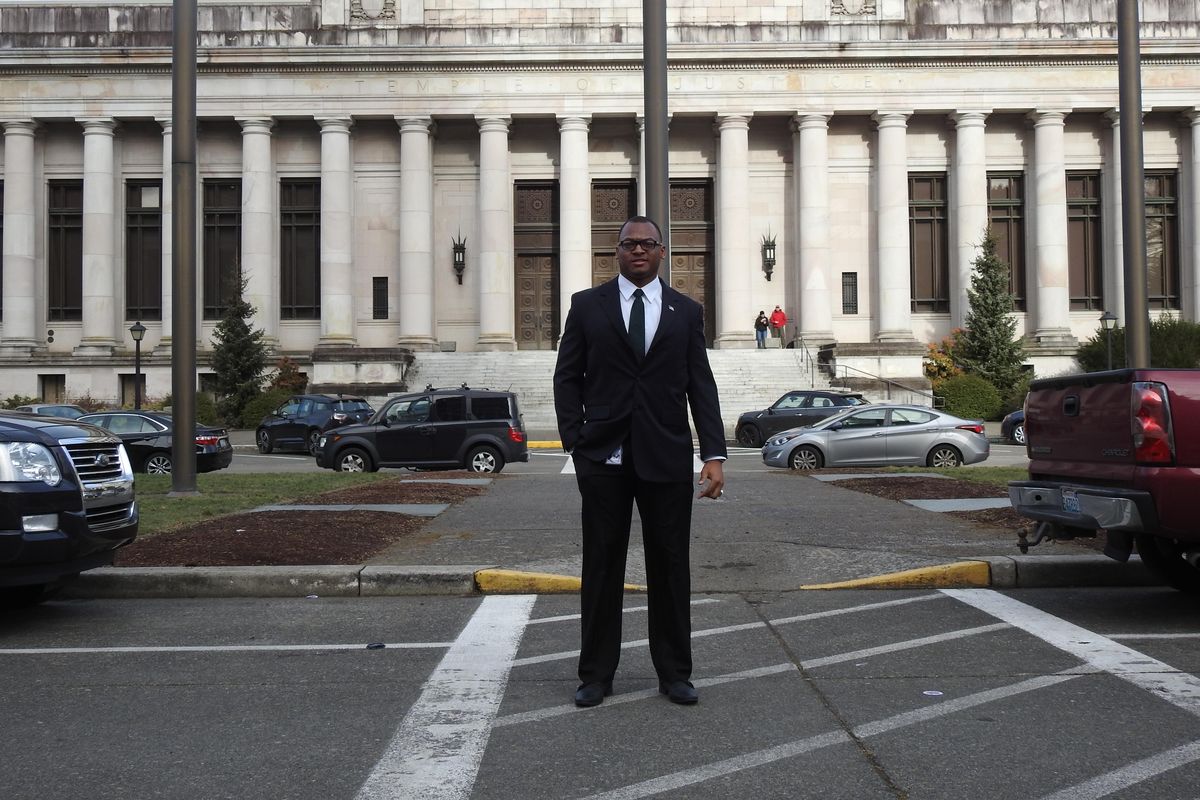 Former Washington State football player Jeremiah Allison, who plans on attending law school in the near future, poses in front of the Washington state Supreme Court building. (Jacob Thorpe / The Spokesman-Review)
OLYMPIA – I am surrounded by Marble. Everywhere there is marble, imported from Alaska nearly a century ago. Floor after floor of marble floors connected by marble staircases, and marble ceilings held up by marble columns.
A labyrinth of gray gradient corridors leading to one central spot: the State Seal – roped off now, for foot traffic has taken its toll on George Washington's nose – underneath a 10,000-pound Tiffany chandelier large enough to fit a Volkswagen Beetle inside of its 202 lights.
Jeremiah Allison's new surroundings are at least as opulent as college athletics facilities, though he has traded in trendy and modern for a more enduring, classical look.
The former Washington State linebacker – he graduated after the 2015 season – has designs on law school in the near future. But for now he's passing the time serving in the Washington State legislature as a session aide to Sen. Michael Baumgartner (R–Spokane).
I'm a former legislative grunt myself – I served a term in a Senator's office as a policy intern. But I decided there was not enough visceral disdain for the profession when working in politics and chose to pursue a career in the media instead.
I left the Capitol to cover the WSU football team and a young linebacker named Jeremiah Allison. He was an engaging, thoughtful person – one of the two or three de facto spokesmen who emerge every year on a Pac-12 football team.
He was a record-setter in public service at WSU, dedicating his efforts to his mother, who before she died raised her family up out of homelessness and put Jeremiah in the running to be valedictorian (4.31 GPA) at Dorsey High, which is one of the Los Angeles area's roughest high schools for those hoping to get to a four-year college.
Now that his burgeoning professional career has taken him back to where mine began, I thought I would pay him a visit, pump him for information about the Cougars' search for a defensive line coach (they hired Jeff Phelps) and dispense a little legislative advice.
Stay away from the breakfast burritos in the Pritchard Building, kid. You're no good to the Senator if you stay home sick.
Allison had already made a critical error by accepting the position during an odd-numbered year. See, even-numbered years in Olympia are like creampuff nonconference opponents and odd-numbered years the grueling Pac-12 slate. Or maybe given WSU's recent history, they're the opposite.
The legislative calendar lasts for 60 days during even-numbered "short sessions" and 105-days during odd-numbered "long sessions." Invariably, extra days will be added at the end during "special sessions" because the lawmakers did not turn in their homework on time, but it's not polite to acknowledge that truth until later in the spring.
During long sessions the legislature creates the state's budget for the next two years; during short sessions they tweak it. The result is Allison signed up for a partisan slog in which he will see greetings devolve into grunts and personal hygiene go the way of the Southern Democrat.
Don't mind the folks walking to their offices with pillows and sleeping bags in the week before a cutoff day. That's just committee staff.
Allison is particularly proud of his Senate ID badge, which gets him into the few areas of the Capitol campus that are not immediately accessible to members of the public. Baumgartner has made this an immersive experience for the former football player, tasking him primarily with research, but also giving him the desk closest to the door of a small office filled by three staff members.
That means it's Allison who greets every lobbyist, constituent, or strict interpreter of the constitution toting an AR-15 from office to office just to show he or she can. The job will involve tracking the Senator's bills, tracking everyone else's bills and taking notes in committee hearings.
Allison said, "I get here at 7:30 and I leave around 5:15."
Heh. That'll change. Just wait until Sen. Baumgartner's annual battle with the state Supreme Court over K-12 funding begins.
Working for Baumgartner, it often involves serving as a sounding board while the Senator talks himself through a bit of policy or how to maneuver a bill through committee and to the Senate floor.
"Basically I'm just here to listen to the issues that are going on," Allison said. "My thing is I'm like a sponge, soaking it all in. I can pick out and weed out what information I need and what I don't. My role is to listen and gather all the information I can for Senator Baumgartner and present him with it."
But his role is bigger, though he may not know that yet. Allison is not exactly a Republican (to avoid confusion, let's refer to Baumgartner's "Majority Coalition Caucus" as "Republicans," since it consists of 25 Republicans and one fairly conservative Democrat).
There are no African-Americans in Baumgartner's caucus, so the senator says he hopes Allison can provide a perspective that is not intuitive to he and his colleagues. He credits Allison with influencing his perspective on a "Ban the Box" bill that is expected to come before the legislature this year.
The bill would prevent employers from asking job applicants about their conviction histories.
Allison is learning this new game quickly. He wears his Sun Bowl champions ring at all times, thinking that even constituents or legislators who strongly disagree with his boss on matters of policy may be able to find common cause when it comes to the Cougars.
Allison, who knows what it means to be truly broke, is frugal. But to work in the Capitol, a man has to buy a few suits, and LSAT prep courses are not cheap.
Fortunately for him, Hunter Goodman, the Secretary of the Senate and a friend of Baumgartner's, gave him a place to live and hooked him up with a job at Brotherton Cadillac, where former WSU football star Mkristo Bruce is the sales manager.
The former linebacker sold a lot of cars during his seven months at the dealership. I've heard dozens, but I need to confirm.
"It's up there," is all Allison will divulge, with a grin.
Much of Allison's education now involves just wandering the Capitol campus and learning about the history of the state, its leaders, and others who have used their talents to create positive change.
It is Martin Luther King Jr. Day, and there is a statue of the reverend in the Capitol rotunda that Allison wants to grab a picture with.
"One thing I was blessed with was just to sit back and observe, just to sit back and see how things work, see how people work the room," Allison said. "Not to always have an answer or have something to say, but just to see how things go. That's what I've done the last week."
Of course the real education came at the end of the day, when Allison walked four paces behind Baumgartner and some lobbyists who were trying to persuade the senator to pass or kill some bill related to dental care.
Lobbyists spend as much time buttering up the staff as the politicians, knowing who sets the schedules. Lots of organizations will drop off small gifts such as cupcakes or toys on staff members' desks, or throw events, and everyone knows the firefighters throw the best parties.
One of the lobbyists was a former party official who had flipped those connections into a job with one of Olympia's biggest lobbying firms, a reminder that even as Allison gives tours and answers constituent emails he is building connections that many interest groups would happily pay for.
Many of the public servants Allison works alongside now will eventually go that route, but this would be an incomplete educational experience if he did not see the sausage get made.
Baumgartner frequently tells Allison he is going to be the governor in one breath, then asks what he thinks about running for president someday in the next.
And could Allison, an engaging former athlete with a lot of life experience and, eventually, a law degree, see himself running for office someday?
"Who knows?" Allison asks with a laugh.
Local journalism is essential.
Give directly to The Spokesman-Review's Northwest Passages community forums series -- which helps to offset the costs of several reporter and editor positions at the newspaper -- by using the easy options below. Gifts processed in this system are not tax deductible, but are predominately used to help meet the local financial requirements needed to receive national matching-grant funds.
Subscribe to the sports newsletter
Get the day's top sports headlines and breaking news delivered to your inbox by subscribing here.
---