Sports
'The right fit at the right time,' Aaron Best introduced as Eastern Washington's new football coach
Mon., Jan. 23, 2017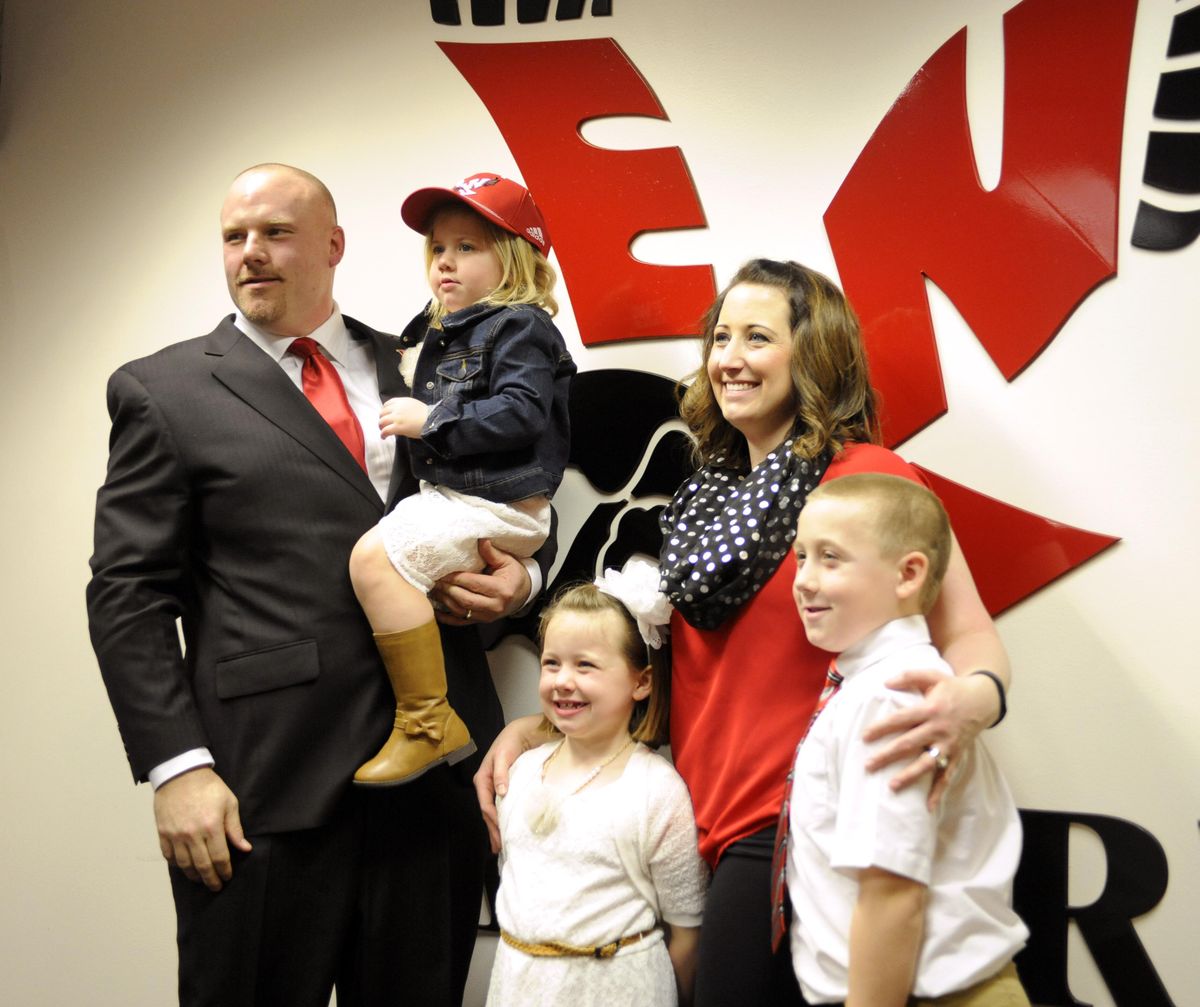 New Eastern Washington University Football Coach Aaron Best, left, poses for photos with his wife Kim, second from right, and their children Texis, 3, Tenli, 6, and Tank, 8 after Best was announced as the new football coach, Monday, Jan. 23, 2017 at EWU. (Jesse Tinsley / The Spokesman-Review)
Aaron Best rose to his own occasion Monday afternoon.
Eastern Washington's new football coach was both witty and charming at his on-campus introduction.
He even wore a tie. It was red, of course, and as bright as the moment.
"I appreciate the opportunity from the bottom of my heart," said Best, an Eastern alum, former player and assistant coach for the last two decades.
"I have a lot of different Eagle caps I wear, and I am proud – very privileged and proud – for this opportunity," Best told a crowd of about 100 at the Reese Room on the EWU campus.
They included players, fans, friends, coaches and a few media to record the event.
Monday's event was a formality – Best was chosen two days earlier by athletic director Bill Chaves – but special nonetheless. His family – wife Kim, son Tank and daughters Tenli and Texis – sat proudly nearby as Best was introduced.
"He's the right fit at the right time, and we're excited that the right fit happened to be within our four walls," Chaves said of his choice to succeed Beau Baldwin.
"Coach Best knows the DNA of our program. I think there's no question that coach Best is the right coach at the right time to build on what coach Baldwin has done in the last nine years."
Best returned the favor, giving thanks to Chaves and university president Mary Cullinan, his wife Kim, and to the current Eagle players and coaches.
Then he reached deeper into his past and the chain of events that brought him to Cheney: his father driving him from Tacoma to Cheney for summer football camp; getting his chance to coach, thanks to former EWU assistant and head coach Paul Wulff; and legendary Cheney High School coach Tom Oswald.
"I had a lot of help getting to this point," Best said.
At that point, daughter Texis walked over to her father and demanded his cap.
"Now the other two will want one," Best said to more laughter.
Best's highest praise was reserved for Baldwin, who seven days earlier resigned to become offensive coordinator at California.
In nine years as head coach, Baldwin led the Eagles to a national championship and five Big Sky Conference titles in the last seven years.
"I've tried to take notes, and I've burned through the paper like tinder because of all the things I've learned from that man," the 38-year-old Best said.
Best also brought plenty to the table; his lines have anchored several record-breaking offensive units.
In the last 13 seasons (2004-16) – 12 with Best on the coaching staff – EWU has ranked in the top 10 in passing 11 times, in total offense on nine occasions and scoring five times.
"Heck, there are times I wish I was in the stands watching us instead of being down on the field seeing if we can hold up a protection to be able to throw a 40-yard fade to any of those receivers we've had here," Best said.
"We'll be more balanced, but that's not to say we're going to go back to the drawing board and be run first. We'll be pass first," Best said.
Local journalism is essential.
Give directly to The Spokesman-Review's Northwest Passages community forums series -- which helps to offset the costs of several reporter and editor positions at the newspaper -- by using the easy options below. Gifts processed in this system are not tax deductible, but are predominately used to help meet the local financial requirements needed to receive national matching-grant funds.
Subscribe to the sports newsletter
Get the day's top sports headlines and breaking news delivered to your inbox by subscribing here.
---