This column reflects the opinion of the writer. Learn about the differences between a news story and an opinion column.
Opinion > Column
Doug Clark: Spokane's Patrick Glass is a celebrity in Sweden thanks to reality TV show
Tue., Jan. 24, 2017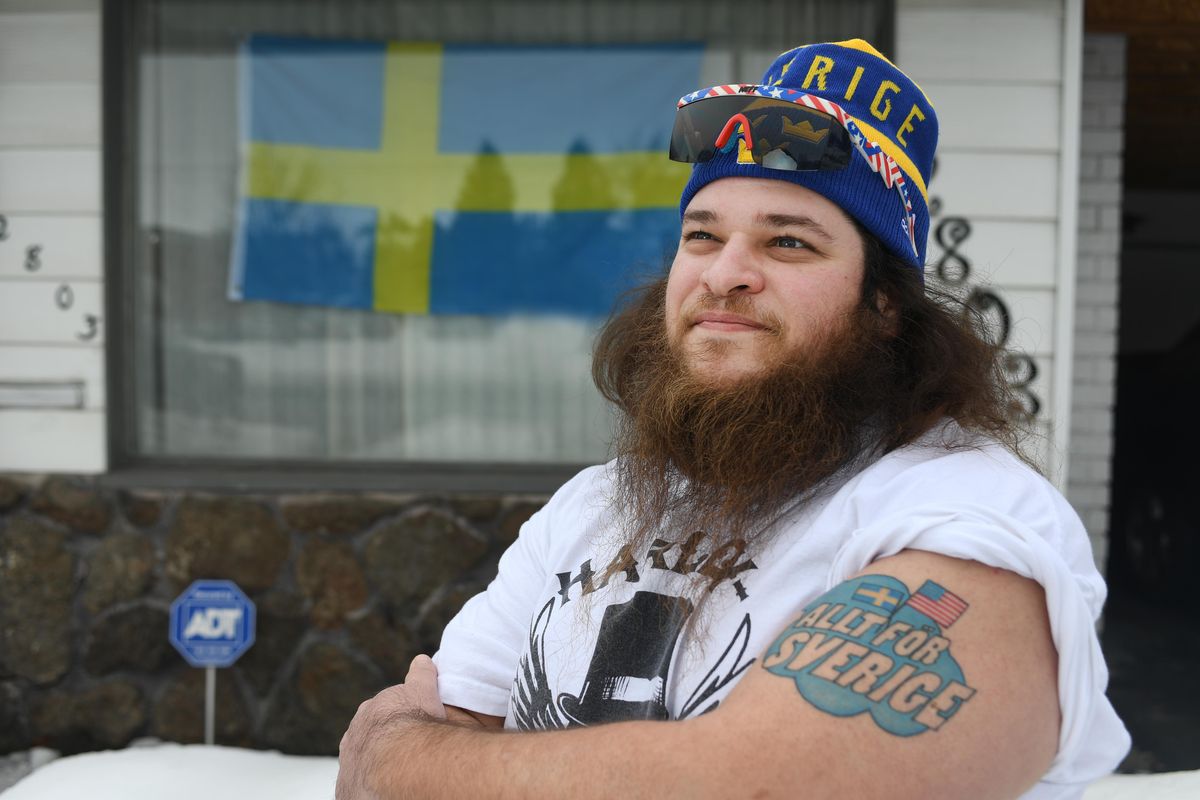 Patrick Glass stands in front of his north Spokane home, Monday, Jan. 23, 2017. Glass recently took part in a Swedish game show called "Allt For Sverige" (All for Sweden) and came in third. He tattooed his arm with the show's name. He's heading back to Sweden to live and work for the summer. With the first two placers being blonde Nordic women, he came in third, with fans of the show seeing him as a modern-day Viking. (Jesse Tinsley / The Spokesman-Review)
Not that he's getting the Big Head or anything, but Patrick Glass has decided that his reality TV stardom simply won't fit in the slow lane anymore.
Come May, the 31-year-old Spokane man plans to pack his bags and head for the bright lights and fast life of …
Stockholm?
That's right. While Glass can't claim any celebrity status here in America, it's a different story in Sweden.
The food services worker and cook for Eastern Washington University said he can barely walk down the street without provoking pedestrians to, um, whisper* about him.
(*According to Glass, Sweden is an extremely reserved nation.)
"I was taken back with all these people on the streets who know me," said Glass, adding that some of the really bold Swedes will dare to ask for a photo or an autograph.
Glass' newfound fame came from his appearances on Sweden's top TV show: "Allt for Sverige."
That's "All for Sweden" for us English speakers.
The reality-based game show pits 10 Americans with Swedish ancestry against each other. The contestants engage in "Survivor"-like challenges until only one winner is standing.
Like most Americans, Glass had never heard of "All for Sweden" until he was pestered into applying by Sarah, his younger sister.
Interested in her Swedish roots, Sarah dreamed of being on the show. According to the rules, however, she couldn't because she had visited the country.
Only newbies can take part.
The eighth and final episode of "All for Sweden" for 2016 aired last month. Glass, alas, wound up in third place after losing some sort of "beat-the-buzzer" quiz.
"It was that close," he said. "It crushed me. It really crushed me."
Maybe so. But all that TV exposure turned Glass into something of a fan favorite, he said.
I know why. With his burly build and wild brown beard, Glass can pass for a latter-day Viking.
Really. Slap a horned helmet on this character and point him toward Britain. Glass could lead another conquest.
His comic personality helped, too. "I was definitely typecast for being myself," he explained. "I was the over-the-top, crazy American guy."
Already the showbiz opportunities are trickling in. Glass said he's been offered a "cameo" on a TV show called the "The Nordic Hillbillies."
And I thought we Yanks had some weird cable.
When I wrote about Glass prior to the show's airing last fall, he explained that the payoff for winning was no million bucks, like "Survivor."
Win "All for Sweden" and you get to party with your newfound Swedish relatives.
With all due respect, there are plenty of folks who would consider this prize to be of the booby variety.
Not Glass. He was heartbroken to miss out on such a familial get-together.
Getting to know those who share his genealogy is an added reason Glass wants to return to the old homeland.
One of his favorite "All For Sweden" experiences, he said, was visiting the farm where his grandpa, Axel, grew up.
"It's still there," said Glass. Just seeing it was "a game-changer. They gave me a photograph of what it was like when it was freshly built and it's identical."
He was also excited to see Lake Roxen, where his "grandfather went skating in the winter and fishing in the summer. It's beautiful."
Glass is becoming more Swedish by the second.
When he's not giving autographs, he plans to spend next summer cooking on the island of Birka, thought to be the actual birthplace of Vikings.
Glass even got a large colorful tattoo of the "Allt for Sverige" logo inked prominently onto his left arm.
Now there's a chick magnet.
Speaking of which …
"Basically, I'm moving back to repopulate Sweden," confessed Glass.
OK. It took a while, but I think we uncovered this Viking's real motive for leaving town.
Contact the writer:
(509) 459-5432dougc@spokesman.com
---
---