Sports > Seattle Mariners
Grip on Sports: EWU's new head football coach has the best Eastern pedigree of anyone to ever take the position
Tue., Jan. 24, 2017 A GRIP ON SPORTS • Eastern Washington University has a new football coach. It's Aaron Best. His is a familiar face around the Eagles' offices. Is that a good thing or a bad thing? Read on.
••••••••••
• Best has a more than 20-year relationship with Eastern Washington University. If you're doing the math in your head – he is 38 years old – and wondering how that adds up, it's simple. He attended Eastern football camps when he was in high school.
So if the No. 1 priority athletic director Bill Chaves had when picking a replacement for nine-year coach Beau Baldwin was knowledge of the program, Best was the clear front-runner.
Because it's obvious "having been a head coach" was not paramount on Chaves' list of requirements.
In that regard, Chaves is harkening back to a different era at EWU, the Paul Wulff era.
There are amazing similarities between the resumes Best brings and Wulff brought to the head coaching position.
Both were offensive lineman in college (as was another former Eagle head coach, Mike Kramer).
Both coached the offensive line in Cheney and both were really good at it.
Both have been coordinators, though Wulff was Kramer's offensive coordinator and Best was Baldwin's run-game coordinator, a step-down in the football hierarchy.
And both had never been a head coach when tabbed to lead the Eagles.
Wulff's tenure in Cheney was successful: 53 wins, two Big Sky titles, three FCS playoff appearances.
That's good.
But Baldwin chose a slightly different path, and had more success.
Baldwin had been Wulff's offensive coordinator, but he left Eastern to become head coach at Central Washington, a Division II school and his alma mater.
He was only gone a year, though, before Wulff left for his alma mater, WSU. When Baldwin returned to Cheney, he was a success right away. In three years, he had taken the Eagles to the pinnacle, an FCS title.
Did the year as a head coach help? It couldn't have hurt. There is a lot to learn on what it takes to run the program. That's not to say Best can't do it. He's smart – aren't all offensive linemen? – and he's been a success in his previous roles. He has an intimate knowledge of the school and team's culture. And he has the unwavering support of the Eagle fans.
Unless things go south. But the thought here is they won't. The biggest decisions right now revolve round filling the assistant coaching spots that developed after Baldwin's departure.
Wouldn't it be interesting if Best dipped into the past to replace himself as the offensive line coach.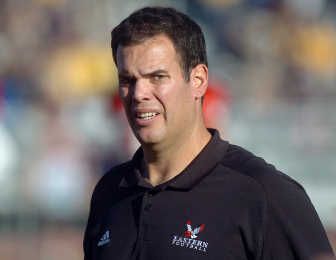 Wulff, who has been helping former assistant Jody Sears at Sacramento State, is probably available and is still a top-notch teacher of the game. It would also give Best a former head coach on staff to lean on. And Wulff has kept up with the Big Sky by coaching the Hornet offensive line last year.
There is no source here. It is all wonder and speculation. But wouldn't it be keeping in the successful family theme Eastern has cultivated for so long?
It was Wulff who gave Best his first college coaching opportunity. And it was Wulff's departure that opened the door for Baldwin's ascension. There is a certain symmetry that appeals to our better nature.
And, of all the offensive line coaches out there, Wulff might be the only one who wouldn't need to be introduced around the athletic department's offices.
•••
Gonzaga: The Bulldogs' 20th consecutive win may have come at a heavy cost. Killian Tillie, a key member of the frontcourt rotation, suffered what looked-to-be a bad ankle sprain in the second half. How bad is yet to be determined and could have a big impact on the undefeated season. The Zags' vaunted depth is about to be tested. Anyhow, Jim Meehan was in Portland for the 83-64 win and did yeoman duty, including a Facebook Live appearance after the game (the video of which is at the bottom of multiple stories). Jim has the game story, a piece on Tillie's injury, the homecomings of Nigel Williams-Goss and Silas Melson, the crowd in Portland and the keys to the game. Earlier in the day, he had a piece on Gonzaga moving up to third in the polls and another on Williams-Goss being named to an award list. … There were numbers that told the story as well. … I watched from Spokane and contributed the view from my couch, though the Great Dane kicked me off and I had to use a chair. … Gonzaga's 20th win was covered by Nick Daschel for the Oregonian and it also solidified their spot as a No. 1 seed in CBS' bracket prediction.
WSU: We passed along Jacob Thorpe's story on Jeremiah Allison when it was posted yesterday, but it appeared in today's paper so we pass along the link again, if you missed it. … This is the time of year when commitments come fast and furious. … Elsewhere in the Pac-12, California added three more folks to its football coaching staff. … The conference's quarterback situation is interesting. … Are you wondering where the Cougars will finish next season? There is this projection to mull over. … Jim Harbaugh is going to find every hole he can in the NCAA rulebook. … The early entries in the NFL draft could hit the conference hard. … Oregon's hoop team is back in the top 10.
EWU: As could be expected, Jim Allen was all over Best's introductory press conference. He has two stories about the media event. … Jesse Tinsley has a photo report and I would like to point out one thing: Best's son Tank must be tough. He was wearing shorts in freezing weather.
Whitworth: If Eastern hadn't introduced its new head coach yesterday, I would have been writing about the basketball game at the Fieldhouse tonight. The rivalry with Whitman has become one of the best in our area these days and, for the first time in my memory, the Pirates are hosting the Blues while looking up at them in the polls. Jim Allen has an advance of tonight's NWC showdown.
Preps: Dave Nichols took a look back yesterday at the weekend's basketball in the area while Bill Pierce went quite a bit further back for this wrestling story. … We have a roundup of yesterday's prep basketball action at the bottom of this local digest. … There is always a place for a successful football coach, even one with some pretty heavy baggage. … In one of today's most interesting stories, Hermiston, Oregon, is asking the WIAA to let it play in Washington next season. You know, for the kids.
Seahawks: The Hawks' budget is in decent shape, but they will have to file down some jagged edges. … One of the key questions has to do with Kam Chancellor. … The Hawks' front office decision makers might change before those questions are answered. … Doug Baldwin was named to the Pro Bowl, the seventh Hawk to be honored.
Mariners: Dae-Ho Lee won't be back. Overweight Mariner fans everywhere use crying emoji. Then eat a piece of cake in his honor.
Sounders: There are questions for Seattle as training camp opens.
•••                                        
• I have come to the conclusion I am too old to have big dogs in the house. I'm afraid they don't view me as the Alpha anymore. Until later …
Local journalism is essential.
Give directly to The Spokesman-Review's Northwest Passages community forums series -- which helps to offset the costs of several reporter and editor positions at the newspaper -- by using the easy options below. Gifts processed in this system are not tax deductible, but are predominately used to help meet the local financial requirements needed to receive national matching-grant funds.
Subscribe to the sports newsletter
Get the day's top sports headlines and breaking news delivered to your inbox by subscribing here.
---