Sports
Whitman's men run past Pirates in Division III showdown
Jan. 24, 2017 Updated Tue., Jan. 24, 2017 at 11:34 p.m.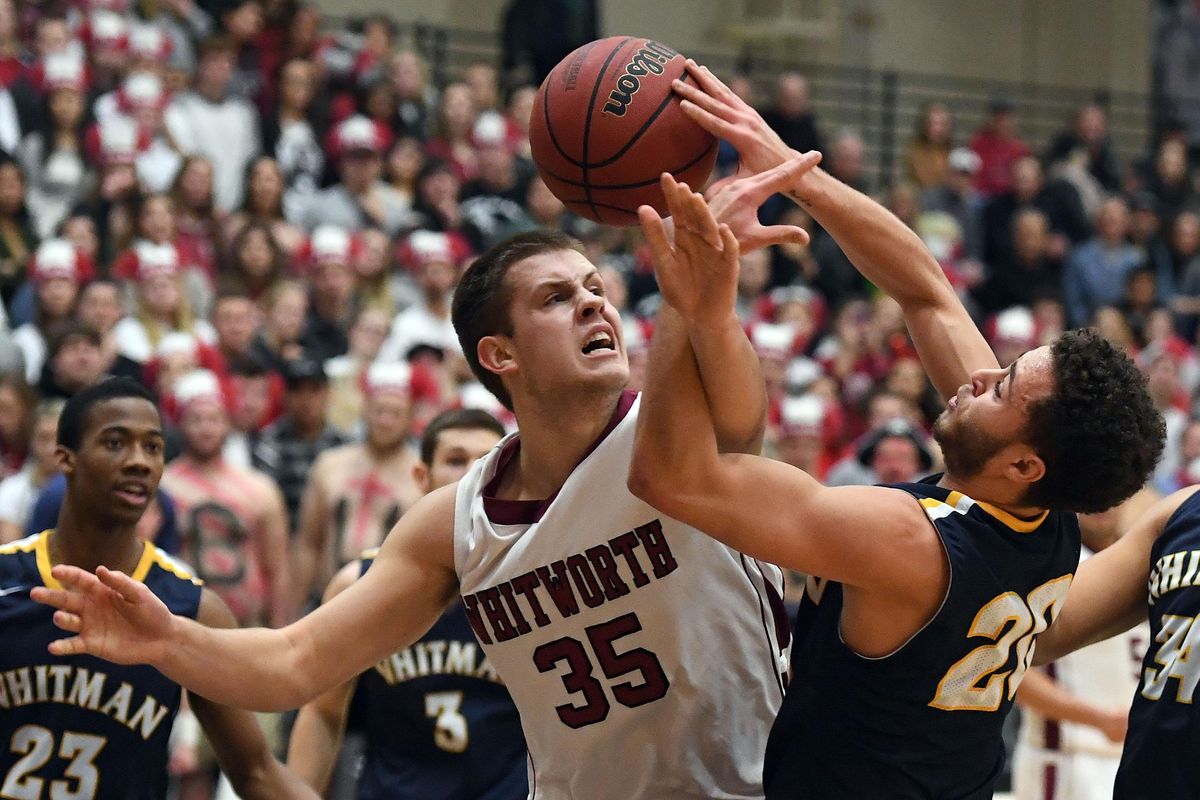 Whitworth Ben Bishop (35) tangles up with Whitman Jase Harrison (20) during a rebound in the first half of a college basketball game, Tues., Jan. 24, 2017, at at Whitworth University. (Colin Mulvany / The Spokesman-Review)
The good news? Whitworth is still in second place in the Northwest Conference.
However, it's now a distant second after second-ranked Whitman ran past the Pirates 91-75 in a Division III showdown Tuesday night at the Whitworth Fieldhouse.
Instead of a little payback for last year's NCAA tournament defeat, the sixth-ranked Pirates got another lethal dose of Whitman's pressure defense and fast-paced transition game to fall three games back in the standings.
"They're a talented group that's played together a long time they know their roles," Whitworth coach Matt Logie said. "When they get on a roll with that swagger, they're hard to slow down."
In the big picture, the Pirates (15-3 overall, 6-3 in the NWC) almost certainly won't add to their string of seven straight regular-season conference titles. Instead, Whitman is poised to win its first championship in almost three decades.
And the road to the NCAAs? This year it will surely go through Walla Walla – and another date with a team that's now taken four straight over Whitworth.
However, more work lies ahead to get there.
"We just have to keep getting better," Logie said. "We have a lot of basketball in front us. This is a group that has been through a lot together and we just have to create another opportunity for ourselves.
Whitman (18-0 and 9-0), the only unbeaten team in Division III, led 40-26 at halftime and was never threatened in the second half.
Four minutes after intermission, Whitman guard Tim Howell – the leading scorer in the NWC – scored his 21st point on a 3-pointer that also gave the Blues a 51-34 lead.
Howell finished with a game-high 29 points on 9-for-14 shooting from the field.
Eventually, the margin hit 22, and Whitworth never got closer than 14 in a game that was just as lopsided as the 79-65 loss in the first meeting on Dec. 6 in Walla Walla.
The Blues, who haven't won a conference title since 1987 or an outright crown since 1981, got out of the gate quickly, scoring the first eight points. They made it 18-7 on a 3-pointer by Jack Stewart that forced Logie to call an early timeout.
It didn't help. With seven minutes left in the half, Whitworth was 4 for 17 from the field and had committed 10 turnovers against a fearsome half-court defense.
"Their pressure is good, but a lot of our turnovers were unforced or stupid decisions," Whitworth forward Drew Sears said.
Whitworth rallied late in the half and cut the deficit to 27-22 on a 3-pointer from Kyle Roach. That reignited the crowd, but Whitman quickly doused the rally with a 13-4 run to close out the half.
At times it seemed that no pass was safe from the quick hands of the Blues, who came into the game ranked third nationally in turnover margin.
Whitworth was coming off a strong defensive effort in road wins at Lewis & Clark and George Fox, but gave up 50 percent shooting (31 for 62) to the Blues.
At the other end, the Pirates finished 23 for 58 from the field and 5 for 21 from long range. They also wasted a 24-for-25 night at the foul line.
Four Pirates scored in double figures, led by Roach with 17.
The Pirates get a chance to regroup at home on Friday against Willamette.
Contact the writer:
(509)459-5437jima@spokesman.com
Local journalism is essential.
Give directly to The Spokesman-Review's Northwest Passages community forums series -- which helps to offset the costs of several reporter and editor positions at the newspaper -- by using the easy options below. Gifts processed in this system are not tax deductible, but are predominately used to help meet the local financial requirements needed to receive national matching-grant funds.
Subscribe to the sports newsletter
Get the day's top sports headlines and breaking news delivered to your inbox by subscribing here.
---