Sports > Seattle Mariners
Grip on Sports: College basketball's night of upsets opens the door for Gonzaga to ascend to the top of the polls
Wed., Jan. 25, 2017 A GRIP ON SPORTS • As last night wore on, college basketball's upsets just kept coming. No. 1 Villanova, No. 2 Kansas and then No. 4 Kentucky all lost. Three of the four highest-ranked teams in the country went down. Which leaves only No. 3. Gonzaga. Read on.
••••••••••
• It's no secret the Zags are pretty darn good this season. A 20-0 record – the nation's last undefeated mark – makes it hard to hide. But the best team? Why not?
We can think of a few reasons, but that's part of our job, to be skeptical. And yet, the reasons for their ascension to the No. 1 rankings in the polls are more persuasive.
The skeptic in me says Gonzaga hasn't played a tough-enough schedule to be considered the top team. I tell him to shut up, because I just looked at who knocked off No. 3 Kentucky last night.
That would be Tennessee, in Tennessee. The same Volunteer team Gonzaga defeated 86-76 in mid-December. Not in Knoxville, mind you, but in Nashville, where the arena was still filled with burnt orange.
The skeptic laughs. He points out Gonzaga just doesn't play the big boys night in and night out like teams in the ACC or Big East. OK, I answer. The West Coast Conference has one, maybe two teams besides the Bulldogs who would finish in the top half of those conferences. Sure.
But Gonzaga has four wins over teams ranked in Ken Pomeroy's top 50 – if you don't know, Pomeroy does a stats-based analysis that is second to none at KenPom.com – which is more than Kentucky, UCLA, Duke and Arizona, to name just a few big conference powers.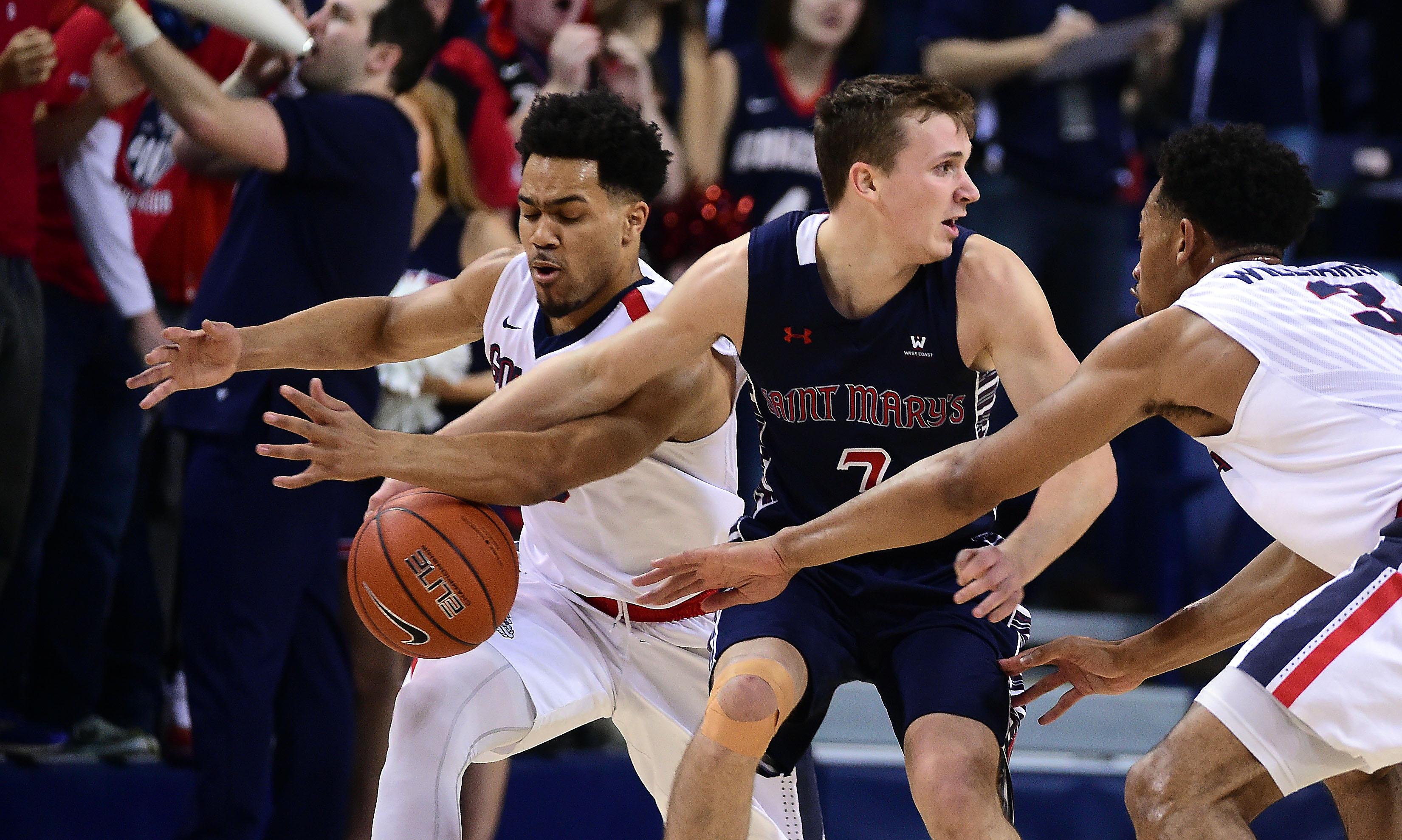 The skeptic winces. But he falls back on his best argument. The Zags aren't going to face more than one or two real challenges the rest of the way. It's a point I have to concede.
The West Coast Conference isn't stacked. It's a mid-major league with a major star. But that's for the future. We are talking about the now. Should the Zags be No. 1 next week? If they defeat San Diego at home Thursday and Pepperdine in Malibu on Saturday night, then yes they should.
The rest of the year? Who knows. One thing is for certain. This Gonzaga team is good, better than last year's team at this point. But last season the group pulled together, found it's mojo and advanced all the way to the Sweet Sixteen (fixed from earlier). We have no idea what the future holds for this team, how it will grow and where it will end up.
That's the beauty of college basketball.
But for now, Gonzaga fans are two wins away from being able to point to the sky with their index finger and say the magic words.
"We're no. 1."
• The Mariners have strict guidelines about retiring numbers. They have retired just one, Ken Griffey Jr.'s 24, and only after he was voted into the Hall of Fame. (Jackie Robinson's No. 42 is retired as well, but that's all around baseball.)
But yesterday the organization announced it is retiring No. 11, Edgar Martinez's number.
His jump in the Hall of Fame voting allowed management the opportunity to invoke a phrase in their guidelines about number retirements. And draw a big crowd to Safeco in August.
When Martinez was named on 58.6 percent of the Hall of Fame ballots last week (a player needs 75 percent to be inducted), that was enough for the M's to invoke a "come close" clause that has always been in their number retirement criteria.
Which makes me wonder. If Edgar had stepped up to the plate in a key situation in his career and pulled a high fly ball down the left line that traveled, I don't know, 258 feet, would we have said he "came close" to a home run?
Why would I pick that number? Because, if the fence was 330 feet away, that's analogous to how close Martinez's Hall of Fame voting percentage was to induction.
Nope, that's not really all that close. But then again, a 258-foot fly ball won't draw 50,000 paying fans to Safeco.
•••
Gonzaga: Before we get to the polls – CBS already has the Zags at No. 1 – Jim Meehan took a look at how center Przemek Karnowski keeps his back in shape. The big guy uses yoga. And, no, I don't know if anyone makes yoga pants in his size. I'm guessing not. … Jim also helped put together a piece on all the losses yesterday. … Around the WCC, BYU's Nick Emery has a bruised knee. He may not play this week but the sophomore guard shouldn't be out too long.
WSU: With a week until football signing day, the commitments continue to pile up. … The Cougar men golfers got to spend some time in Arizona. … Elsewhere in the Pac-12, Markelle Fultz has been good as advertised. And the Huskies has been, well, not as good. … Arizona State is the next team that will try to contain Fultz. … Oregon's Dillon Brooks is moving better. … When Utah's David Collette will return to the lineup is still unknown. … The NCAA tournament may not include a lot of Pac-12 schools. … Two that will probably be there are UCLA and USC. … Oregon's president got involved with the recent football problems. … The drunk-driving incident actually included two assistant coaches. … None of the problems have seemed to hurt recruiting. … Arizona has been hit hard by Oregon's new football staff.
EWU: There was some big news around the Big Sky yesterday, with the Grand Forks Herald reporting the University of North Dakota will be leaving the conference in a couple years and joining the Summit League. … Matt Troxel, a Coeur d'Alene kid, has returned to the University of Montana as a coach. … The mayor of Greeley – and the husband of the University of Northern Colorado's president – is being praised for being a loudmouth. … Southern Utah likes its recruiting class.
Idaho: Jim Allen's women's basketball notebook leads with a piece on the Vandals' Mikayla Ferenz's hot streak, which has sparked UI.
Whitworth: The sixth-ranked Pirates proved to be no match for visiting second-ranked Whitman 91-75 Tuesday night. Jim Allen has the game story from the Fieldhouse.
Chiefs: Seattle came across the mountains – no easy feat this time of year – and took home a 3-2, overtime victory against Spokane. Kevin Dudley was in the Arena and has this story.
Preps: Tuesday's are always a busy night in high school basketball, with games everywhere. We can pass along a GSL boys roundup – with Colin Mulvany photos from the Gonzaga Prep/Central Valley game – as well as a GSL girls roundup. And there are roundups from around the area in girls and boys action.
Seahawks: If you are thinking the Hawks are going to cut Jimmy Graham loose, think again.
Mariners: John Blanchette has a column about the M's retirement of No. 11, which has a rich history with the franchise. … Martinez is still working for the M's and on his legacy with the M's.
Sounders: Clint Dempsey has been cleared to work out with the team, though his availability for matches is still not determined. … Goalkeeper Stefan Frei suffered a bad ankle injury with the U.S. National Team and may not be ready for MLS play for a while.
•••
• I wore four different numbers in the four years I played baseball at UC Irvine, so there is probably no way the school will retire one for me. That and the fact I rarely got off the bench. But if they did, I guess I would want them to hang up No. 28. That's the one I wore after walking on as a freshman and earning a spot. It would have to have a big line down the middle of it, though, symbolizing the strap that held on my chest protector. I had one on pretty much all game in the bullpen. Until later …
Subscribe to the sports newsletter
Get the day's top sports headlines and breaking news delivered to your inbox by subscribing here.
You have been successfully subscribed!
There was a problem subscribing you to the newsletter. Double check your email and try again, or email
webteam@spokesman.com
---
Subscribe and login to the Spokesman-Review to read and comment on this story