Sports
Mt. Spokane's Jaidyn Lyman not limited by size
Wed., Jan. 25, 2017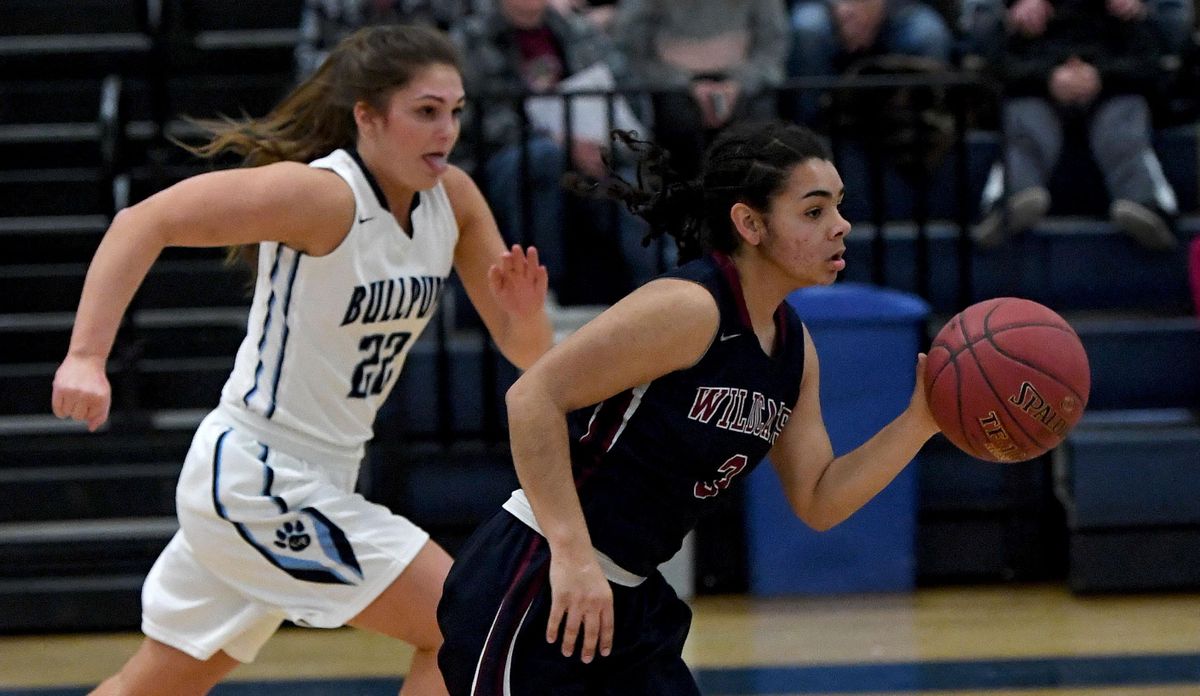 Mt. Spokane guard Jaidyn Lyman (3) heads down court as Gonzaga Prep's Mia Scelfo (22) gives chase during first half of basketball game earlier this month. (Colin Mulvany / The Spokesman-Review)
Mt. Spokane senior Jaidyn Lyman plans to get a second tattoo this weekend.
She likes tattoos that make wholesome statements, are inspirational and shed some light about her.
The 5-foot-3 point guard is going to get the title of a book by former University of Washington and NBA point guard Nate Robinson – Heart Over Height – printed on her inner left forearm.
At 5-9, Robinson had to overcome what some perceived as physical limitations and the notion that being short meant that he'd come up short.
Lyman can relate considering she's among the shortest players in the Greater Spokane League. But she's proven that size doesn't matter and good things come in small packages.
A four-year starter, Lyman has done nothing but meet expectations and impress second-year coach David Pratt.
"I'm biased, but she's the best point guard in the league," Pratt said.
Pratt would get little argument.
Lyman is averaging 13.9 points a game to go along with 3.1 assists. Her scoring average is second best on her team. Sophomore Aspyn Adams, who will replace Lyman at point next year, is leading the league (20.6).
"She's tough mentally, she's tough physically," Pratt said. "She has a high compete level."
A Spokane native, Lyman's parents were athletes. Her father played baseball at Lewis and Clark and had a short try in the minor leagues. Her mom, a West Valley grad, ran cross country.
"I think I was born to play basketball," Lyman said. "In second grade, when I first started playing, I immediately fell in love with the game. Ever since then everything in my life has been shaped around basketball."
Lyman, who played for the Spokane Stars the last four years, had her best summer last year. She started all 43 games.
"She's the quickest and fastest guard in the GSL by far," Lyman's club coach, Ron Adams, said. "She got better and better and better each game for us."
GSL coaches have noticed.
"Tough, quick guard who brings a lot of leadership and energy to Mt. Spokane," Central Valley coach Freddie Rehkow said. "When you play Mt. Spokane you have to make sure she's accounted for."
Mead coach Quantae Anderson echoes Rehkow's thoughts.
"She's become a great floor general and leader," Anderson said. "It's been great to see her game mature over the years, including becoming a better shooter. I feel her best attribute is her confidence. It exudes throughout the team."
Pratt has seen firsthand Lyman's increased confidence. It's been infectious.
"She's such a good leader. She works hard in practice and she's a good vocal leader. I appreciate the intangibles. If she makes a mistake, you can talk to her about it and you don't have to get on her. She has a high basketball IQ."
Lyman led Mt. Spokane to its first state tournament last year. The Wildcats took fourth. She played her best at state, finishing as the tourney's second leading scorer (18.3) and leader in assists (4.3). She averaged 10.5 points and five assists in the regular season.
She was named first-team all-state.
Lyman wants more this season. The Wildcats are in second in league, trailing defending State 4A champ CV by a game.
"We might have been the only people that expected us to do this well," Lyman said. "Especially when we saw the preseason rankings and we were picked sixth."
While appreciative of last year's team, Lyman believes the Wildcats are much better this year.
"There are a lot of different pieces," she said. "Miahna (Waters) is the best rebounder in the GSL and Aspyn (Adams) is the best shooter."
A former player last year brought a theme – ohana – to the team that Pratt adopted. It's a Hawaiian term for family.
Lyman took it so seriously that she honored her team by getting the word tattooed on her inner right bicep.
When Lyman started thinking about where she might play in college, she wanted to find a school that wanted her. So when Carroll College pursued her, Lyman listened.
She signed a letter of intent with the Helena, Montana, school last fall. She has a 3.87 grade-point average and plans to major in something related to sports medicine.
"Jaidyn has speed unlike anything we've had in our program before," Carroll coach Rachelle Sayers said in a news release when Lyman signed. "She is an explosive player that will allow us to really keep the pressure on teams offensively and defensively. She is something we don't have. She is a jet."
Contact the writer:
Local journalism is essential.
Give directly to The Spokesman-Review's Northwest Passages community forums series -- which helps to offset the costs of several reporter and editor positions at the newspaper -- by using the easy options below. Gifts processed in this system are not tax deductible, but are predominately used to help meet the local financial requirements needed to receive national matching-grant funds.
Subscribe to the sports newsletter
Get the day's top sports headlines and breaking news delivered to your inbox by subscribing here.
---