News > Voices
Sister centenarians focus on living, not aging
Jan. 25, 2017 Updated Wed., Jan. 25, 2017 at 4:03 p.m.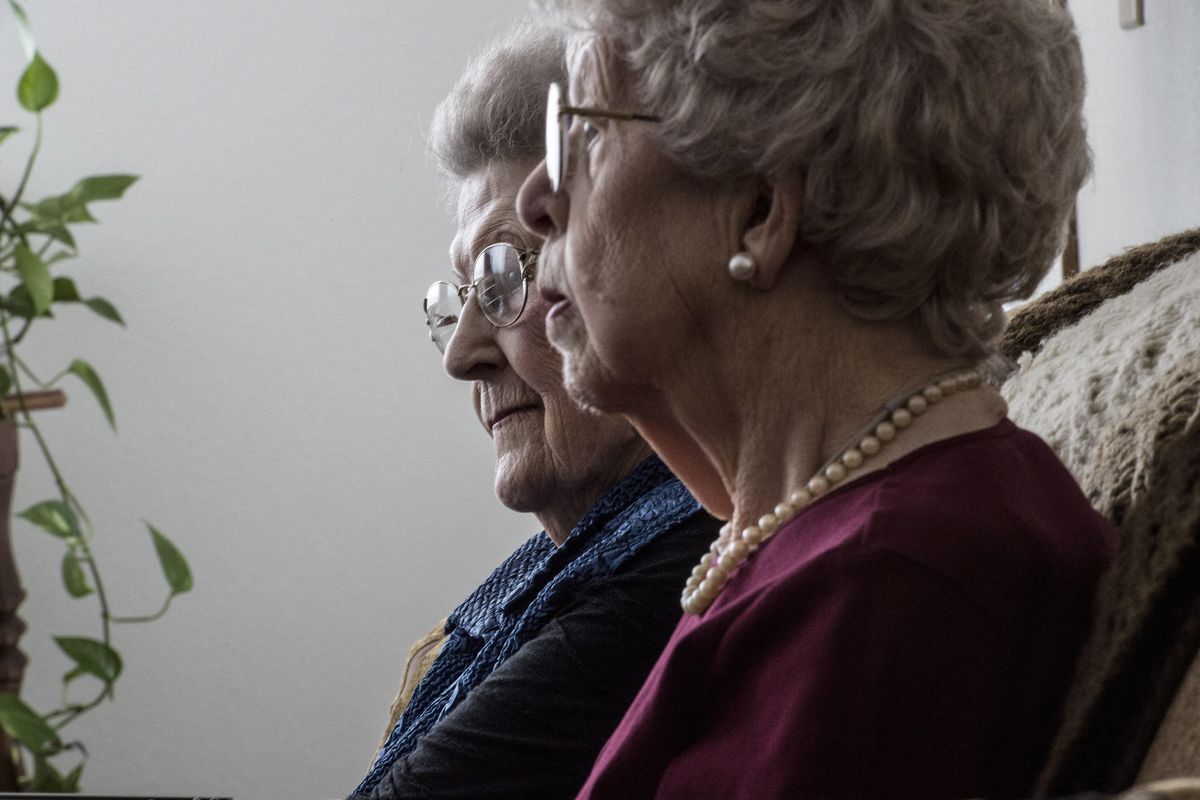 Sisters Viola Beyers, left, and Mabel Gunning talk about being centenarians and living at Holman Gardens in Spokane on Monday. (Kathy Plonka / The Spokesman-Review)
Sister centenarians Viola Beyers and Mabel Gunning say the secret to longevity is not to think about it.
Beyers, 100, and Gunning, 103, live near each other in separate apartments at Holman Gardens Retirement Home at in Spokane Valley.
"If you are thinking you are getting old, you are getting old," Beyers said.
Gunning said she has always remembered a quote from Readers Digest: "The key to successful aging is to pay as little attention as possible to it."
Looking at the sisters, you would never guess they have achieved triple digits in age.
Their eyes are clear and voices strong. Their hearing is good. Their faces reveal vitality and kindness. The women are fully mobile, although Beyers uses a walker because of pain in her knees.
The daughters of Norwegian immigrants, Beyers and Gunning started their lives in Nebraska, but soon moved with their family to an open piece of land near Circle, Montana, in the northeast part of the state.
There, their father built a house, dug a well, erected fences and turned the land into what would be their home for years, they said.
They walked a couple miles to a one-room school where classes were suspended during the coldest part of winter.
They learned the value of hard work and their Lutheran faith through their strict, but loving father.
They remember their childhood as being happy, except for the fear of rattlesnakes and maybe the wild horses when they were little.
"We never realized we were poor," Beyers said.
An old photograph shows Beyers, Gunning, two other sisters and their father circa 1919, all looking healthy and happy together.
The sisters' mother had died years earlier when the children were small, leaving their father, Julius Bernt, to raise them.
He eventually remarried and had three more children. A younger sister from that marriage survives.
Those bonds from childhood have kept the two centenarians on parallel lives and led them to Holman Gardens.
Gunning recently moved to the facility.
Beyers has lived there since 2011 following the death of her second husband.
She said her two daughters, who live in the region, persuaded her to leave her Arizona home and return to be around family.
The daughters looked around Spokane and settled on Holman Gardens where they arranged for a two-bedroom independent living apartment.
Beyers said it was one of the best moves of her life.
Last August, the facility had a big party for her to celebrate her turning 100, she said.
"It's a very friendly place," said Beyers, who enjoys eating and passing time with the other residents. "I wouldn't live anywhere else," she said.
Gunning recently moved to Holman Gardens from Davenport.
A turning point in their lives came with World War II.
Beyers had married and moved with her husband to the Tacoma area after he joined the Army and was shipped overseas.
Gunning went to live with Beyers. Both got jobs at the hospital in Tacoma.
For a couple of years, Gunning worked at Boeing as a riveter, but learned that the larger rivet gun was too powerful for her.
After the war, Beyers and her husband moved to Davenport where he had once worked as a farm hand.
Gunning followed and met her husband there at a fundraiser. They had four girls, now in their 50s and 60s.
Gunning, who gave up driving a year ago after a fainting spell, counted Davenport as home for nearly 70 years.
Her husband, a postal clerk in Davenport, died in 2008.
In addition to her daughters, Gunning has seven grandchildren and seven great-grandchildren.
Beyers has five grandchildren, one great-grandchild and one great-great-grandchild.
Looking back on the changes they have seen, the sisters said that young peoples' behavior concerns them.
They said they see them lacking a sense of responsibility, that they are more interested in being entertained than being productive.
As for the media landscape, they said they remember listening to the radio on the farm, which drew electricity from a windmill.
Of the losses that inevitably stack up over time, Beyers said, "You learn to live with it."
But she finds comfort in her faith.
"When the Lord decides to call me, I'm ready to go," she said.
Contact the writer:
(509) 459-5454mikep@spokesman.com
Local journalism is essential.
Give directly to The Spokesman-Review's Northwest Passages community forums series -- which helps to offset the costs of several reporter and editor positions at the newspaper -- by using the easy options below. Gifts processed in this system are not tax deductible, but are predominately used to help meet the local financial requirements needed to receive national matching-grant funds.
Subscribe now to get breaking news alerts in your email inbox
Get breaking news delivered to your inbox as it happens.
---