News > Spokane
Spokane woman finds racist sign in her front yard
Jan. 25, 2017 Updated Thu., Jan. 26, 2017 at 9:59 a.m.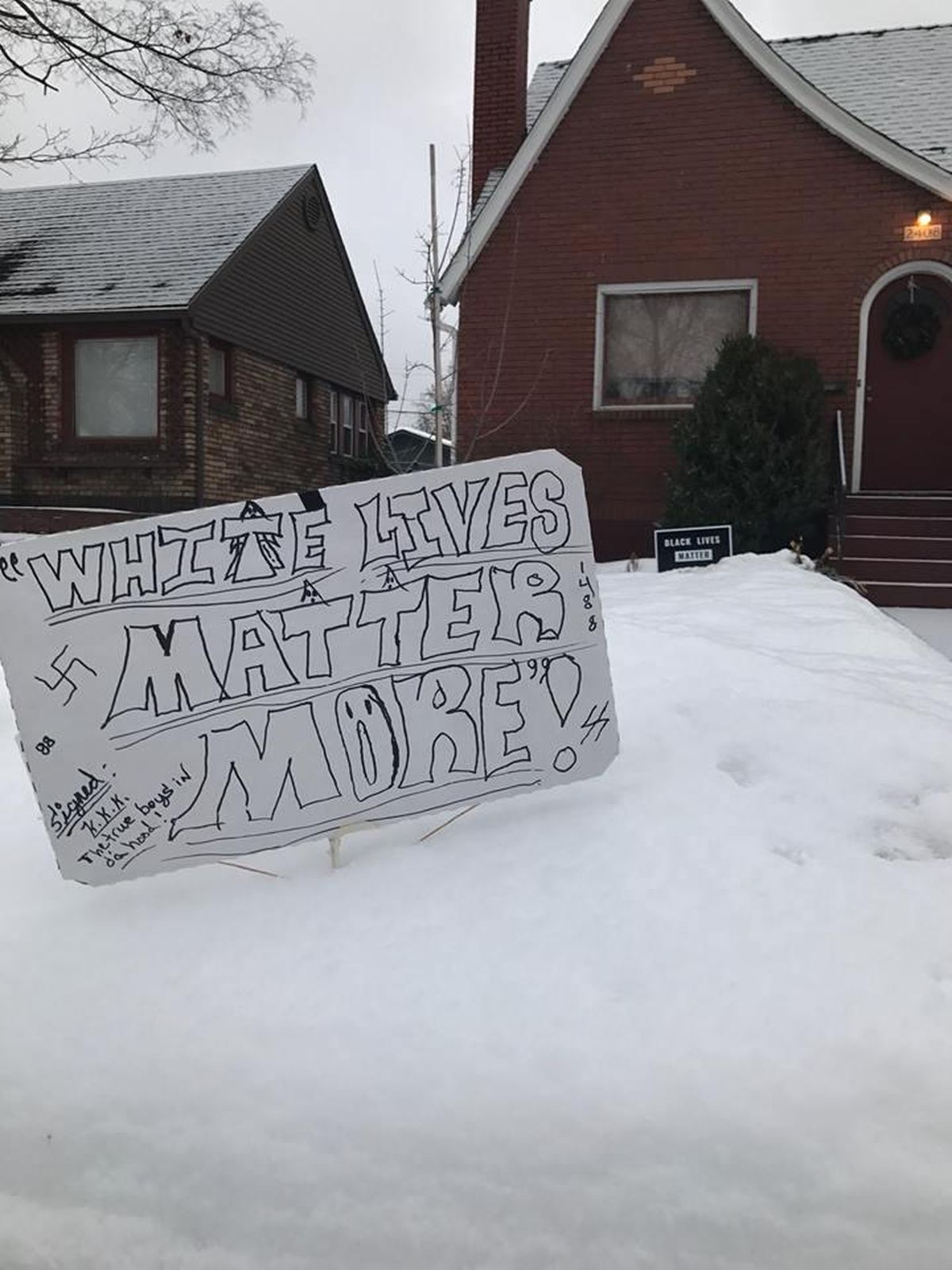 Lena Negrete woke up Wednesday morning to find this sign in her front yard. This photo was included in one of her friends' Facebook posts, which called the act "intimidation" and a "hate crime." (Courtesy of Lena Negrete)
When Lena Negrete woke up and opened her blinds around 7:30 a.m. Wednesday, she was greeted by an unfamiliar sight: a large, white sign propped up in her front yard with the words "WHITE LIVES MATTER MORE" written on the front.
She quickly removed the sign, since she lives a few blocks away from Garfield Elementary School on North Normandie Street. Then, more confused than frightened, she called her friends and asked for advice on what to do next.
Her friends told her she should call the police. They said it was obvious: this is a hate crime.
"It's not surprising to me that this is happening," Negrete said from inside her home Wednesday after taking the day off from work. "It's popping up all over the place, these hate crimes. After the recent election it's happening more and more."
Negrete, who's of Native American and Mexican descent, has had a small "Black Lives Matter" sitting in front of her house for months.
The sign left overnight Tuesday, which Negrete said was "surprisingly well-made," displayed crude drawings of hooded figures, a swastika and the words "K.K.K. The true boys in da hood!" It also had the numbers "1488" on it, which refer to various white supremacist and Neo-Nazi writings.
A resident of Spokane for about six or seven years, Negrete said this is the first time she's experienced any sort of overt racism in her community.
She doesn't know the cause, but said it could be her yard sign or that she recently returned from a well-documented, weeklong trip to join the Washington D.C. Women's March, one of the main hubs of one of the largest social protests in United States' history. She said photos of her trip were shared across her and her friends' Facebook pages.
"I would like to think that it wasn't targeted," she said. "Because I feel like everyone who I'm friends with on social media are not racist pigs."
Whatever the reason, she said she isn't scared. Even if it was targeted at her specifically, she said her support group of friends and community members gives her strength.
"At first, it was a little disheartening," she said. "But I just have such a close group of friends here in Spokane that are really socially aware and socially active. I don't feel unsafe by any means."
This is at least the third recent instance of racist messaging in Spokane that appears to intentionally target a racial or ethnic group. On Nov. 15, dozens of community members gathered to remove a racial slur spray-painted onto Spokane's Martin Luther King Jr. Family Outreach Center. The same week, a Mexican family living in the Logan Neighborhood had a swastika and message about Trump spray-painted on their home.
Phillip Tyler, president of the NAACP in Spokane, spoke to the crowd of people, saying that the racist remarks would not break the community and would only make them stronger.
Tyler reiterated that message Wednesday.
"Racism is real. It's really here in our city as evident by this type of behavior," he said. "This type of behavior is meant to intimidate and silence individuals but it won't. It will only strengthen our resolve. It will only serve to show what our city can and should be."
Though the Nov. 15 incident was reported to police, no known suspect has been apprehended. When Negrete reported her case to police, she said officers came to her house early in the morning and took the sign as part of their investigation.
As to why someone would take the time to a make sign in the first place, let alone place it onto someone's lawn, Negrete had her own ideas.
"I honestly think that people who do things like this are just uneducated," she said. "Really, that's what it comes down to. They're not educated on the issues that exist today with race in America."
City of Spokane spokesman Brian Coddington said police are searching for potential witnesses in the case.
"Spokane will continue to stand united against individual acts of hate," he said. "Such acts do not represent the values of the people who live in Spokane and will never be tolerated."
Local journalism is essential.
Give directly to The Spokesman-Review's Northwest Passages community forums series -- which helps to offset the costs of several reporter and editor positions at the newspaper -- by using the easy options below. Gifts processed in this system are not tax deductible, but are predominately used to help meet the local financial requirements needed to receive national matching-grant funds.
Subscribe now to get breaking news alerts in your email inbox
Get breaking news delivered to your inbox as it happens.
---