News > Voices
Weathercatch: What's behind the wacko winter weather – and what's next
Wed., Jan. 25, 2017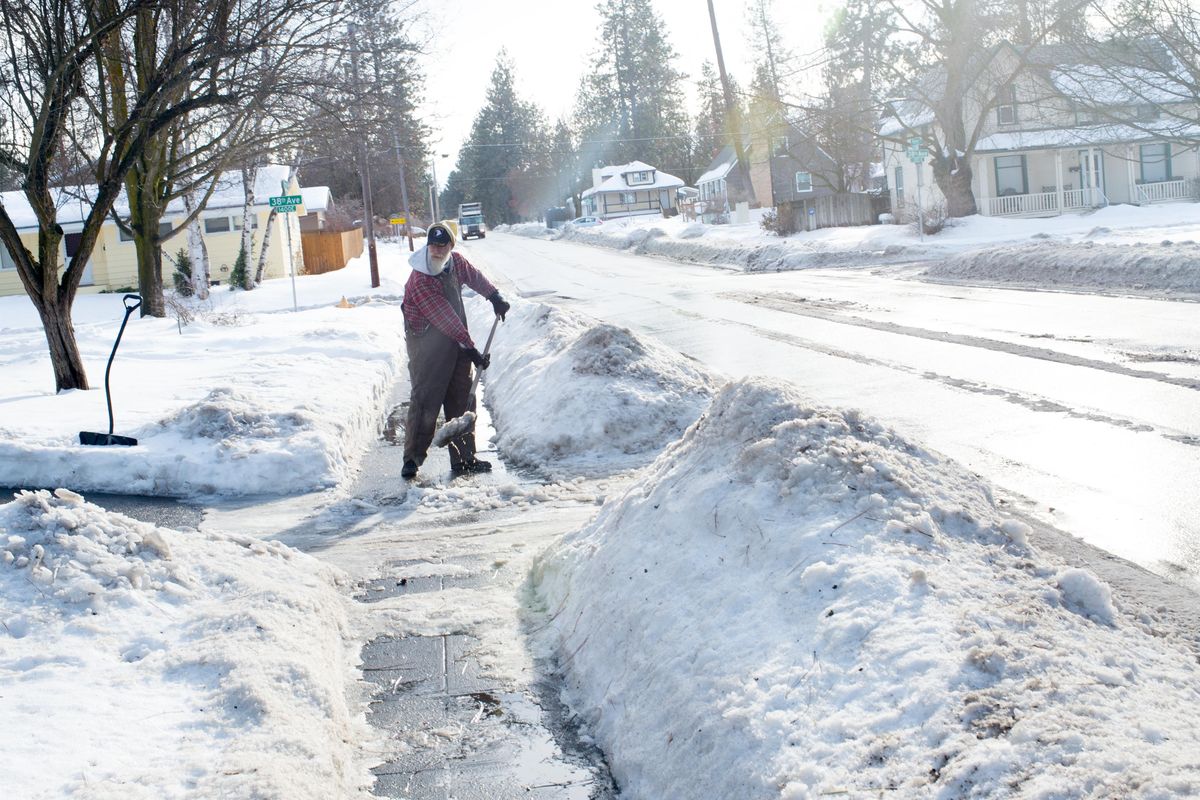 Handyman Dave Beckman, 55, shovels snow from a sidewalk on Jan. 19 in Spokane. "Business is good, but I can't wait for this stuff to be gone," he said. (Tyler Tjomsland / The Spokesman-Review)
If you're feeling weather beaten or weather whiplashed, you are not alone. In a span of a month and a half, the Inland Northwest experienced:
Colder than average temperatures.
Above average snowfall and winds.
Snowdrifts not usually seen in this region.
An ice storm.
A rapid and drastic shift from freeze to thaw.
Rain, more wind and a slushy, watery mess.
Consequently, we encountered waist-high snow berms, icy roads, highway closures, flight cancellations, canceled classes, clogged storm drains and localized flooding. It has been a weird, challenging winter and, amazingly, it's not even half over.
A combination of powerful climatic forces has helped create this odd winter show.
La Nina is among the big-name performers, which you can partly blame – or credit – for the waves of subzero weather and snowfall that walloped Central and Eastern Washington in December and the first part of January.
La Nina's flipside is El Nino, and you may recall that in 2015, it was largely to blame for unusually warm weather and a lack of mountain snowpack that caused serious drought conditions.
With a swing of a global climatic pendulum, a La Nina pattern followed and did just the opposite, bringing us colder temperatures and more snowfall this winter.
While disturbingly cold, the upside is that a once-drought-stricken Pacific Northwest got blasted with snow in the mountains and lowlands alike. Skiers have celebrated dry powder not seen in some time.
Then suddenly, a switch got flipped. Last week, temperatures soared, rain fell and a thawing wind arrived.
Jostling La Nina was a strong atmospheric river that took aim at the Pacific Northwest. Unlike the three severe, freezing weather systems that had earlier descended from western Canada, this was a 3,500-mile-long plume of warm, wet and windy air that formed over the subtropical Pacific Ocean.
Now, after about a week of relatively mild weather conditions, another climatic event appears to be developing.
Fog.
A ridge of high pressure has parked itself over the region, creating a temperature inversion that will bring rounds of fog. In fact, Spokane woke up to it starting Monday morning. The Tri-Cities got hit worse, as freezing fog and black ice led to school cancellations and delays.
Nic Loyd is a meteorologist with Washington State University's AgWeatherNet. Linda Weiford is a WSU news writer and weather geek. Contact: linda.weiford@wsu.edu or nicholas.loyd@wsu.edu.
Local journalism is essential.
Give directly to The Spokesman-Review's Northwest Passages community forums series -- which helps to offset the costs of several reporter and editor positions at the newspaper -- by using the easy options below. Gifts processed in this system are not tax deductible, but are predominately used to help meet the local financial requirements needed to receive national matching-grant funds.
Subscribe now to get breaking news alerts in your email inbox
Get breaking news delivered to your inbox as it happens.
---