Sports
Women's Top 25 Capsules: Prince scores 25 points to lift Baylor over Kansas St.
Wed., Jan. 25, 2017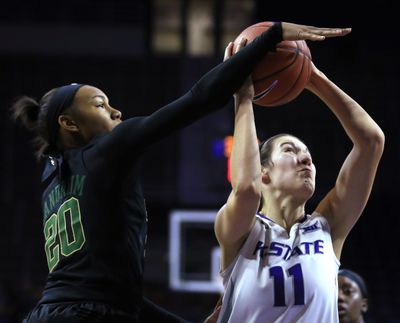 MANHATTAN, Kan. – Alexis Prince scored a career high 25 points to help No. 2 Baylor rout 25th-ranked Kansas State 91-49 on Wednesday night.
Prince had 17 of her points in the first half, outscoring the Wildcats by three in the opening 20 minutes.
Baylor (20-1, 9-0 Big 12) led 7-5 before scoring the next 21 straight points to blow the game open early in the first quarter. Prince got the run started with a 3-pointer and Lauren Cox capped it.
By the end of the opening half, the Lady Bears led 44-14 as the Wildcats made just five baskets in the first 20 minutes.
Karyla Middlebrook led Kansas State (15-6, 5-4) with 17 points on the night.
No. 12 Texas 77, TCU 69
FORT WORTH, Texas – Ariel Atkins scored 17 points, including a clutch 3-pointer with 1:02 left, Joyner Holmes had a double-double and Texas held off Texas Christian for its 13th-straight win.
Holmes had 15 points and 14 rebounds, the third-straight double-double for the freshman. Brooke McCarty and Lashann Higgs had 14 points apiece for the Longhorns (15-4, 9-0 Big 12).
Amber Ramirez led TCU (10-10, 2-7) with 15 points and Amy Okonkwo had 13.
No. 20 Oklahoma 78, Iowa State 63
NORMAN, Okla. – Maddie Manning scored 21 points and Peyton Little had 13 of her 16 in the fourth quarter to lead Oklahoma to a win over Iowa State.
Pierre-Louis added 15 points and Gabbi Ortiz 14 for the Sooners (16-5, 7-2), who won their sixth-straight at home.
Little hit a 3-pointer to open the fourth quarter and put the Sooners up 56-48. Heather Bowe answered with a 3 and Seanna Johnson's layup pulled the Cyclones back within three. Little had another 3 in a 6-0 burst and then scored five-straight points as the Sooners pushed the lead to 71-59 with 2:29 to play.
Johnson led Iowa State (11-9, 2-7) with 17 points and Jadda Buckley had 15.
No. 22 West Virgnia 89, Texas Tech 79
MORGANTOWN, W.Va. – Teana Muldrow scored 22 points, Lanay Montgomery added 21 and both had nine rebounds to lead West Virginia to a win over Texas Tech.
Chania Ray added 12 points and Tynice Martin 11 for the Mountaineers (16-5, 4-5 Big 12). Muldrow had seven assists and Montgomery three blocks, giving her 73 for the season and 273 for her career.
West Virginia raced to a 16-2 lead, led by 22 in the second quarter and 43-24 at the half. The Lady Raiders stormed back with five of their season-high 13 3-pointers in the third quarter and got within five before entering the fourth quarter down 62-55.
Texas Tech (11-8, 3-5), which went 1-4 in five-straight games against ranked teams, made 10 of 16 shots in the fourth quarter but the Mountaineers held on by hitting 13 of 15 free throws.
Ivonne CookTaylor had 19 points for Texas Tech and Recee Caldwell 16.
No. 23 South Florida 52, SMU 51
DALLAS – Kitija Laksa scored nine of her 28 points in the fourth quarter and South Florida overcame its second-worst shooting game of the season to beat SMU.
Maria Jespersen, the Bulls' next highest scorer, had seven points and 13 rebounds.
Ariadna Pujol's jumper with 1:52 to go snapped USF's five minute, 55 second scoring drought and put the Bulls (16-3, 5-1 American Athletic Conference) in front for good, 50-49. After SMU missed a 3, Laksa and Alicia Froling traded a pair of free throws to cap the scoring with 40 seconds left. USF committed a turnover, but McKenzie Adams missed a potential winning 3-pointer with 3 seconds remaining.
The Mustangs (11-9, 2-5) trailed for just 24 seconds in the third quarter, but Laksa hit a 3 and then a layup to open the fourth to give USF a three-point lead. Dai'ja Thomas and Froling sandwiched jumpers around another bucket by Laksa to make it 48-47 with 6:34 left but the teams combined to miss 11 shots in a row before a layup by Stephanie Collins put SMU up by one.
Froling had 13 points and 10 rebounds – her fourth double-double in a row and 14th this season – for SMU.
Local journalism is essential.
Give directly to The Spokesman-Review's Northwest Passages community forums series -- which helps to offset the costs of several reporter and editor positions at the newspaper -- by using the easy options below. Gifts processed in this system are not tax deductible, but are predominately used to help meet the local financial requirements needed to receive national matching-grant funds.
Subscribe to the sports newsletter
Get the day's top sports headlines and breaking news delivered to your inbox by subscribing here.
---