News > Spokane
For Afghan man in Spokane who assisted U.S. military, presidential immigration order a 'door of hope' closing
Jan. 28, 2017 Updated Sat., Jan. 28, 2017 at 9:01 p.m.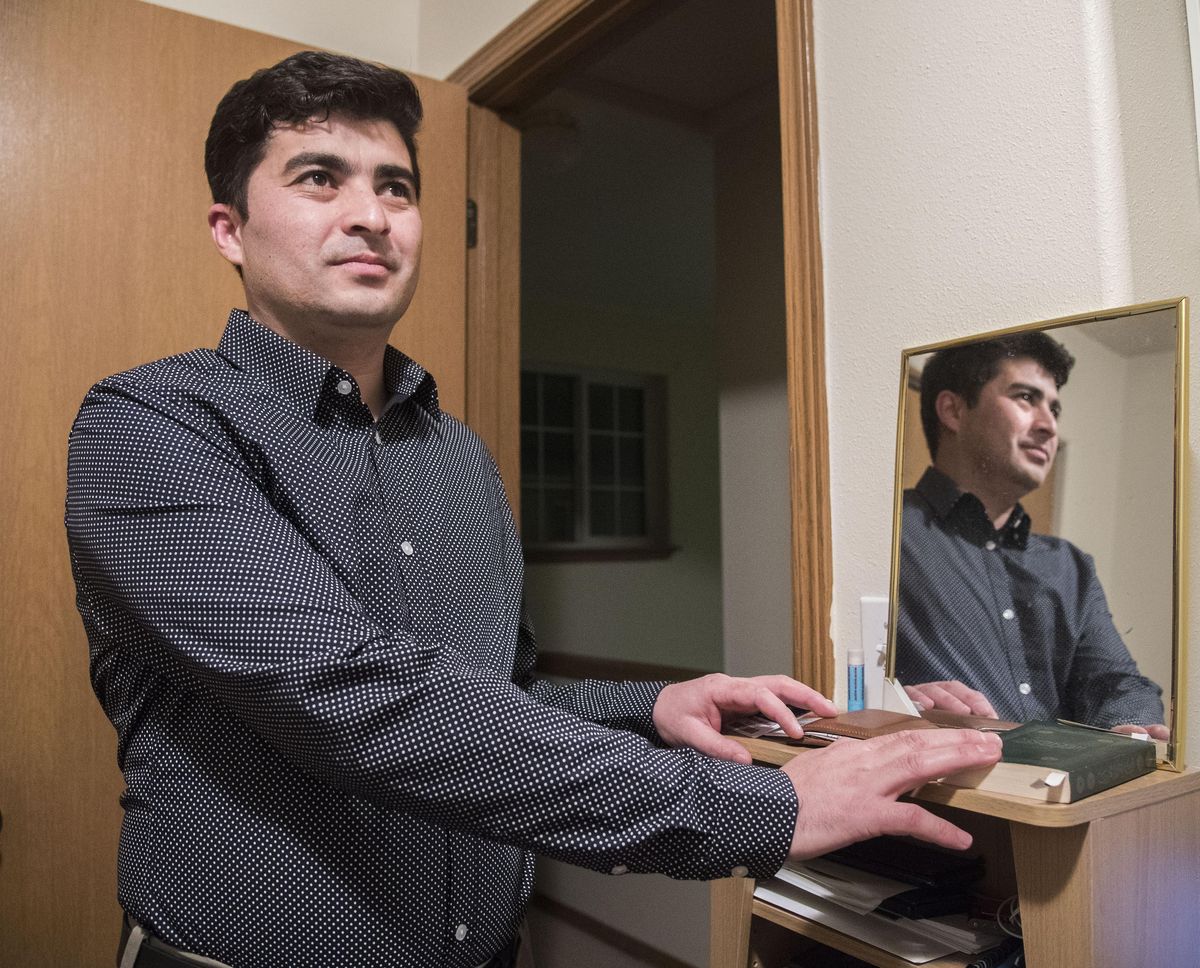 Muhammad Wahidi came to the United States two years ago from the Logar Province in Afghanistan. He is now an Eastern Washington University student and works in Liberty Lake. Here, he holds his hand over the Koran and also reads from the Bible. (Dan Pelle / The Spokesman-Review)
Muhammad Danish Wahidi came to the United States two years ago on a special visa designed for Afghans who assisted the United States military.
After helping the U.S., he was threatened and feared for his life, he said.
The 30-year-old Eastern Washington University student hoped to bring his mother and youngest sister to the United States. In fact, he had a trip planned home this summer.
"I came here to set up a life," he said. "Not just for me but for my whole family."
Now, in the wake of President Donald Trump's executive order on immigration, much about Wahidi's future is uncertain.
"If I leave, I might not be able to come back," he said. "It's very disappointing."
Wahidi worked with the U.S. military for six years. He came to the United States on a Special Immigration Visa and was settled in Spokane by World Relief.
The SIV visa program is designed for Afghans and Iraqis who, because of their work with the United States, can't safely stay in their home countries. Unlike regular refugees, SIV recipients arrive in the United States with a green card, giving them all the benefits of citizenship. SIV recipients can apply for full citizenship after five years.
Now, Wahidi works at a medical benefits management company in Spokane Valley and studies computer science at EWU. He supports his mother and sisters who still live in Afghanistan.
With Trump's Friday announcement, Wahidi wonders what will happen to Iraqi and Afghani men and women eligible for the SIV visa, some of whom are stuck in limbo.
"Back home, if you work for the U.S. Army, the only hope you have if you want to live a life is to come here to the U.S.," he said. "Otherwise, most of the people got killed."
Although the order restricting immigration from specific countries and barring refugees for a period of time didn't come as a complete surprise to Wahidi, he believed that Trump would wait longer to institute his campaign-trail rhetoric.
One of Wahidi's roommates, Merza Noor, also has an SIV visa. He worked as a translator and interpreter for the U.S. military. He said Trump's order will discourage people in places like Iraq and Afghanistan from further helping the United States.
"I think it's not good news for all," Noor said. "I don't think it's for the benefit of the U.S."
For Wahidi, the executive order goes against everything he thought he knew about the United States, a country, he points out, started by people fleeing religious and political persecution.
"They think we are here to cause them miseries," he said. "We love this country the same as you do. We have the same hopes."
Wahidi hasn't told his mother about the new rules. He said he'd call her late Saturday evening, just as she's waking up in Kabul, Afghanistan.
"Coming to the U.S. was the only place for hope," Wahidi said. "And now, it seems to me, that door of hope is shut."
Local journalism is essential.
Give directly to The Spokesman-Review's Northwest Passages community forums series -- which helps to offset the costs of several reporter and editor positions at the newspaper -- by using the easy options below. Gifts processed in this system are not tax deductible, but are predominately used to help meet the local financial requirements needed to receive national matching-grant funds.
Subscribe now to get breaking news alerts in your email inbox
Get breaking news delivered to your inbox as it happens.
---