Sports > Gonzaga women
Gonzaga women shoot down Pepperdine, 83-61
Jan. 28, 2017 Updated Sat., Jan. 28, 2017 at 10:03 p.m.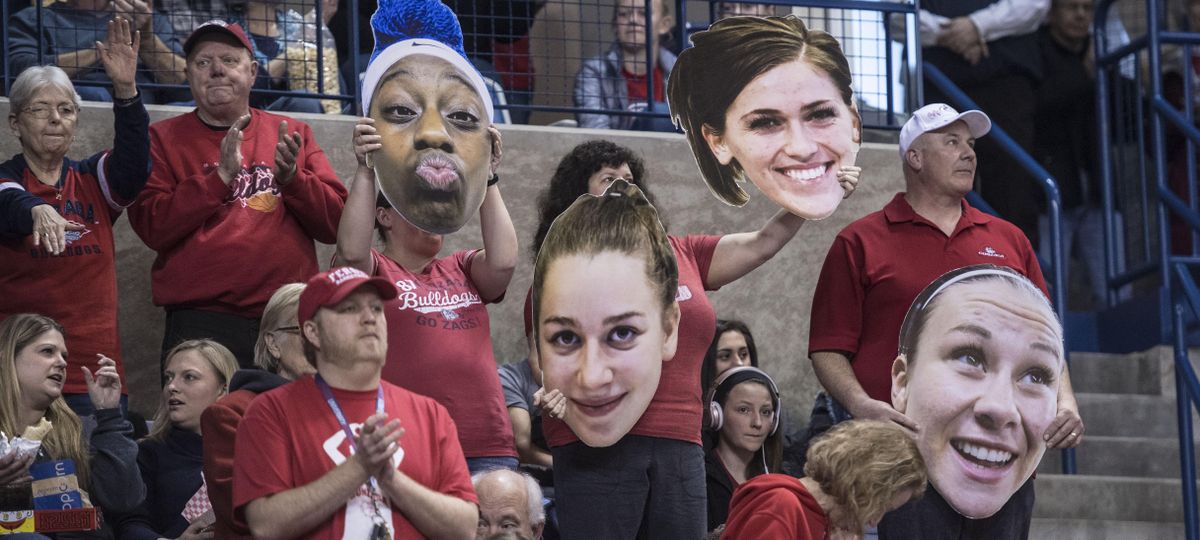 Gonzaga fans get ready for the Pepperdine game, Jan. 28, 2017, in the McCarthey Athletic Center. (Dan Pelle / The Spokesman-Review)
How good was the Gonzaga women's outside shooting Saturday?
Good enough to serve up free tacos for all 6,000 fans the McCarthey Athletic Center – by halftime.
The cheers – "We got tacos" – went up from a hungry student body with more than 3 minutes left in the second quarter, after Zhane Templeton drained the requisite 10th 3-pointer of the afternoon.
The Bulldogs went on to shoot a school-record-tying 15 3-pointers in an 83-61 blowout of West Coast Conference rival Pepperdine, a win made sweeter a few minutes later when WCC co-leader BYU lost at Loyola Marymount.
That leaves GU (17-4) alone at the top of the conference at 8-2 going into Thursday's showdown with the BYU Cougars.
Saturday's easy win – GU's eighth straight – left the crowd with two questions for their drive to the nearest Taco Bell:
Can GU shoot like that on Thursday against BYU, and how in the heck did the Bulldogs lose to Pepperdine by 10 in their first meeting on Dec. 29?
"We were coming off Christmas – too much fudge," coach Lisa Fortier said.
Since then, the Bulldogs have been living off their depth. Fortier's bench outscored Pepperdine's 36-2 and not a single Zag needed to play more than 26 minutes.
Three of the top five scorers were backups: Templeton and Chandler Smith had nine points and Zykera Rice pitched in eight.
Smith saw action at guard, wing and post, filling out the stat sheet with four rebounds in just 13 minutes.
"We've improved in a lot of different ways, especially our defense and our zone offense," Smith said.
GU attacked the zone with gusto in the first 5 minutes, hitting five of its first seven outside shots to go up 22-6. Senior guard Elle Tinkle had two of them, along with a pair of steals that she converted into layups.
"It's been a while since things were going like that for all of us," said Tinkle, who had 10 points in the first quarter and finished with 16.
"I was beginning to wonder if that was going to happen any time this year," Tinkle said. "It was almost like practice shots."
By halftime, the Zags had 12 3-pointers, breaking the record they set earlier this year in a 30-point win over Colgate.
"We were just in a better offensive rhythm today, and against the zone that really matters," said Fortier, whose team was coming off a last-second 59-57 win at San Diego on Thursday.
GU was up 50-35 at halftime, and it could have been more except for some lapses on the perimeter and on the boards in the second quarter.
At one point the Waves (5-15, 3-5) were within seven, but GU closed out the half on an 8-0 run.
That wasn't enough for Fortier, who noted that Pepperdine went into the locker room with a 21-17 rebounding edge.
She reminded her players, recalled the Waves crashing the boards in their earlier meeting. Not this time: GU was plus-15 on the boards in the second half.
It was a balanced effort, too, with Kiara Kudron getting eight boards and Tinkle seven.
As Pepperdine stretched its zone to defend the three, GU went inside to Jill Barta, who had a game-high 17 points along with five rebounds.
"We made some great adjustments at halftime," Fortier said.
Local journalism is essential.
Give directly to The Spokesman-Review's Northwest Passages community forums series -- which helps to offset the costs of several reporter and editor positions at the newspaper -- by using the easy options below. Gifts processed in this system are not tax deductible, but are predominately used to help meet the local financial requirements needed to receive national matching-grant funds.
Subscribe to the sports newsletter
Get the day's top sports headlines and breaking news delivered to your inbox by subscribing here.
---