Sports
Jeff Gordon struggled on restart then settled in for 24 hours
Jan. 28, 2017 Updated Sat., Jan. 28, 2017 at 6:21 p.m.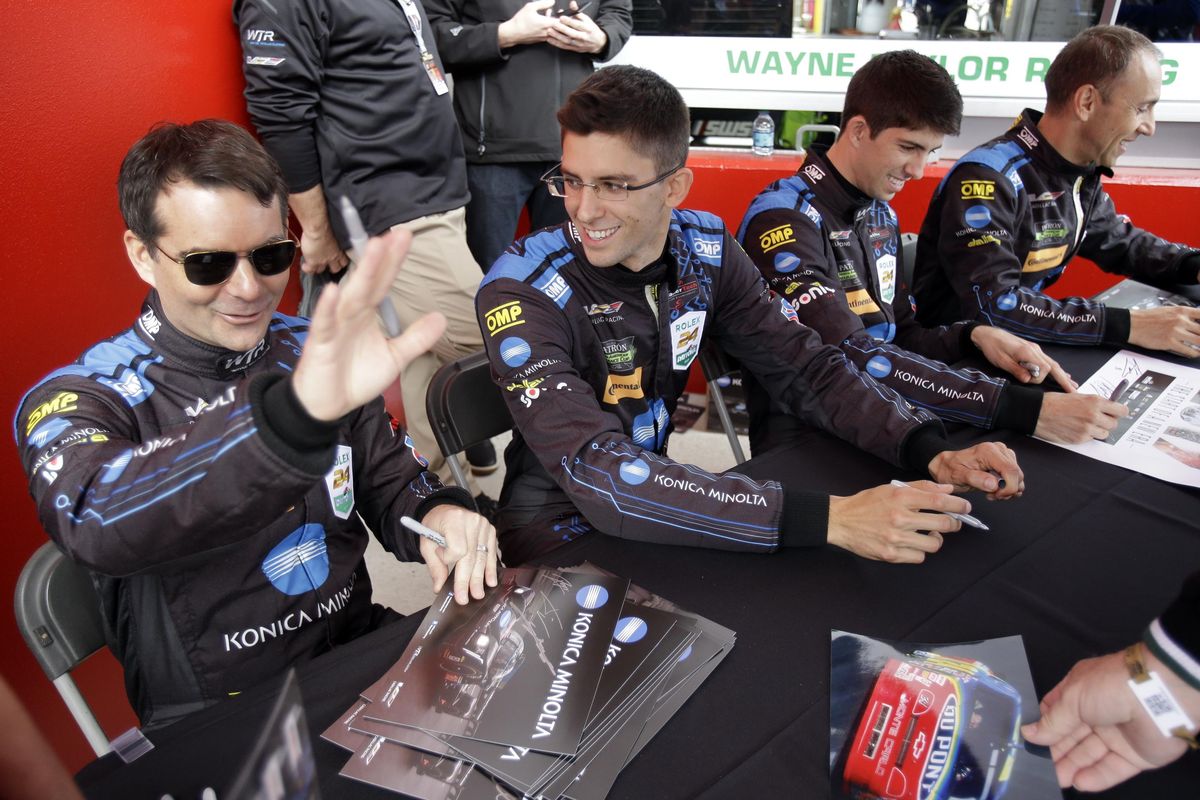 Jeff Gordon, left, waves as he and co-drivers, from second left, Jordan Taylor, Ricky Taylor and Max Angelelli, of Italy, sign autographs for fans before the IMSA 24-hour auto race at Daytona International Speedway, Saturday, Jan. 28, 2017, in Daytona Beach, Fla. (John Raoux / Associated Press)
DAYTONA BEACH, Fla. – Yes, Jeff Gordon is kind of retired.
But sometimes it's too hard for a race car driver to stay out of the car.
Gordon was like a little kid Saturday after his first stint driving a new Cadillac in the prestigious Rolex 24 at Daytona International Speedway. It's a bit of a joke that the driver who retired from NASCAR racing at the end of the 2015 season is back behind the wheel, but there are some offers Gordon can't refuse.
"I think it's a phenomenal race – that's why I want to be here and be a part of it," Gordon said. "I loved coming here and testing. There's a tent over there where all the teams eat, and they kept playing all these old videos of prototype racing and GT racing, whether it was Rolex 24s from years part of Le Mans, it was just amazing to watch. It really gives you that grasp of the history. I have a pretty good grasp, but certainly got a greater one by that.
"And then the flags and all the different countries represented by drivers and team members and manufacturers. That's why I'm here. I want to be a part of such a special event and drive a very cool car. I'm getting a chance to do both of those things."
Gordon drove eight NASCAR races last season when former boss Rick Hendrick needed a replacement for concussed Dale Earnhardt Jr. So he often makes jokes about how retired he really is right now. While there were days back in the Cup car that were exhausting or frustrating, his time so far in this sports car race has been one of the most fun times in his career.
"That right there was big for me," he said. "The other night, practice didn't go well. I had a lockup on cold tires, couldn't get it in reverse. I was in traffic the whole time, and somebody laid (down) oil in front of me, so I never put a good lap down. I was pretty frustrated.
"This just built my confidence back up right here. I was out there really hoping they were going to tell me to go to a third stint. I kind of wanted to do it, but I'm glad I'm going to get back out there."
He struggled when he initially got in the No. 10 Cadillac on Saturday because the driver change came under caution and Gordon had to deal with his first restart. Gordon wasn't the best restarter in NASCAR late in his storied career, and it held true in the sports car. He admitted to making a wrong move that allowed two other Cadillacs to pass him.
Gordon spent the rest of his double stint trying to get a feel for the Wayne Taylor Racing entry.
"I just don't have enough experience in these cars on restarts," Gordon said. "I didn't know which way to go.
Gordon's teammate, Ricky Taylor, set a frantic pace after taking the green flag, in hopes of building a big lead that would take some pressure off Gordon. "Everyone was telling me, `Build a gap, build a gap,"' Taylor said. "I didn't want to be the one to crash the car and then Jeff Gordon doesn't get to get in the car. That would be the worst. … The plan was to give Jeff the car with a little bit of a gap. That wasn't how it ended up working out."
Gordon said ideally, he would have taken over the car under green, and thought getting in under yellow cost him up to eight seconds. Still, there was an upside.
"I was happy to get in the car under caution because it allowed me to get some heat in the tires and do a few things," he said. "I was happy with some of my laps when I was in clean traffic. That's kind of mission accomplished, and I want to do more of that. But I've got to work on traffic, and if we get another restart, I look forward to that challenge."
Gordon expects to get back in the car later Saturday, after Max Angelelli and Jordan Taylor take turns. Angelelli, who is planning to retire after this event, got the car back in the lead when he took over for Gordon.
But with rain expected overnight – and the fact that Gordon has so little experience racing in wet conditions – he doesn't expect to be in the car very long in bad weather.
"I'm not petrified of the rain if I have to get out there in it," said Gordon, who drove during a monsoon in the 2007 Rolex event. "They're probably going to try to minimize my time in the rain if it is going to race, which I think is a great call on their part."
Local journalism is essential.
Give directly to The Spokesman-Review's Northwest Passages community forums series -- which helps to offset the costs of several reporter and editor positions at the newspaper -- by using the easy options below. Gifts processed in this system are not tax deductible, but are predominately used to help meet the local financial requirements needed to receive national matching-grant funds.
Subscribe to the sports newsletter
Get the day's top sports headlines and breaking news delivered to your inbox by subscribing here.
---