News > Spokane
August Corppetts beat the bullies and learned 'to do what's right' to become Spokane's newest Lilac Queen
Jan. 29, 2017 Updated Sun., Jan. 29, 2017 at 11:32 p.m.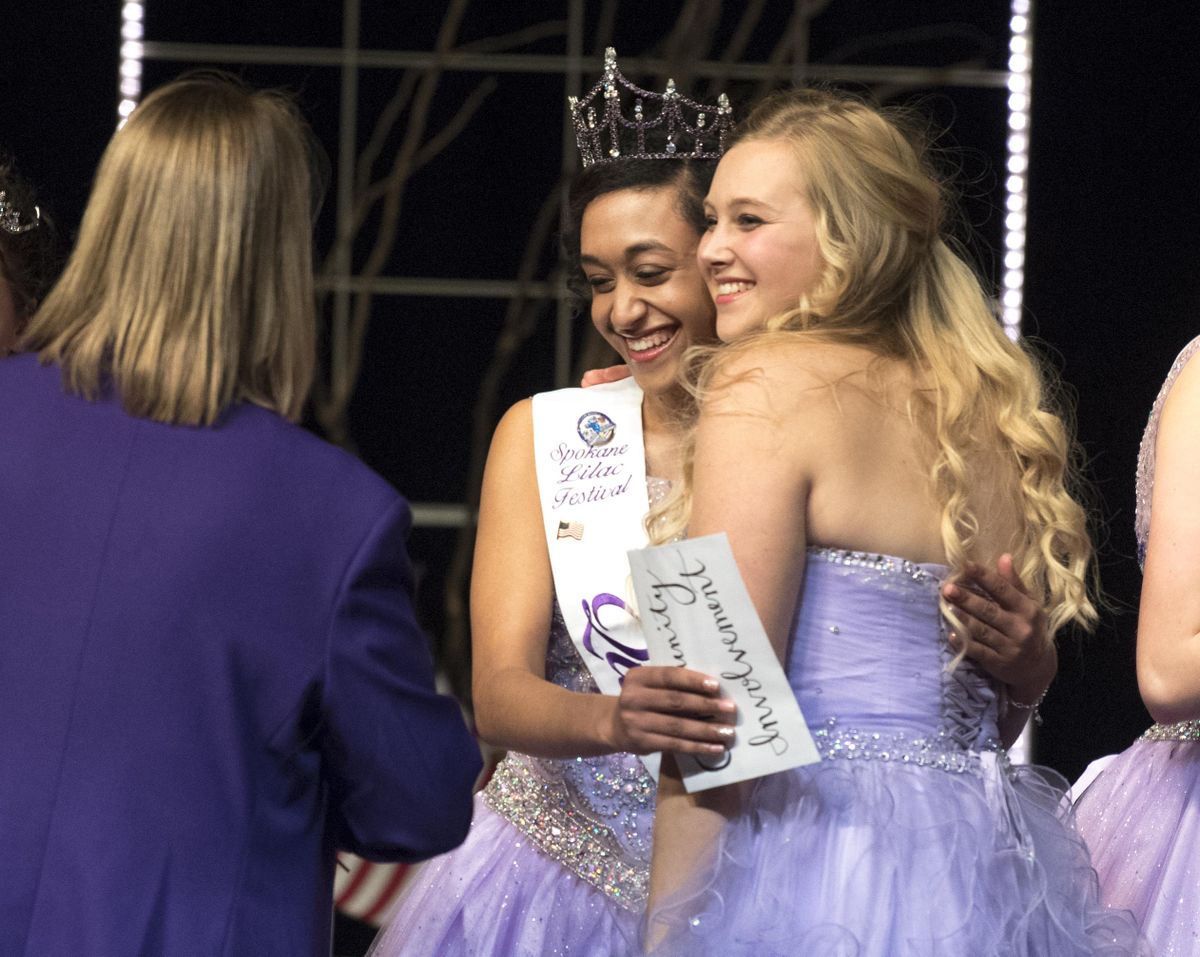 2017 Lilac Queen, August Corppetts, center, hugs 2016 Queen Megan Paternoster, right, after being named the queen of the Lilac Festivals Royal Court Sunday, Jan. 29, 2017. Corppetts is from Gonzaga Prep. (Jesse Tinsley / The Spokesman-Review)
August Corppetts stood in front of a group of mostly strangers Sunday evening and shared a story of being bullied.
"Since fifth grade, I have faced bullying and discrimination for everything, from my skin tone, to my naturally curly hair," the senior from Gonzaga Preparatory School told the crowd. "I was compared to dirt on the ground and even told to sit in the back of the bus by classmates."
Moments later, she told them how being picked on shaped who she is and what she wants to become, which is a civil rights lawyer. She told them how she wants to give a voice to the underrepresented, and "to fight the social injustices that plague our world, and pursue a better future for all."
Her speech drew huge cheers and a roar of applause.
It also led to her being crowned the 2017 Lilac Queen during the Lilac Festival Queen and Court Coronation at Shadle Park High School in Spokane on Sunday. Her win nets her a $1,500 scholarship for making it to the Royal Court and an additional $1,500 for being selected queen.
Her court, comprised of six other high school seniors, also took home thousands of dollars in scholarships and the opportunity to parade through the city during the annual Lilac Festival Armed Forces Torchlight Parade on May 20. They include Olivia Marx, of Rogers High School; Hannah Mumm, of Central Valley High School; Taylor Bastian, of Mt. Spokane High School; Summer Reid, of Ferris High School; Ava Beck, of Lewis and Clark High School; and Marissa Minton, of West Valley High School.
In her speech, Corppetts tapped her knowledge of past presidents: "Theodore Roosevelt once eloquently stated, 'Knowing what is right does not mean much unless you do what is right,' " she said. "What I do right is standing up for myself and others by using my voice and facing injustice."
In middle school, she and her friends were bullied by a group of girls who called them "weird, ugly and worthless." She said she went to counselors and teachers who could not or did not help. Finally, she wrote a letter to the school board.
"Real changes were made," she said. "And we felt safe going to school again."
That small act, she said, is what sculpted her decision to pursue a pre-law degree at Gonzaga University with hopes of one day becoming a lawyer.
"I was not put on this earth to sit still and look pretty, but to be a person for others and do what is right," she said.
Other members of the court also gave speeches that touched on harsh past experiences or personal anecdotes that helped lead them to the Lilac Festival.
Minton told the story of her best friend, who felt alone in life and eventually overdosed on pills. She lived, but the two grew apart.
"The next few months consisted of me anonymously messaging her every few days to say you're loved, you're beautiful, you matter," she said. "She felt alone."
Minton said the two reconnected and are again best friends.
Beck, from Lewis and Clark High School, talked about what real-life heroes mean to her.
"Raise your hand if you have a hero," she asked. "Is the person you thought of a character in a story, a celebrity, a superhero? Maybe, but more likely it is someone you've actually met, perhaps someone you see every day. Almost certainly, someone who's made an impact on your life."
Beck's hero is her stepmother, who took her and her two younger brothers in when her biological mother was diagnosed as bipolar with borderline personality disorder.
"This was not easy for her," she said. "Not only are we not her biological children, but she's had to deal with all of the emotional and physical repercussions of my mom's condition. Yet, she dove into raising and loving us as her own and we've turned into some pretty remarkable kids."
Other than the scholarships awarded for making the court and being crowned queen, some of the princesses received money for academic achievement, community service, being an inspiration, making the best impression on the festival's directors and other scholarly achievements.
In addition to scholarship money and the parade, the court will represent the Lilac Festival for the year and make appearances throughout the Northwest.
But first, Corppetts had a few things to take care of before she dons the crown for good: "I'm gonna eat a lot when I get home," she said. "And hug my mom."
Local journalism is essential.
Give directly to The Spokesman-Review's Northwest Passages community forums series -- which helps to offset the costs of several reporter and editor positions at the newspaper -- by using the easy options below. Gifts processed in this system are not tax deductible, but are predominately used to help meet the local financial requirements needed to receive national matching-grant funds.
Subscribe now to get breaking news alerts in your email inbox
Get breaking news delivered to your inbox as it happens.
---