News > Spokane
Protesters in Spokane denounce Trump immigration orders
Jan. 29, 2017 Updated Sun., Jan. 29, 2017 at 11:38 p.m.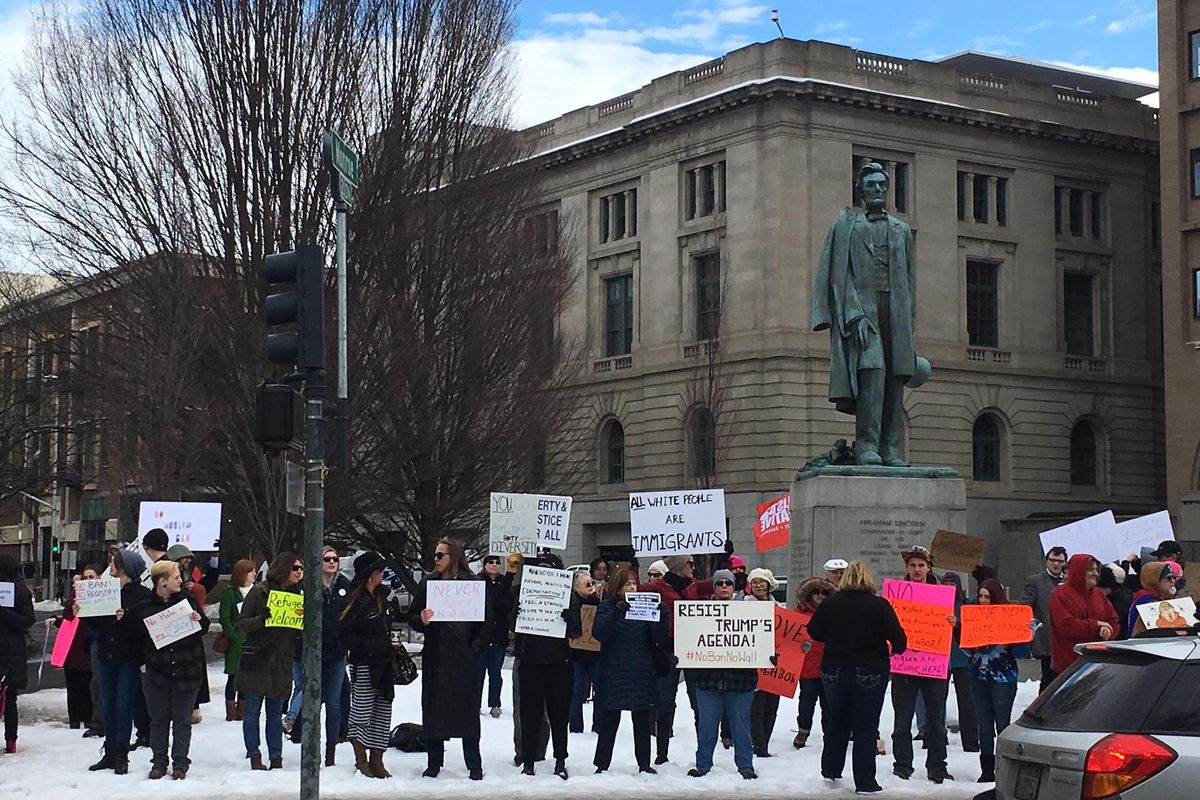 Protesters gather in downtown Spokane on Sunday afternoon against President Donald Trump's order targeting people from many Muslim nations. (Jesse Tinsley / The Spokesman-Review)
Spokane protesters joined an eruption of anger and exasperation across the country as President Donald Trump's campaign promise to stop the flow of immigrants from Muslim nations became reality with a sweeping executive order this weekend.
Among the more than 600 protesters were those who carried signs supporting refugees and immigrants beneath the iconic statue of Abraham Lincoln.
"Let them in!" they chanted as cars passing by honked horns in support.
A statement from the White House on Sunday called the travel restrictions a small price to pay to ensure the safety of Americans.
Trump's order has drawn criticism from the across the religious and political spectrum, including Cardinal Blase Cupich, who had served as Bishop of Spokane until a few years ago when he was tapped to be a national church leader as the archbishop of Chicago.
"This weekend proved to be a dark moment in U.S. history," he said in a statement. "Have we not repeated the disastrous decisions of those in the past who turned away other people fleeing violence, leaving certain ethnicities and religions marginalized and excluded?
"We Catholics know that history well, for, like others, we have been on the other side of such decisions."
As weekend tensions mounted, vandals early Sunday morning scrawled "Refugees Welcome" and "Nazi Scum" on the windows of the Spokane County Republican headquarters.
GOP officials reported the crime to police and offered a public statement:
"The content of the messages and slurs appears to be in retaliation for recent actions taken by President Trump to increase security screenings on individuals coming into the U.S. from countries either torn apart by jihadist violence or under the control of hostile, jihadist governments."
Spokane Democrats were quick to condemn the vandalism and offered to assist in cleanup and repair.
"This type of behavior is never acceptable. We call on people to actively engage in civic life, without hatred, violence, fear," the party said in a Facebook post.
Protesters in Spokane marched along the Riverside Avenue sidewalks.
Marilee Kinsella held two signs: "No human is illegal" and "Refugees welcome."
"This is a human rights issue," she said. "I know students at Gonzaga who are directly affected by this."
Joy Peltier expected the large turnout.
"I thought this would happen. There are a lot of people who are upset about this," she said.
Reporter Jonathan Glover contributed to this report.
Local journalism is essential.
Give directly to The Spokesman-Review's Northwest Passages community forums series -- which helps to offset the costs of several reporter and editor positions at the newspaper -- by using the easy options below. Gifts processed in this system are not tax deductible, but are predominately used to help meet the local financial requirements needed to receive national matching-grant funds.
Subscribe now to get breaking news alerts in your email inbox
Get breaking news delivered to your inbox as it happens.
---