Gonzaga students eat up No. 1 ranking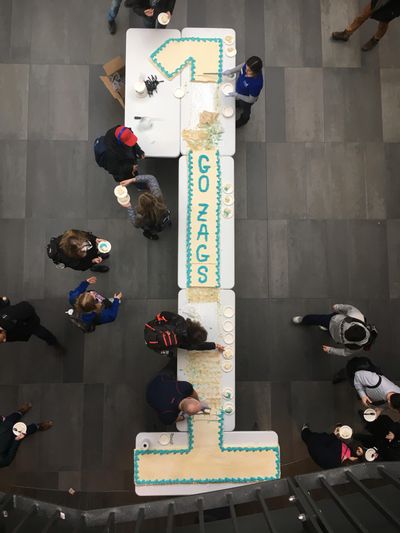 For the second time in program history, the Gonzaga Bulldogs have climbed to No.1 in both the Associated Press Top 25 and the USA Today Coaches' Poll.
In response to the top ranking in the country, GU has celebrated by creating a large cake for students in the shape of the number one.
The cake was offered to students for free in the John J. Hemmingson Center around noon on Monday.
"I think that's one of the best parts about here at Gonzaga, the support we have throughout the community," said Nigel Williams-Goss.
"The cake and stuff is awesome, we sure appreciate the support and all the love we have gotten all year."
Gonzaga was previously ranked No. 1 at the end of the 2013 regular season. In 2013, another cake in the shape of the No. 1 was distributed to students on campus.
This week, the Zags look to earn their 23rd and 24th consecutive victories. They travel to Provo, Utah, to face BYU on Thursday before hosting Santa Clara on Saturday.
---