Sports
New WSU coach Jeff Phelps learning about the Cougars as he recruits
Jan. 30, 2017 Updated Mon., Jan. 30, 2017 at 7:56 p.m.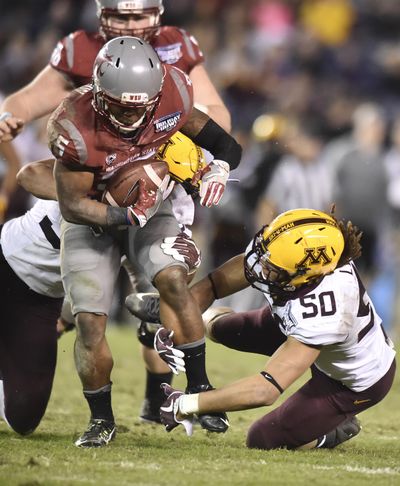 PULLMAN – Jeff Phelps has needed to be a creative salesman during his 10 days as the Washington State defensive line coach – his job has primarily consisted of selling a product while learning about it at the same time. With Wednesday's National Signing Day fast approaching, Phelps has had precious little time to meet with recruits and convince them to join a program he himself only recently committed to.
"It's a unique experience because I was really in the same position that these young men are in, and their families, needing to make a decision on where they're going to spend their college days," Phelps said. "Just like them, I had some choices I had to go through and I was able to talk to them about why I chose Washington State."
Those reasons primarily consist of his impression of head coach Mike Leach and the rest of the staff – their recent on-field success, their reputations as coaches and their similarity to Phelps' old colleagues at Minnesota. Phelps was the defensive line coach at Minnesota since 2011.
During his six seasons in Minneapolis, the Golden Gophers played in five bowl games and four of Phelps' defensive linemen earned All-Big Ten honors. That includes Ra'Shede Hagemen, who was a Third-Team All-American and a second-round NFL draft pick.
Phelps became available when t Golden Gophers athletic director Mark Coyle dismissed the staff that just went 9-4 and beat WSU in the Holiday Bowl. That game gave Phelps some addition insight into the Cougars program as he considered joining it.
"Throughout the process when Coach Leach reached out to me, I did ask our offensive coaches back at Minnesota to give me their scouting report on the defensive line, but also the defense as a whole came up because I spoke to them individually," Phelps said. "The words that kept coming up were 'speed,' 'powerful,' 'athletic,' and so you knew you were walking into a great situation."
And Phelps has done more than just recruiting since arriving in Pullman. On Sunday the Cougars held the first of their offseason workouts, giving the new coach a sneak peak at what he has to work with before WSU begins more formal football practices in the spring.
"I thought the young men did a great job," Phelps said. "I am still trying to learn who is who and everything, but they did an outstanding job. You saw some quickness in some of the drills that were being run, you saw passion, you saw enthusiasm and all that is what encompasses great defensive lineman – a guy that loves the game of football."
Local journalism is essential.
Give directly to The Spokesman-Review's Northwest Passages community forums series -- which helps to offset the costs of several reporter and editor positions at the newspaper -- by using the easy options below. Gifts processed in this system are not tax deductible, but are predominately used to help meet the local financial requirements needed to receive national matching-grant funds.
Subscribe to the sports newsletter
Get the day's top sports headlines and breaking news delivered to your inbox by subscribing here.
---