Sports > Seattle Mariners
Grip on Sports: Enjoy it, because we are living in the Golden Age of Inland Northwest sports
Tue., Jan. 31, 2017 A GRIP ON SPORTS • We've been doing this feature for going on six years now. In that time, Washington State has gone to three bowl games, Eastern Washington has earned an NCAA tournament bid and Gonzaga has been No. 1 in the nation – for two different stretches. Coincidence. I think not … crud, even I can't write that with a straight face. Read on.
••••••••••
• As I read the S-R's Armageddon-level coverage of the Bulldogs' ascension to the polls' top spot, I couldn't help but think of the recent success our area's college sports teams have had recently.
Led by the Zags, sure, but not just them.
Heck, the first college basketball team in Spokane County to be ranked No. 1 nationally wasn't Gonzaga. It was Whitworth, who earned the nod in the NCAA Division III polls back in February of 2011.
The Pirates, then coached by Eastern Washington's Jim Hayford, have done it again under coach Matt Logie. In actuality, the past decade or so has been the best basketball stretch in the school's history.
And Hayford has had success since moving to Cheney, guiding the Eagles to only their second NCAA berth a couple years ago and posting a 98-85 record in his six years at Eastern.
Of course, EWU has been pretty darn good in football recently as well, with a national championship trophy in the case from 2010 and four of the last five Big Sky Conference titles as well.
Down on the Palouse, football success has also been in vogue.
Idaho was 9-4 last year and participated in the third bowl game in its history. Washington State was 8-5, won a school record eight consecutive games, including seven straight in Pac-12 play, and went to its third bowl game in four years.
Of course, we all know what's going on over at GU. How could we not? This is the Zags' century. Nothing but success. Winning, winning and more winning.
So enjoy it. Nothing last forever. Some day, maybe not in my lifetime, sure, but some day, the pendulum will swing back. The Inland Northwest will be stranded in the desert as far as college sports are concerned.
Right now relish this Golden Age.
•••
Gonzaga: Did you know the Bulldogs are the No. 1 ranked team in all the land? If you didn't, then you must be the most disconnected sports fan in the Northwest. But you can catch up. Now. You can do it by either reading Jim Meehan's story on yesterday's development, or John Blanchette's column, or editor Rob Curley's column or stories in the Washington Post or New York Times (the last one written by the Seattle Times' Matt Calkins). If that's not enough, we also can offer stories from Michael Gulledge on the players' reaction and the cake served to the student body. And there is a piece by Whitney Ogden about the reaction of former players on social media. And there is a short piece on social media's reaction. … Jim talked with the two current players who were on the first No. 1-ranked team and has a story on the Zags' next opponent, BYU, a school that has never hosted a No. 1 team before. Think the Marriott Center is going to be a snake-pit Thursday night? … There were personal awards handed out yesterday as well, with Nigel Williams-Goss named the WCC player of the week and being one of 10 finalists for the Bob Cousy Award, given to the nation's best point guard. Jim covered both of those. … Next year the BYU/Gonzaga matchup will include two players who shared an LDS mission site.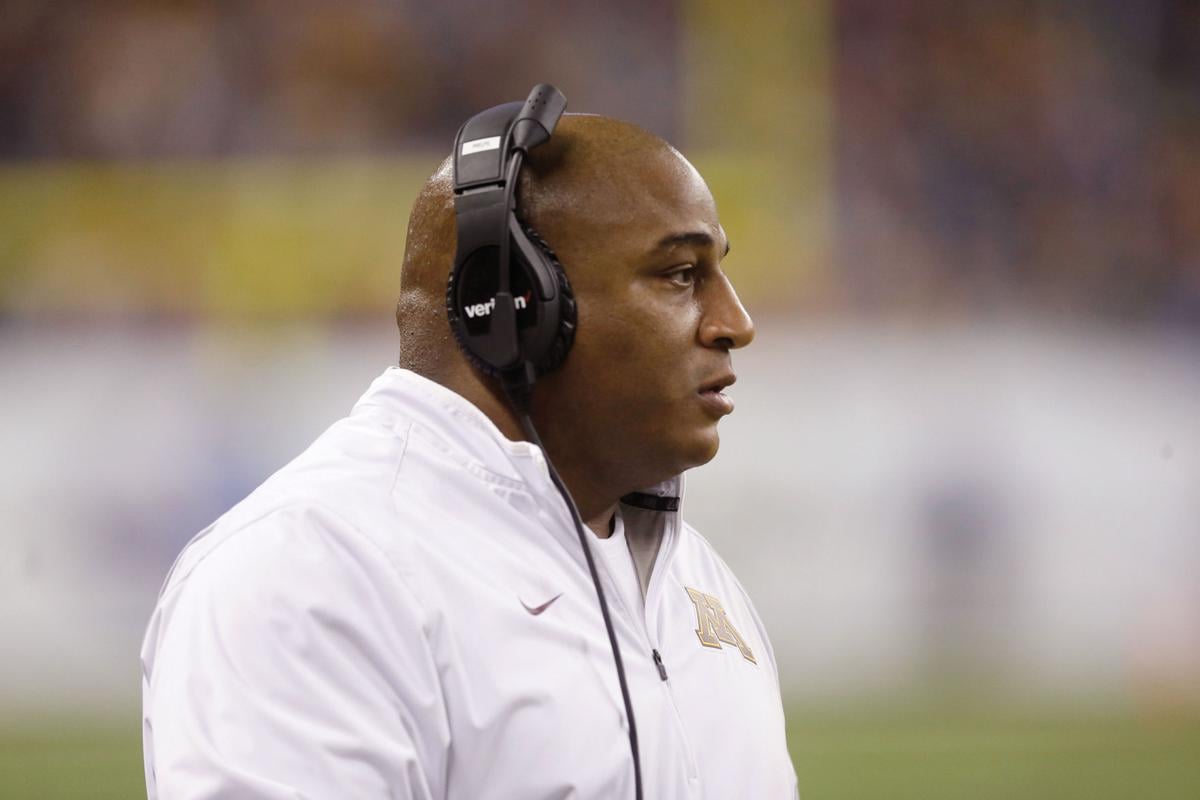 WSU: Tomorrow is letter-of-intent day, the only day all year anyone even thinks of fax machines anymore. Anyhow, the Cougars have an assistant coach out recruiting who is also learning about the school. Jacob Thorpe introduces us to new defensive line coach Jeff Phelps (pictured). … Stefanie Loh has a story on Phelps as well as one on Roy Manning. … Elsewhere in the Pac-12, the Seattle Times did an in-depth piece on a Husky legacy that was set to choose between Oregon and has dad's alma mater. Then last night he did choose. He picked Washington. … When you are sweating over signing day tomorrow, remember this. … In basketball, UCLA will carry a two-game losing streak into Pullman tomorrow night. … USC is getting a good player back for its Washington swing. … There's a big game in Eugene this weekend. Oregon blew a shot at making it a battle of conference unbeatens while Arizona needs to be better prepared for zone defenses. … Utah wants to get the details right for its road trip.
NIC: The Cardinal men cruised to an easy victory last night.
Chiefs: Kailer Yamamoto had a hand in two goals last night in a CHL/NHL prospects game.
Preps: It's a big week in prep basketball as the season winds down. Dave Nichols previews what's ahead, including the rivalry games in Spokane. There is a nice twist to those games this season. … The Lake City girls got past Lewiston last night. … Lewiston's Austin Byrer was named the state's top cross country runner.
Seahawks: The Hawks are having the best offseason in the NFC West. Of course, that isn't all that hard to do. … What position should the Hawks shore up with their top draft pick? … I'm guessing most of you have seen Marshawn Lynch's Skittles ad from Scotland. It's pretty funny.
Mariners: Spring training has always been a time to evaluate minor league prospects.
Sounders: Seattle made a roster addition with a new midfielder. … MLS' training camp is a time for prospects to show what they have as well. … A stint with the national team has been good for Portland's Darlington Nagbe. … Tim Howard is ready for his injury rehab to over. 
•••                                        
• It snowed a bit today at our house. Just a bit. If the same amount had fallen in Portland, the city would be officially closed. Just saying. Until later …
Local journalism is essential.
Give directly to The Spokesman-Review's Northwest Passages community forums series -- which helps to offset the costs of several reporter and editor positions at the newspaper -- by using the easy options below. Gifts processed in this system are not tax deductible, but are predominately used to help meet the local financial requirements needed to receive national matching-grant funds.
Subscribe to the sports newsletter
Get the day's top sports headlines and breaking news delivered to your inbox by subscribing here.
---