Sports
GSL boys: Gonzaga Prep beats Ferris to capture 2nd straight league championship
Jan. 31, 2017 Updated Tue., Jan. 31, 2017 at 11:44 p.m.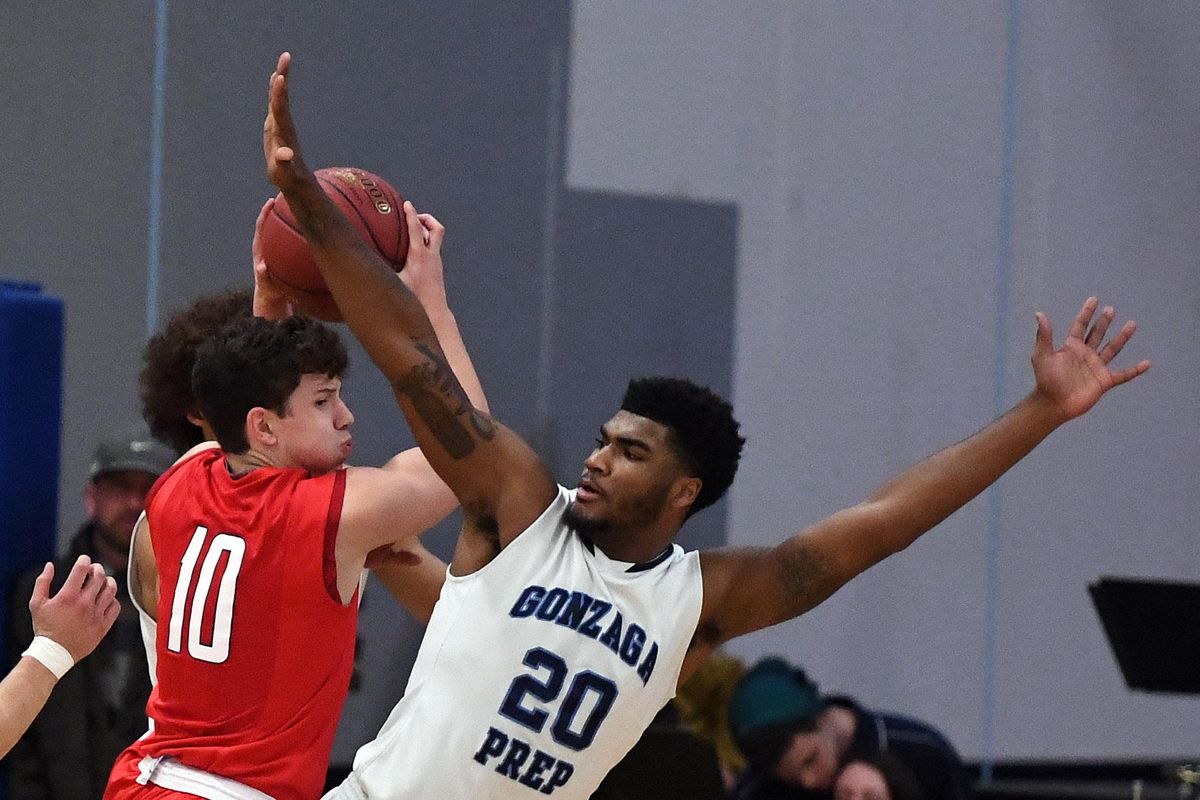 Gonzaga Prep's Devin Culp (20) defends against a pass by Ferris guard Jace VanLierop (10) during a GSL boys high school basketball game, Tues., Jan. 31, 2017, at Gonzaga Preparatory School. (Colin Mulvany / The Spokesman-Review)
Defending their Greater Spokane League boys basketball championship was more important to the Gonzaga Bullpups than avenging their lone loss.
The fact the Bullpups got two for the price of one, though, made it all the more sweet Tuesday.
Gonzaga Prep showed more patience and better shot selection against the Ferris Saxons' matchup zone, pulling away in the second half to a 54-39 decision at G-Prep.
Ferris knocked off the Bullpups 44-41 last month. G-Prep came into the week ranked second in the Associated Press and WIAA's RPI (Ratings Percentage Index).
The Bullpups (17-1 overall, 15-1 league) used a 9-0 run to close out the first quarter for a 17-8 lead. G-Prep never trailed the rest of the game but it took until early in the second half for the Bullpups to build a double-digit lead.
G-Prep made just 1 of 11 shots from 3-point range against the Saxons' zone in the first game. The Bullpups made just one Tuesday and took two fewer shots from behind the arc, but the key difference is they were patient. They moved the ball around and inside the zone.
"We worked on a lot of dribble penetration, just trying to get to the hoop and get it to our bigs. That's what got us the (win)," G-Prep guard Sam Lockett said. "Our main goal was to get to the hoop."
Posts Anton Watson and Shane Eugenio combined for 29 points. Watson led with 19 to go with eight rebounds, three steals and two assists. Lockett added 12 points.
"We say if we have an open shot take it but we want to get a post touch first," Lockett said. "And we want to get it in the key and then get it out to our 3-point shooters."
It's no wonder why Ferris (14-4, 12-4), which lacks the size and athleticism to match up with G-Prep, has opted to play matchup zone twice against the Bullpups.
G-Prep coach Matty McIntyre said his team has made strides against zones since the loss to Ferris.
"We've made some progress with our zone offense and we still have a ways to go," McIntyre said. "We're working toward improving a lot of facets. But we played better than we did the first time. We were just uneasy, uncomfortable the first time. and not confident - not in an attacking mindset."
Overall, McIntyre likes what he's seeing with two games left in the regular season this week. "It certainly wasn't perfect but those Ferris guys sure compete and they do a lot of great things."
Shadle Park 79, Lewis and Clark 67: The Highlanders (15-3, 13-3) moved into second all alone with the decision over the visiting Tigers (11-7, 10-6). Tanner Groves led Shadle with 24 points and Kylan Kelley, who made five 3-pointers, added 21. Naje Smith led LC with 20 and Cameron Duncan had 15.
University 65, Central Valley 60: The Titans (8-10, 8-8) held off the Bears (13-5, 11-5) in the fourth quarter at the Arena. U-Hi led 49-39 going into the final period. Boston Tacke led the Titans with 27 points and Josh Brantley added 14. Ryan Rehkow led CV with 17 and Jase Edwards had 16.
Mt. Spokane 61, North Central 54 2OT: The Indians (3-15, 3-13) rallied in the fourth quarter before the visiting Wildcats (8-10, 6-10) prevailed to earn the No. 2 seed in the 3A subregional that begins next week. JT Smith led Mt. Spokane with 18 points, Phalon Maddox had 17 and Justin Smith added 10. Isaiah Lockett scored 22 for NC.
Rogers 67, Mead 62: The Pirates (2-16, 2-14) used a fourth-quarter rally to upend the visiting Panthers (2-16, 0-16). Jahlil Frans led Rogers with 26 points and Cole Riblet had 14. Chase Bos led Mead with 17 and Vinny Saldana had 14.
Local journalism is essential.
Give directly to The Spokesman-Review's Northwest Passages community forums series -- which helps to offset the costs of several reporter and editor positions at the newspaper -- by using the easy options below. Gifts processed in this system are not tax deductible, but are predominately used to help meet the local financial requirements needed to receive national matching-grant funds.
Subscribe to the sports newsletter
Get the day's top sports headlines and breaking news delivered to your inbox by subscribing here.
---