News > Spokane
Ryan Turner sentenced to prison for drunken-driving crash that killed a Spokesman-Review contractor and his two daughters
Jan. 31, 2017 Updated Tue., Jan. 31, 2017 at 10:15 p.m.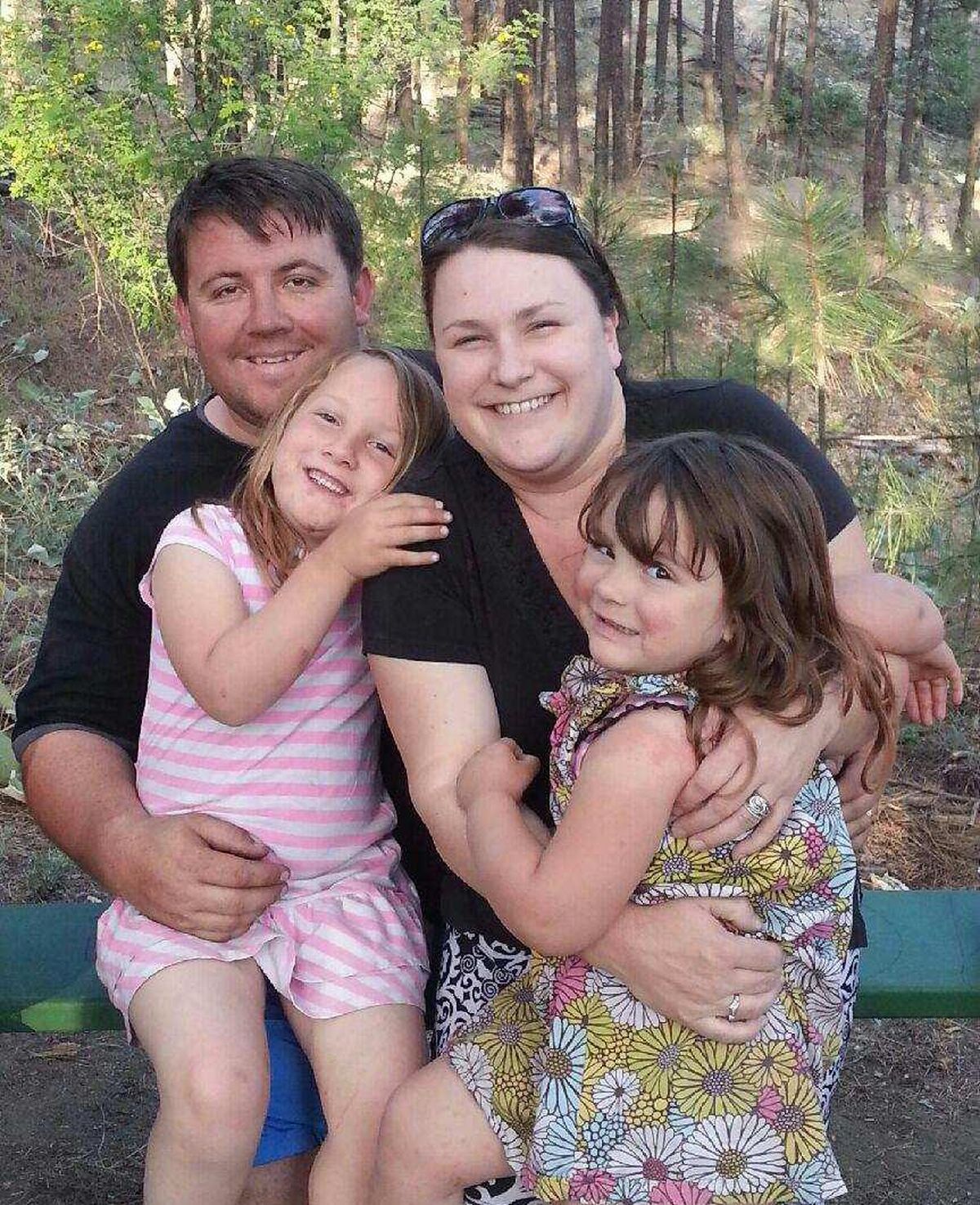 Mike Baroni and and his two daughters, Madilyn, 8, left, and Molly, 6, with Meghan Baroni. (Courtesy of Baroni and Abrego family)
In a packed Kootenai County courtroom Tuesday, Ryan J. Turner was sentenced to one to seven years in prison for vehicular manslaughter after causing a head-on collision that killed a Spokane man and his two young daughters.
For several hours, Judge Lansing Haynes heard testimony from Turner's family and friends, and the family of the three victims, Mathew-Michael T. Baroni, 33, and his daughters, Madilyn Baroni, 8, and Molly Baroni, 6.
The prosecutor requested the maximum sentence of 30 years in prison, but Haynes said giving the maximum sentence to a man with no previous criminal history didn't make sense. While punishment must fit the crime, "punishment must also fit the person," Haynes said.
Seven years is the maximum Turner can serve in prison, but only one year of his term is fixed. He can be considered for release after the year is up.
Defense attorneys had asked for a suspended sentence, but Haynes said that was inappropriate. Turner drove while drunk and killed a family, he said.
"There has to be a heavy price paid for that," he said.
On Sept. 12, 2015, Turner, 28, was driving the wrong way in the southbound lanes of U.S. Highway 95 just before 4 a.m. He crashed head-on into a minivan, killing Baroni and his two daughters, who were not wearing seat belts at the time.
Turner's blood alcohol level was 0.15 – almost twice the legal limit for driving. He was taken to the hospital for treatment of back, hand and hip injuries from the crash and was arrested once he was discharged.
Turner originally pleaded not guilty to the charges in December 2015, but changed the plea to guilty in October 2016, saying through his lawyer that he wanted to take responsibility and to not cause the family any additional torment by proceeding to trial.
Mathew-Michael Baroni's mother, Pauline Abrego, and wife, Meghan Baroni, briefly took the stand, where they described Mathew-Michael as a loving husband and providing father, as they have said in the past.
Baroni worked as an independent contractor for The Spokesman-Review, and was returning home from delivering newspapers to Sandpoint when he was killed.
Turner's defense lawyers asked his family and friends to the stand, where they shared their view of a man who they say has rehabilitated since that night and didn't deserve the maximum sentence.
Kevin Creighton, who was the previous director of the Kootenai County Adult Misdemeanor Probation Department, described Turner as "not the typical person" that they see in the probation system. He said Turner was attentive and seemed to show a real desire to change.
"I think this is one of those cases that we in law enforcement come across very rarely," he said. "In 499 days, he has not had one alcohol-related incident. That is not normal."
Casey Turner, Turner's wife, said through a strained voice and with tears pouring down her face that her husband hasn't been the same since the accident, even around his own 5-year-old daughter. She said he's constantly thinking about that night and that he can hardly sleep "before the nightmares start."
While his wife talked, Ryan Turner could be heard crying as a pile of tissues piled up on the table.
"He holds it together beautifully in front of our daughter, even though he is dying on the inside," she said at court. "Please know, my husband didn't mean to do this."
Lewis Turner, Ryan Turner's brother, implored the judge to grant a light sentence for his younger brother, who he said is "a good person who made an unfortunate choice one night while intoxicated."
"My brother is more than the choice he made on Sept. 12, 2015," he said. "What I see is a glimpse of a life that still shows promise."
As the prison term was read, Meghan Baroni sat hunched over, sobbing. The sentence appeared to devastate the Baroni family, who had all asked for significantly more prison time. One woman in the courtroom called the sentence a "slap on the wrist."
Baroni was Catherine Abrego's oldest brother. She said she understands that Turner's family is suffering too, but does not think a year in prison is enough.
"I don't see how that pays any of the emotional damage he's done to our family," she said. "He's taken them away from us for the rest of our lives."
The steady stream of character witnesses for Turner, including experts brought in from around the country, angered Abrego. She listened as they talked about Turner being a good man who worked hard and loved his family.
"If he's such a good guy, how did that happen?" she said. "Who they were describing was my brother."
Last to share testimony was Ryan Turner himself, who struggled for a few moments to gather his voice before finally speaking to the court and to the Baroni family – something he said he'd been waiting to do for years.
"Every second of every day I think about the entire Baroni family and the pain that I've caused," he said. "My one whole heart has been torn into pieces. But I know it could never compare to what your family is going through."
Turner didn't ask the family for forgiveness, and instead told the courtroom that he didn't care about the sentence he received, since he would live with the "life sentence" of killing the three people.
"I do not want to get over this," he said. "I do not want to forget."
Turner, who served only one day in jail before posting a $100,000 bond, was placed into handcuffs and taken to jail after his sentencing.
Local journalism is essential.
Give directly to The Spokesman-Review's Northwest Passages community forums series -- which helps to offset the costs of several reporter and editor positions at the newspaper -- by using the easy options below. Gifts processed in this system are not tax deductible, but are predominately used to help meet the local financial requirements needed to receive national matching-grant funds.
Subscribe now to get breaking news alerts in your email inbox
Get breaking news delivered to your inbox as it happens.
---