News > Spokane
Spokane fire engine preserved for historical significance but there's no place to exhibit it
Tue., Jan. 31, 2017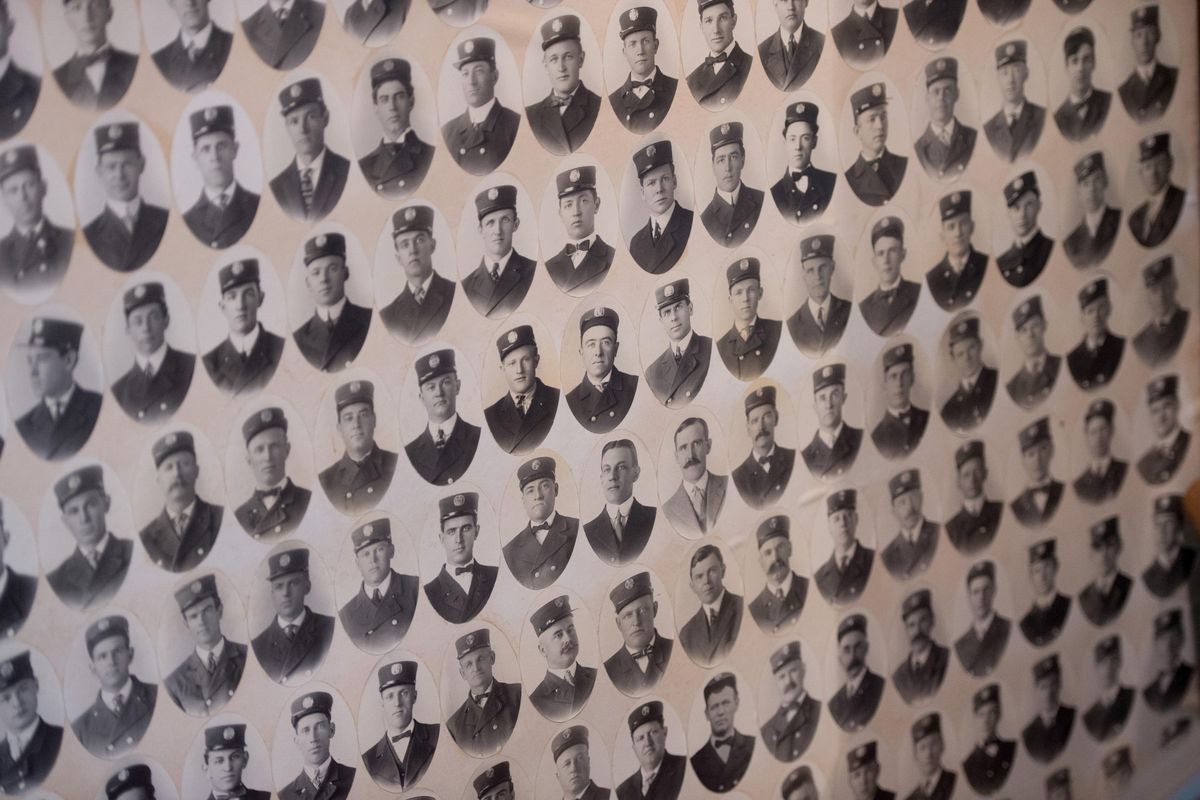 Portraits of Spokane firefighters, circa 1914, are seen with other memorabilia on Jan. 24 at the Spokane Fire Department Training Center in Spokane. (Tyler Tjomsland / The Spokesman-Review)
In a cramped room at the back of the Spokane Fire Department Training Complex, Tom Heckler houses artifacts dating back more than a century.
"They always told me, they can't build a museum," Heckler said, seated in a chair next to a humming tower server that fills part of his 300-square-foot exhibit. "But we could build a public education center. And in the public education center, you could have old stuff on display."
Even that didn't happen, however, because of a lack of funding.
So now, Heckler opens up his artifacts room in the training center once a week for visitors, mostly former firefighters interested in their department's history. The city's recent gift of an out-of-service 1977 American LaFrance fire pumping truck brings Heckler's number of old engines to four, without a place to display them to the public.
"On one hand you feel kind of good about the fire department, but on the other hand, you feel – not bitter, just, do you want to save any of this stuff?" Heckler said.
Against a back wall, behind a row of albums with newspaper clippings from The Spokesman-Review and Spokane Chronicle detailing the history of the fire department, rests a massive scythe-looking contraption that was used to tear down ceilings, a relic that Heckler estimates is a century old. An ornate wooden display case houses dozens of firefighter badges and helmets bequeathed by the families of former department members. A display case in the hall outside houses a device that would make Bruce Wayne jealous: A sort of grappling gun that was used to fire bolts threaded with rope into hard-to-reach areas to provide access.
The collection at the training center, located at 1618 N. Rebecca St., constitutes just a few of the many pieces Heckler has collected in his 36-year fire department career. The other engines Heckler owns – a converted 1942 Ford pickup, a 1959 Pirsch engine and a 1969 LaFrance model – are in storage in Hillyard, where Heckler pays a monthly rent of about $240.
David Stockdill, the fire department's chief of logistics, agreed with Heckler that a more prominent museum space would be ideal.
"We'd love to have that," Stockdill said. "I'm sure it all comes down to funding."
The 1977 LaFrance truck has been housed in a surplus yard at the training center, exposed to the heavy snowfall along with other high-mileage engines that have been removed from service. Last week, Heckler climbed into the cab, lifting the hood behind firefighter jump seats to reveal the engine and lamenting that the radio had already been removed, because it belongs to Spokane County.
"Kids love getting behind the wheel of these things," Heckler said, grinning, with his hands at 10 and 2.
The '77 engine was last in regular service in 2001, Stockdill said; it was in reserve status until 2010. Two of the department's other trucks of the same make and model were sold to Guatemala in 2011 at a price of $1.
The LaFrance isn't the only remaining 1970s-era equipment in the fleet, Stockdill said. A 1977 Van Pelt ladder truck is assigned to Spokane County Fire station 51 in Nine Mile Falls and is used in reserve when other trucks are being repaired.
In a move unrelated to the surplusing of the 1977 truck, the Spokane City Council also authorized the purchase of a new ladder truck at a cost of $1.1 million. The truck is being bought through a purchasing cooperative that eschews the normal bid process and should save the city about 2 percent of the purchase price, Stockdill said.
"It's a pre-negotiated cost, from a particular manufacturer," Stockdill said. "It saves the time and the effort of a bidding process."
Other city departments have used similar cooperatives to buy equipment, Stockdill said. The money for the new truck, one of three engines recently purchased by the fire department, comes from the annual 1 percent property tax increase authorized by the City Council and Mayor David Condon.
Heckler said he'll seek some leniency from the department to keep the '77 engine housed at the training center while he comes up with a place to store it.
Artifacts of the Spokane Police Department have been spread out to different locations following the shuttering of the downtown law enforcement museum a couple years ago.
"We have a lot of work ahead of us," said Sue Walker, a longtime organizer and board member with the law enforcement museum, who also serves on the board of the fire museum. The group recently rebranded as the Spokane Regional Law Enforcement Museum and is working behind the scenes to restore a permanent exhibit space, Walker said.
Walker and Heckler said they've talked about combining the two collections into a public safety museum, and Walker was eying real estate near Gonzaga University that proved too costly. Law enforcement displays are currently housed at the Spokane Law Enforcement Credit Union on Monroe Street, in the county's Public Safety Building attached to the jail and at the Spokane Valley Mall's SCOPE office.
Walker said her organization is preparing to launch a capital fundraising campaign, and Heckler accepts donations in a hollowed-out fire hydrant at the fire museum space, which he opens infrequently on Tuesdays.
For Heckler, who said he began collecting artifacts in the 1970s after receiving a written OK from Fire Chief Alfred O'Connor on a piece of tablet paper, preserving the department's history is a labor of love. He has pieces filling his garage and in vans and trailers scattered throughout the city.
"At least we've got this much space," Heckler said.
Local journalism is essential.
Give directly to The Spokesman-Review's Northwest Passages community forums series -- which helps to offset the costs of several reporter and editor positions at the newspaper -- by using the easy options below. Gifts processed in this system are not tax deductible, but are predominately used to help meet the local financial requirements needed to receive national matching-grant funds.
Subscribe now to get breaking news alerts in your email inbox
Get breaking news delivered to your inbox as it happens.
---