A&E > Entertainment
Stream on Demand: 'Dory,' 'Reacher,' 'Swiss Army Man' arrive in your living room
Jan. 31, 2017 Updated Thu., Feb. 2, 2017 at 12:16 p.m.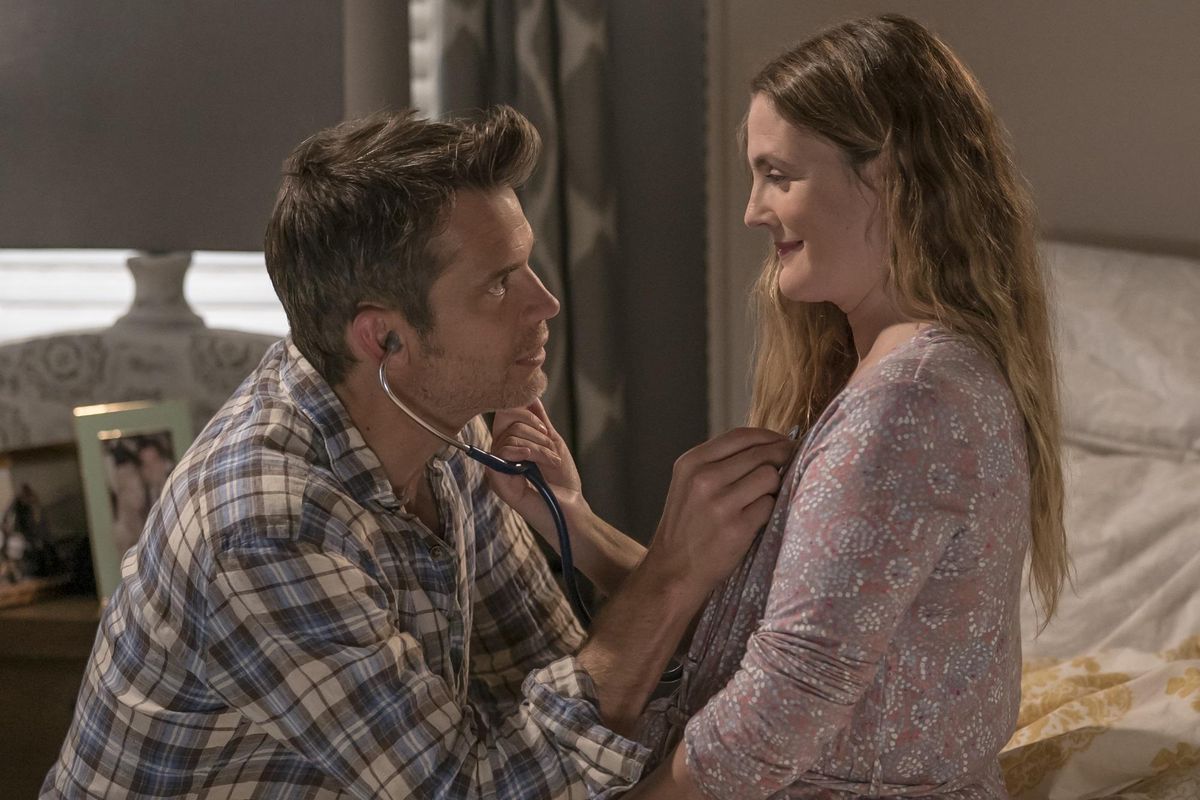 Timothy Olyphant in Drew Barrymore in the Netflix original series "The Santa Clarita Diet." (Saeed Adyani / Netflix)
What's new for home viewing on video-on-demand and Netflix, Amazon Prime, and other streaming services.
Pay-Per-View / Video-On-Demand
"Queen of Katwe" dramatizes the true story of an unschooled girl from the slums of Uganda who became a world-class chess champion. David Oyelowo and Lupita Nyong'o star in the uplifting, colorful Disney drama (PG). Also on DVD and Blu-ray and at Redbox.
"Jack Reacher: Never Go Back" sends the freelance hero (Tom Cruise) to save a friend (Cobie Smulders) framed for treason (PG-13). Also on DVD and Blu-ray.
Also new: the caper comedy "Masterminds" with Zach Galifianakis, Owen Wilson, Kristen Wiig, and Kate McKinnon (PG-13), Tyler Perry's "Boo! A Madea Halloween" (PG-13), and the French drama "Down by Love" with Adéle Exarchopoulos (not rated, with subtitles).
Available same day as select theaters nationwide is the dark-humored crime comedy "War on Everyone" with Alexander Skarsgard and Michael Pena (R) and the horror film "Eloise" with Chace Crawford and Eliza Dushku (R).
Netflix
"Finding Dory" (2016) reunites the aquatic pals of "Finding Nemo" for an animated odyssey across the sea to reunite the memory-challenged Dory (voice of Ellen DeGeneres) with her long-lost parents. Sweet, funny, gorgeous, and family friendly (PG).
More for kids and families: Tim Burton's animated holiday mash-up musical "The Nightmare Before Christmas" (1993, PG) and playfully macabre "Corpse Bride" (2005, PG) and the farmyard storybook fantasy "Babe" (1995, G) and sequel "Babe: Pig in the City" (1998, PG).
The new series "Santa Clarita Diet," starring Drew Barrymore and Timothy Olyphant as a married couple recharged by a diet of human flesh, is a gory comedy in suburbia. 13 episodes.
"American Crime Story: The People v. O.J. Simpson" (2016), starring Sarah Paulson, John Travolta, Cuba Gooding Jr., and Courtney B. Vance, won nine Emmy awards including Outstanding Limited Series.
More movies: indie horror film "Antibirth" (2016) with Natasha Lyonne and Chloe Sevigny (not rated), Seattle-set political satire "Swing State" (2016, R), street gang drama "Imperial Dreams" (2015) with John Boyega (not rated), Channing Tatum and friends in "Magic Mike" (2012, R), and sparkling vampires in love in "Twilight" (2008) with Kristen Stewart and Robert Pattinson (PG-13),
More streaming TV: the first seasons of the CW science fiction drama "Frequency" and the CW comedy "No Tomorrow," available days after their respective season finales, and the historical crime drama "Ripper Street: Season 4" from Britain.
Stand-up: "Bill Burr: Walk Your Way Out."
Amazon Prime Video
"Swiss Army Man" (2016) is a buddy movie with Paul Dano as a lonely shipwreck survivor and Daniel Radcliffe as a flatulent corpse that becomes his best friend (R).
"Long Way North" (2016) is a gorgeously animated adventure about a young woman from 19th century Saint Petersburg who undertakes an expedition to the North Pole (PG).
New episodes of the Civil War drama "Mercy Street: Season 2" are available a week after their PBS showings.
More new arrivals this month: Sean Penn's Oscar-nominated "Into the Wild" (2007, R), "Frankie & Johnny" (1991) with Al Pacino and Michelle Pfeiffer (R), French drama "My King" (2015) with Emmanuelle Bercot and Vincent Cassel (not rated, with subtitles), the documentary "Nuts!" (2016) about the 1920s answer to Viagra, and a batch of James Bond films including "Goldfinger" (1965, PG).
Amazon Prime Video and Hulu
The high school basketball drama "Hoosiers" (1986) with Gene Hackman, one of the greatest sports films ever made (PG), and the original "Sabrina" (1954) with Humphrey Bogart, Audrey Hepburn, and William Holden (not rated).
Hulu
The documentary "The Dog" (2013) tells the story of the real-life inspiration for "Dog Day Afternoon," a story even stranger than the Oscar-winning movie (not rated).
More new arrivals: Oscar winner "There Will be Blood" (2007) with Daniel Day-Lewis (R), offbeat crime comedy "I Love You Phillip Morris" (2009) with Jim Carrey and Ewan McGregor, warm character drama "The Station Agent" (2003) written for Peter Dinklage by Tom McCarthy (R), and classy romantic confection "Chocolat" (2000) with Juliette Binoche and Johnny Depp (PG-13).
HBO Now
"The Nice Guys" (2016) is a throwback to action comedies of the '70s with tough guy Russell Crowe and soused private detective Ryan Gosling teaming up to find a kidnapped girl (R).
Also new: "A Bigger Splash" (2015) with Tilda Swinton and Ralph Fiennes and HBO original documentary "Becoming Warren Buffett."
Older films returning to HBO include a collection of Spike Lee films, including "Do The Right Thing" (1989, R) and "Clockers" (1995, R) and the crime dramas "Mystic River" (2003) with Sean Penn and Tim Robbins (R) and "Road to Perdition" (2002) with Tom Hanks and Paul Newman (R).
Acorn
The new BBC TV version ofAgatha Christie's "The Witness for the Prosecution" (2016), with Toby Jones and Kim Cattrall in the roles played by Charles Laughton and Marlene Dietrich in the 1957 film, makes its stateside debut on the streaming service.
New on disc this week
"Jack Reacher: Never Go Back," "Queen of Katwe," "Masterminds," "Boo! A Madea Halloween," "Victoria (Masterpiece)"
Now at Redbox
"Inferno," "Queen of Katwe," "Boo! A Madea Halloween,""Denial"
Sean Axmaker is a Seattle film critic and writer. His reviews of streaming movies and TV can be found at http://streamon demandathome.com.
Local journalism is essential.
Give directly to The Spokesman-Review's Northwest Passages community forums series -- which helps to offset the costs of several reporter and editor positions at the newspaper -- by using the easy options below. Gifts processed in this system are not tax deductible, but are predominately used to help meet the local financial requirements needed to receive national matching-grant funds.
Subscribe to the Spokane7 email newsletter
Get the day's top entertainment headlines delivered to your inbox every morning.
---