News > Spokane
Under Trump's travel ban, immigrant students must choose between family and education
Tue., Jan. 31, 2017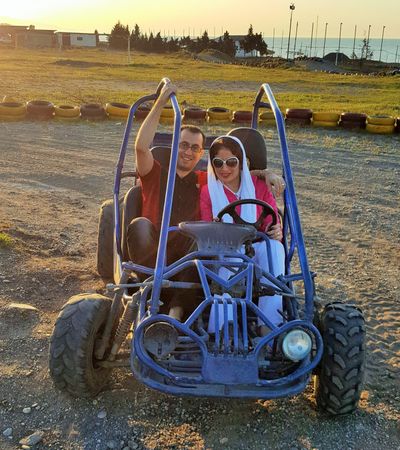 Mahdieh Babaiasl met Hamed Mahdioun five years ago while the two were studying mechanical engineering at the University of Tabriz in Iran. Within a year and a half they were married, dreaming of life in a democratic nation where religion has no place in government.
They subjected themselves to a barrage of tests and interviews, sometimes traveling to the nearest consulate in Dubai to apply for student visas into the United States.
Babaiasl, 28, received her visa last year and enrolled in a Ph.D program at Washington State University. But her husband was forced to stay in Iran to complete two years of government-mandated military service.
They had planned to reunite sometime soon, to forge careers in Western academia, to stay far away from the oppressive regime of their home country.
"My husband and I wanted to come here for a better life," said Babaiasl, who also works as a teaching assistant in Pullman.
President Donald Trump shattered that dream on Friday with an executive order barring citizens of seven predominantly Muslim countries – including Iran – from entering the United States for at least 90 days. Mahdioun, 32, is again ineligible for a visa.
So the couple will remain separated for a time, unless Babaiasl gives up her education at WSU. Her student visa allows only one entry into the United States, meaning she can't visit Mahdioun and come back. And they don't anticipate a significant change in Trump's policy.
Their story is one of countless stuggles to emerge in the days since Trump signed the order. Even at WSU, Babaiasl is not alone.
Plans canceled; hopes diminished
Sam Haghighi, the president of WSU's Iranian Students Association, said the school is home to more than 100 Iranian immigrants, most of whom are pursuing master's or doctoral degrees.
"The large majority of them are on student visas, so they are impacted by this," said Haghighi, a first-generation American citizen. "We have students now who have to choose between staying here to pursue an education, or going home to see loved ones."
Some have already purchased plane tickets and made other arrangements to attend weddings, childbirths and graduations, Haghighi said.
One student with a single-entry visa won't attend his father's funeral in Iran because he wouldn't be allowed to return to WSU to finish his degree, Haghighi said. "Under normal circumstances," he said, the student would risk going to Iran and reapplying for a visa.
Another man, who earned a Ph.D in materials engineering from WSU and now teaches there, fears he and his wife will be deported to Iran after seven years in the United States. He insisted that neither of them be named, in part to avoid drawing attention from his students, and in part out of concern that publicly discussing the situation would further damage the couple's prospects of staying in the country.
The man and his wife have pending green card applications and are working with temporary waivers during that process, he said. Last week, before the executive order, tech giant Intel offered him a job and agreed to hold the position open until his application is approved, he said.
Now he doubts that will happen.
"I'm going to lose my job. She's going to lose her job," he said. "We are deeply concerned. We feel humiliated and left out. We love this place. We've made so many American friends here."
The man also disputed Trump's claim that the executive order promotes national security. Instead, the man said, the order only fuels a narrative preferred by terrorist groups across the Middle East: The West is mounting a war on Islam.
"Somebody should let the American people know that this does not make them safer," he said.
Colleges voice discontent
In the wake of Trump's order, several colleges in the Inland Northwest have urged their immigrant students not to travel internationally.
WSU President Kirk Schulz said in a statement Monday, "Let us be absolutely clear: We welcome and support all members of the Washington State community – regardless of the country they call home."
Gonzaga and Whitworth universities also issued statements of support for their immigrant students on Monday. Dave Meany, the director of communications for Eastern Washington University, said Trump's travel ban affects only four EWU students, who have been advised to stay in the country.
In November, the leaders of those schools added their names to petititions urging the Trump administration not to eliminate the Deferred Action for Childhood Arrivals program, which blocks the deportation of undocumented immigrants who were brought to the United States as children and have little connection to their countries of origin.
Without formally granting citizenship or refugee status, the DACA program allows roughly 750,000 undocumented immigrants to work and study in the United States.
Haghighi, the president of WSU's Iranian Students Association, said the group is planning a campaign to highlight the societal contributions of Iranians and Iranian-Americans. He noted that many of his peers chose WSU over schools in Europe and the Middle East.
"These are students from the top-tier universities in Iran," he said. "They were highly sought-after in their respective fields."
Meanwhile, on Monday evening, Mahdieh Babaiasl was thousands of miles away from her husband and family, trying to prepare for the three classes she teaches each Tuesday.
"I can't concentrate on my work," she said. "I'm just depressed."
Local journalism is essential.
Give directly to The Spokesman-Review's Northwest Passages community forums series -- which helps to offset the costs of several reporter and editor positions at the newspaper -- by using the easy options below. Gifts processed in this system are not tax deductible, but are predominately used to help meet the local financial requirements needed to receive national matching-grant funds.
Subscribe now to get breaking news alerts in your email inbox
Get breaking news delivered to your inbox as it happens.
---