News > Idaho
Law allowing concealed firearms with no permit a year old
Sat., July 1, 2017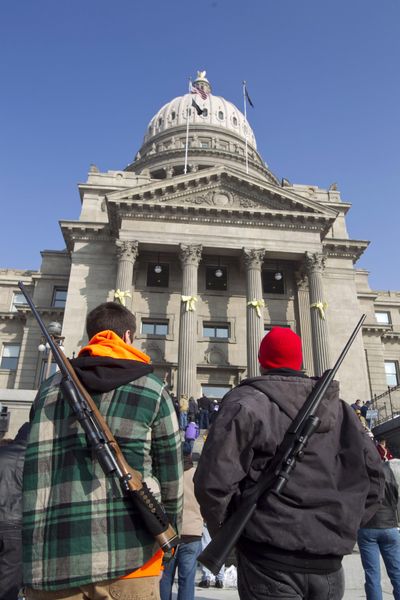 COEUR D'ALENE – Exactly one year after it went into effect, an Idaho gun law that allows people to carry concealed firearms without a permit has had little effect on crime rates, state law enforcement officials said.
It has, however, impacted the number of Idaho concealed carry permits being issued, some firearm trainers said.
The law allows most residents age 21 or older to carry concealed guns without a permit inside cities, in bars and in most government buildings.
When the Idaho Legislature enacted its permitless firearms concealed carry law a year ago, it was not without warnings from a broad spectrum, including anti-gun groups and Idaho chiefs of police.
The warnings are still in place, but so far, adverse results haven't materialized.
"We believe dismantling the longstanding and effective permitting system without taking additional precautionary steps will weaken public safety," Bill Bones, Jeff Lavey and Rick Allen, chiefs of police in Ada County, wrote in a letter to the Idaho Statesman last year. "Our concealed weapons licensing system is the only way to determine the person is not a felon or dangerous person prohibited from possessing firearms."
Coeur d'Alene Police concur that the permitless carry law has disabled at least one tool police used to check felons for firearms, but Detective Jared Reneau said the state's latest gun law seems to have had little effect on crime rates in Coeur d'Alene.
"It hasn't been a topic of discussion," he said. "We haven't noticed a significant increase."
So far, 12 states – the number has increased from eight a year ago – have adopted permitless concealed carry firearms laws. They include Alaska, Arizona, Idaho, Kansas, Maine, Mississippi, Missouri, New Hampshire, North Dakota, Vermont, Wyoming, and West Virginia. A permitless carry bill was passed in Michigan's House this month and is on the way to its Senate.
In Nez Perce County, Idaho's most gun-friendly county where an estimated 59 percent of residents own guns – the highest rate in the state – Sheriff Joe Rodriguez said his department did not anticipate an increase in gun crimes a year ago when permitless carry became law.
"The way we look at, we live in the Northwest. Everyone has a firearm," Rodriguez said.
His officers are trained to be alert for weapons, and permitless carry didn't change that. It didn't affect crime rates either, he said.
"Nothing has changed," Rodriguez said.
He anticipated the number of residents applying for concealed carry permits would fall off, but that didn't happen, either.
"We're still processing a lot of concealed weapons permits," he said.
Concealed weapons permits are required in neighboring states and Idaho's enhanced concealed weapons permit is honored in a majority of them. That makes it a popular choice among gun owners.
Ed Santos, who operates Center Target Sports in Post Falls, which has trained 24,000 firearm owners in 12 years to obtain a concealed permit, has noticed no downward trend in its business.
Santos said some thought the number of concealed carry permits would decrease because they would no longer be needed.
"That has not been the case," he said. "We've actually seen an increase."
He attributes that to firearms owners becoming accustomed to carrying without a permit, and wanting to travel to other states with a gun in their belt. In most states, they need a concealed permit to do that.
"We really haven't seen a negative impact," Santos said.
Post Falls Police Chief Scott Haug, president of the Idaho Chiefs of Police Association, said the permitless carry law has not resulted in an increase in crime. It may, however, have given a green light for people inexperienced with guns to carry firearms without proper training.
One of Haug's officers found a handgun under a tree in a park, he said, and he has seen people in Walmart with pistols hanging out of their back pockets.
"People get complacent," he said. "They don't understand how quickly that gun can be used against them in a matter of seconds."
When the permitless law was enacted a year ago, his department gave free training to encourage responsible gun ownership, he said. He believes that's the key to gun safety in a gun-packing culture.
"We want to encourage people to carry a gun safely," Haug said. "Other than that, it's gone pretty well."
Local journalism is essential.
Give directly to The Spokesman-Review's Northwest Passages community forums series -- which helps to offset the costs of several reporter and editor positions at the newspaper -- by using the easy options below. Gifts processed in this system are not tax deductible, but are predominately used to help meet the local financial requirements needed to receive national matching-grant funds.
Subscribe now to get breaking news alerts in your email inbox
Get breaking news delivered to your inbox as it happens.
---