News > Crime/Public Safety
Police responding to domestic violence call shoot man in south Spokane
July 3, 2017 Updated Mon., July 3, 2017 at 8:30 p.m.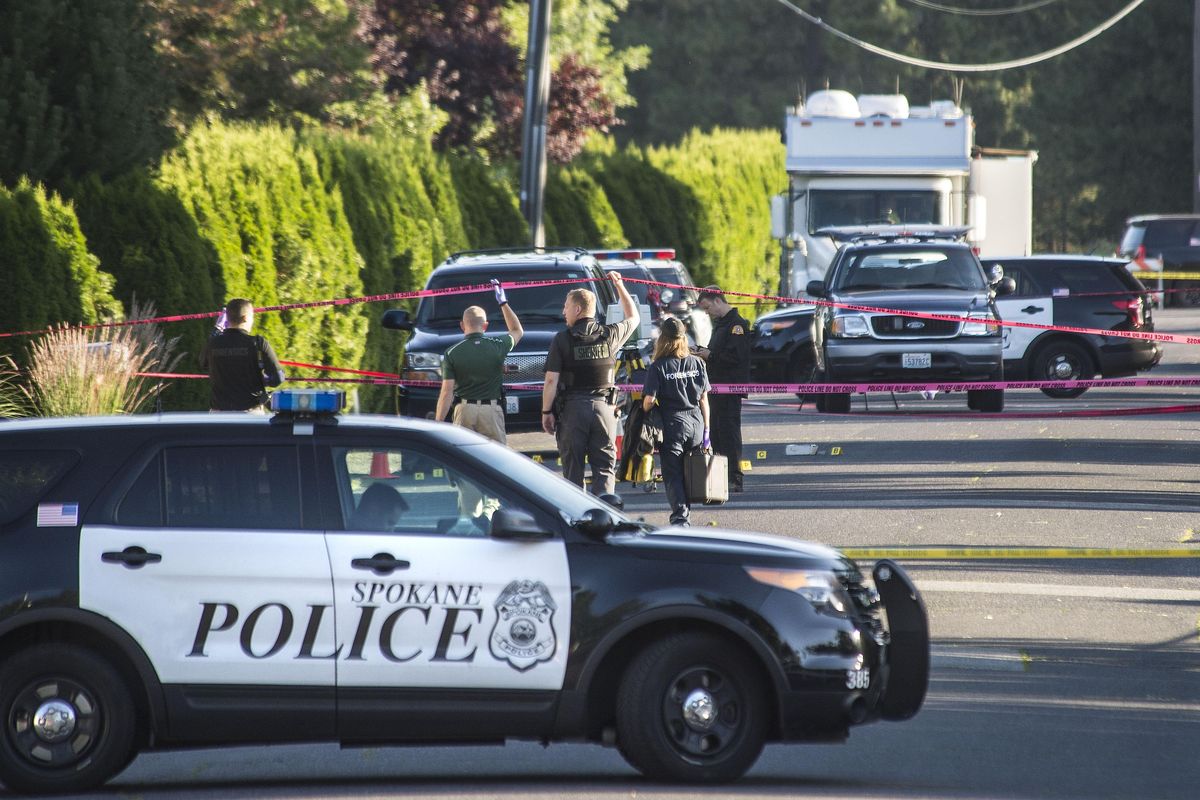 Law enforcement investigators walk under the crime-scene tape on the 5900-block of South Mount Vernon Street in Spokane, after a man was shot and killed Monday, July 3, 2017, by police officers responding to a domestic violence call. (Dan Pelle / The Spokesman-Review)
A man was shot and killed early Monday by police officers responding to a domestic violence incident south of Spokane, just outside city limits.
Officers and sheriff's deputies were called at about 12:30 a.m. to a home in the 5900 block of South Mount Vernon Street. The first officer on scene reported hearing gunfire within a minute of arrival, police said in a statement.
Two officers fired their weapons shortly after, striking 53-year-old Daniel Craven multiple times. They were wearing body cameras and reported finding a gun near Craven after shooting him.
The officers rendered medical aid, and Craven was taken to Providence Sacred Heart Medical Center, where he died.
A man who lives near the shooting scene said he awoke at 4 a.m. to flashing lights and several police officers walking around outside his home.
"There were cops everywhere," said the man, who declined to give his name. "They had flashlights, and they must be really nice because it was bright."
There was also a bullet lodged in the door of his garage.
"Apparently it didn't have enough force to get through the door," he said.
The man said several of his neighbors described hearing a "pop, pop, pop" late Sunday night and assumed it was teenagers lighting off fireworks ahead of the Fourth of July. Even after hearing the sirens, they assumed it was an accident related to fireworks.
"This has been a very quiet neighborhood," he said.
Because it involves an officer, the shooting is being investigated by the Spokane Investigative Regional Response Team, which includes detectives from the Spokane Police Department, the Spokane County Sheriff's Office and the Washington State Patrol. The team's findings will be forwarded to the county prosecutor's office for review.
Staff writer Chad Sokol contributed to this report.
Local journalism is essential.
Give directly to The Spokesman-Review's Northwest Passages community forums series -- which helps to offset the costs of several reporter and editor positions at the newspaper -- by using the easy options below. Gifts processed in this system are not tax deductible, but are predominately used to help meet the local financial requirements needed to receive national matching-grant funds.
Subscribe now to get breaking news alerts in your email inbox
Get breaking news delivered to your inbox as it happens.
---