A&E > Food
Where to get the best tacos in Spokane
Tue., July 4, 2017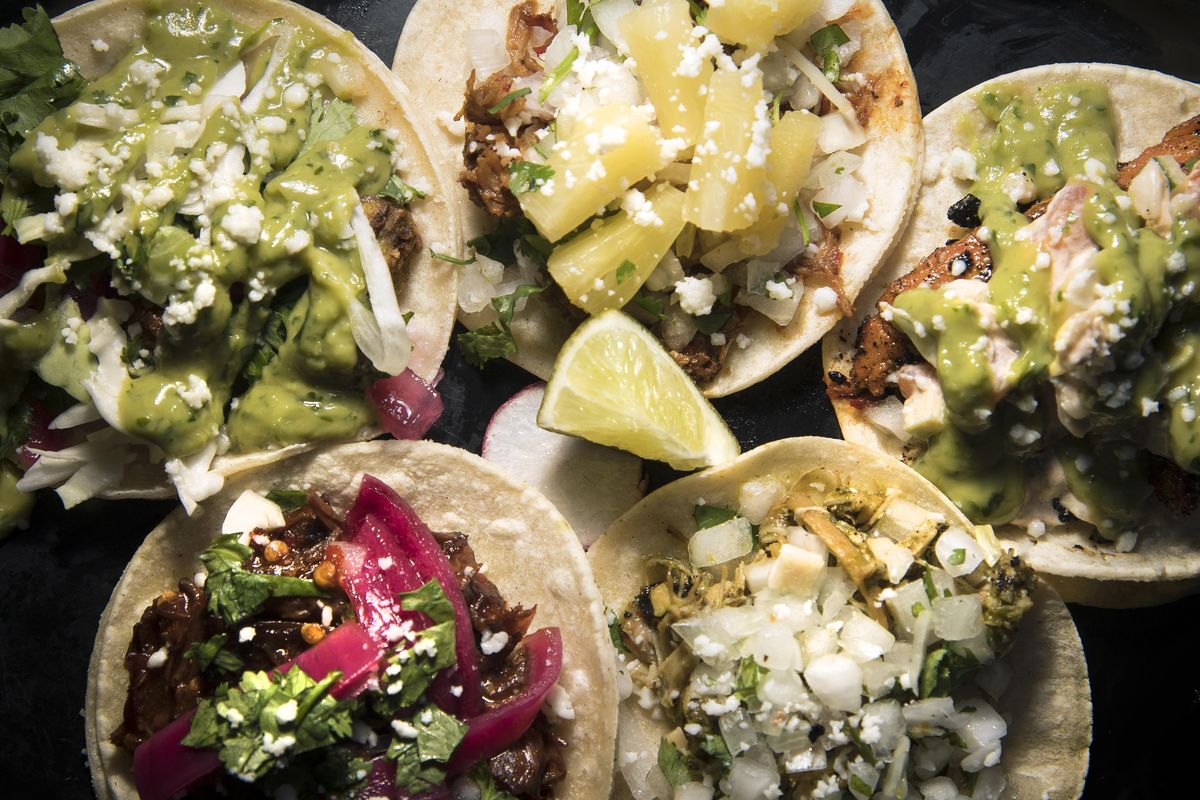 A selection of tacos from Borracho Taco and Tequileria located at 211 North Division Spokane. (Colin Mulvany / The Spokesman-Review)Buy a print of this photo
Tacos are delightful finger foods, perfect all year round but especially in summer, on a patio, where it doesn't matter if you drop anything. The half-moons, enveloped by soft corn or flour tortillas, are folded around all sorts of fillings – from shrimp or fish to shredded chicken or pork or carne asada. They're typically topped with fresh cilantro, onion and lime, but often include shredded cabbage, a few radish slices or chunks, maybe some guacamole or salsa or both. They can get messy, especially if they're generously stuffed.
Even so, you'll want to order two or three of these hand-helds and – of course – a freshly made margarita with real lime juice to wash them all down.
Here are some of the best places to get tacos in the Inland Northwest.
Las Brasas Mexican Grill – This food truck is based on a family taqueria that opened about 20 years ago. When the proprietor and chef died unexpectedly about 14 years ago, the business shuttered. The youngest of the two sons, Ivan Guitron, launched this food truck less than a year ago "in loving memory of" his father, Juan Manuel Guitron. Las Brasas offers $2 tacos that are better than many local sit-down, eat-in restaurants. The meat is thoughtfully prepared. Spend an extra buck on the tri-tip tacos; the beef is marinated for 24 hours and smoked for four, imparting a nice, rich smoky flavor. The al pastor (marinated pork) and carnitas (slow-cooked shredded pork) tacos are full of flavor, too. They come with onion, lime and cilantro, but customers can doctor them up with other sauces and toppings, too, for an extra 50 cents. And, Ivan Guitron will hand-deliver your tacos to you while you wait in the nearby brewery with a Three Channel IPA or Gingersnap Stout. Find Las Brasas from 11 a.m. to 7 p.m. Monday through Friday at Downdraft Brewing Co., 415 W. Seltice Way, Suite A, in Post Falls. (208) 819-2577. lasbrasasmexicangrill.com
De Leon Foods Grocery and Deli – Part Mexican grocery store, part Mexican bakery and part Mexican lunch counter, this establishment is a haven for all things south-of-the-border. Go for the Taco Tuesday special: four tacos – two shredded chicken, two carnitas – for $5.99. There also are fish tacos, steak tacos and tacos de birria (that's shredded beef here) – as well as combination plates with rice and beans and, of course, soft corn tortillas. De Leon's makes its own. That bears repeating: De Leon's makes its own tortillas, which is rare around here. Customers can buy them by the bagful along with De Leon's own tortilla chips, tamales and salsa. De Leon's has two locations, plus it's launching a taco bar in North Spokane later this month. It hasn't opened yet, otherwise it would be on this list, too. 102 E. Francis Ave. (509) 483-3033. 15530 E. Sprague Ave. (509) 926-5009. deleonfoods.net.
La Michoacana – The small tacos at this spacious, welcoming, colorful place are $2 each, but the small corn tortillas that hold them together aren't made here. The large tacos cost $3.50 a piece, but the bigger corn tortillas they come in are made on site. Carnitas and carne asada are favorites. Tripe tacos are 25 cents more. A platter of two with rice and beans is $9.95; a platter of three costs a dollar more. Birria here means goat, and platters of seasoned meat with rice and beans and tortillas come in small for $10.95 and large for $15.95. A mural of the Virgen de Guadalupe watches over the room from above the double front doors. There's a bar in the back – casa del tequila – as well as a glass case with Mexican chorizo and other meats. 9907 E. Sprague Ave., Spokane Valley. (509) 926-8251.
La Plaza de Mexico – The warm, crispy tortilla chips with salsa at this casual, family-friendly restaurant are addictive. But don't fill up on them. Fill up, instead, on the tacos. The carne asada taco plate features three of them – garnished with cilantro, onion and ranchero cheese – along with rice and beans for $13.95. On a recent Taco Tuesday, they were on special for $11.99. There are fish tacos, too, featuring battered and deep-fried cod with pico de gallo. A 22-ounce horchata – sweet, refreshing – is $3. The umbrella-covered patio overlooks the busy thoroughfare that is East Sprague Avenue. Come for dinner, sit outside, watch the sun set, and try to pretend you're in the likes of Sayulita. 9420 E. Sprague Ave., Spokane Valley. (509) 924-3959. laplazademexico.com
Tacos El Sol – Don't let its location – on the edge of a parking lot in downtown Spokane – deter you. This taco truck offers up lovely little street-style tacos for just $1.75. That's right: you can get three of them for lunch for less than the price of a large latte. And you should, too. Even though the corn tortillas aren't made in house – er, in truck? – they are just right: not too salty, not too greasy, not too stuffed. Plus, they're a great value. (Tongue tacos cost more. So does the mix of beef and Mexican sausage.) And customers can doctor them up themselves with hot, mild or guacamole sauces or pico de gallo. The only downside is – unless you want to eat them standing at the counter – you have to take them to go. 401 W. Sprague Ave. (509) 216-2554. facebook.com/TacosElSol
Tacos Camargo – This popular taco truck, known for its street-style tacos and other authentic Mexican fare, can typically be found in the parking lot of Harvest Foods in Spokane Valley weekdays during lunchtime, generally from 11 a.m. to 4 p.m. But, it gets busy with catering jobs this time of year, so check Facebook or call ahead just to make sure it's open. 14515 E. Trent Ave. (509) 822-1939. facebook.com/SpokaneCamargo
Fiesta Mexicana – This bright and cheerful spot opened on Spokane's South Hill in 2002 and has become a popular neighborhood eatery. There's often a wait for a table, especially on Thursday, Friday and Saturday nights. It's very family-friendly, includes a mix of booth and table seating, tiled floors, and kitschy parrot-shaped holders for the salt-and-pepper shakers. The tacos al carbon, one of the most traditional styles of Mexican tacos, feature skirt steak, with salsa, cilantro, ranchero cheese, rice and refried beans for $11.50. 1227 S. Grand Blvd. (509) 455-7117.
Patty's Tacos – Patty's has kind of a cult following. Find the truck, known for its street-style tacos and other authentic Mexican menu items, in the parking lot of the Walmart Supercenter in Spokane Valley around lunchtime. 5025 E. Sprague Ave., Spokane Valley. (509) 217-2504.
Atilano's Mexican Food – This Inland Northwest chain of Mexican fast food restaurants – some 1,300 miles from Mission Beach – promises "San Diego's Best Burritos." The burritos here are big and cheap. So are the tacos. They're $2.65 each or, $1.50 for a mini. And they're loaded. Can't finish? Not a problem. A roll of aluminum foil is provided along with plastic forks. Help yourself. Atilano's offers all of the usual taco fillings to choose from, and the vibe is fun and festive. Expect to hear boisterous Mexican pop music in a brightly painted spot, popular with high school and college students. Multiple locations. atilanos.com
Taqueria Fiesta Brava – Service is fast and friendly at the small but super-clean, bright and colorful casual establishment, where the owner will often be the one to greet and serve guests. Tacos are $2, and chips and salsa are complimentary. Plus, they sell Mexican Coke, sweetened with cane sugar instead of high-fructose corn syrup. Or, opt for a Mexican beer. Taco choices are: carne asada, chicken, chorizo, carnitas, al pastor and adobada. 820 E. Francis Ave. (509) ) 489-4514.
Rancho Chico Family Restaurant – This casual, sit-down, family-friendly restaurant has two Spokane locations, and both are known for their friendly service and welcoming atmosphere. They also can be found in Omak and Colville. Consider the hearty tacos al carbon (beef grilled over charcoal) combination plate with rice and beans for $16.95. Tacos are topped with onion and cilantro. 2023 W. Northwest Blvd. (509) 327-2723. 9205 N. Division St. (509) 467-0022. mexicanrestaurantspokane.com
Gerardo's Authentic Mexican Food – Help yourself to chips and salsa at this brightly colored spot, which offers Mexican fare at prices that won't empty the pocketbook. Tortillas come from De Leon Foods. And tacos are generously stuffed. Carnitas and carne asada (grilled beef) tacos are $2.45 each. There's lengua, too (that's tongue) – as well as fish and adobada (pork in red chili sauce). Heartier appetites might opt for plates that include sides of rice and beans; combos run from $7.65 to $8.99. There's a drive-thru as well as take-out and a small dining room, painted red, yellow and green, with a mix of booth and table seating. Wash it all down with a 32-ounce, $1.99 refreshing horchata. 2706 N. Monroe St. (509) 340-9905. facebook.com/GerardosAuthenticMexicanFood
Three Ninjas – Founded in 2014, this popular food truck offers a variety of wraps, rice bowls and, of course, tacos. They're served on house-made chipotle tortillas. Plus, this truck makes its own tortilla chips, salsa and hot sauce. It can often be found at the Kendall Yards Night Market. Call or check Facebook for its current location. (509) 768-3613. facebook.com/mobilespokane
Borracho Tacos & Tequileria – Street-style tacos are $2 or $3 each at this hip and happening downtown corner spot, which specializes in infused tequilas and Mexican street food. Decor is Day-of-the-Dead-meets-sports-bar – with plenty of TVs, images of happy skulls and a festive atmosphere. The place gets loud and packed, especially on game days and Taco Tuesdays. The patio's popular in summer; on a recent warm and sunny weeknight, there was a 30-minute wait. House tacos are al pastor, verde chicken, chorizo and potato, veggie, and fried avocado. Specialty tacos are carne asada, ground beef, lengua, fish and barbacoa. They feature double corn tortillas from De Leon Foods. Eat 25 in a half-hour and win a T-shirt, plus get your name on a plaque on the wall. So far, 17 people have been successful, including one guy who managed to down 46. Platters with two street-style tacos with rice and beans are $9. Shrimp tacos on flour tortillas with rice and beans are $13. Wash them down with a 32-ounce margarita for $14, and call for a ride home. Note: It's 21-and-over only, all of the time. 211 N. Division St. (509) 822-7789. borrachospokane.com
Neato Burrito/Baby Bar – This popular downtown joint – it's a two-in-one situation, with the eatery out front and the bar in the back – recently added street-style tacos on corn tortillas to its menu. Customers can build their own. It's $3.50 for one, $5.50 for two and $7.50 for three. Toppings include tofu or meat (chicken, pork and ground or shredded beef), lettuce, cabbage, onion, tomato, cilantro and salsa. There's an 8-inch flour taco, too. 827 W. First Ave. (509) 847-1234.
El Que – Come to this neighborhood hole-in-the-wall in historic Browne's Addition for its specialty tequila drinks. After a couple, have some tacos, the mainstays of this spot's food menu. The atmosphere is intimate and inviting. Decor includes Catholic, patron-saint, devotional candles. Try the Fresh Beets, an earthy beverage made with beet-infused tequila, or the pineapple-jalapeno margarita. Other infusions: ghost pepper, orange-cinnamon, chocolate-cinnamon-hazelnut. El Que, snuggled behind its sister eatery, The Elk, is also known for its $2 Tecates on Tuesdays and $2 Modelos on Mondays. The only downside: it doesn't open until 4 p.m. 141 S. Cannon St. (509) 624-5412. wedonthaveone.com http://wedonthaveone.com/el_que/
Tortilla Union Southwest Grill – This is the Twigs of Southwestern fare. It's owned by the same folks. And it gets extra points for pressing its own tortillas in house. The masa dough, however, is made off site. Opened last summer, the restaurant sits on the first floor of River Park Square, tucked between Nordstrom and Williams-Sonoma in the space that formerly housed the Loft clothing store. The decor is done in red and gray and black with industrial and animal-print accents. Bright and sunny sidewalk seating overlooks Main Avenue. Taco entrees range from $9.99 to $16.99 – for two or three and depending on the filling. There's grilled mahi mahi, carne asada, verde chicken and fried avocado. The barbacoa is topped with chipotle crema, sliced radish and cilantro. 808 Main Ave. (509) 381-5162. tortillaunion.com
Timber Gastro Pub – This modern and spacious gastropub in Post Falls is known for its decor and architecture as well as its elevated pub fare, including gourmet tacos. The setting melds natural and industrial elements. Dividing walls resemble pallets. Duct work is exposed. Split wood, caged rocks and a blown-up black-and-white vintage photo of loggers are among the other accents. Look for the Asicana tacos featuring slow-smoked brisket simmered in ginger glaze with pickled red onion, Asian-inspired slaw, wasabi cream and fried wonton strips. The Maui tacos include cod, fire-roasted corn guacamole, shredded cabbage, picante cream and pineapple-mango pico de gallo. The pulled pork version includes shredded cabbage, salsa verde, black bean-and-corn pico de gallo, crème fraiche and crumbled cotija cheese. Wash them down with the specialty beer-infused or other craft cocktails. 1610 E. Schneidmiller Ave. in Post Falls. (209) 262-9593. timberpub.com
Zola – This quick, casual and eclectic spot offers three tacos on corn tortillas for $10. On Taco Tuesday, however, they are three for $5, and that's why they're on this list. Enjoy the special on the charming little patio overlooking West Main Avenue or quirky-cool upstairs seating fashioned from vintage carnival rides. Plus, there's live music every night of the week. Main street tacos include shredded pork or white fish with aged cheddar and spicy slaw. Chicken tacos are topped with lime crema, cilantro, aged cheddar, lettuce and salsa. 22 W. Main Ave. (509) 624-2416. zolainspokane.com
Local journalism is essential.
Give directly to The Spokesman-Review's Northwest Passages community forums series -- which helps to offset the costs of several reporter and editor positions at the newspaper -- by using the easy options below. Gifts processed in this system are not tax deductible, but are predominately used to help meet the local financial requirements needed to receive national matching-grant funds.
Subscribe to the Spokane7 email newsletter
Get the day's top entertainment headlines delivered to your inbox every morning.
---