A family passion for yoga: Mother-daughter duo opens studio in Wandermere area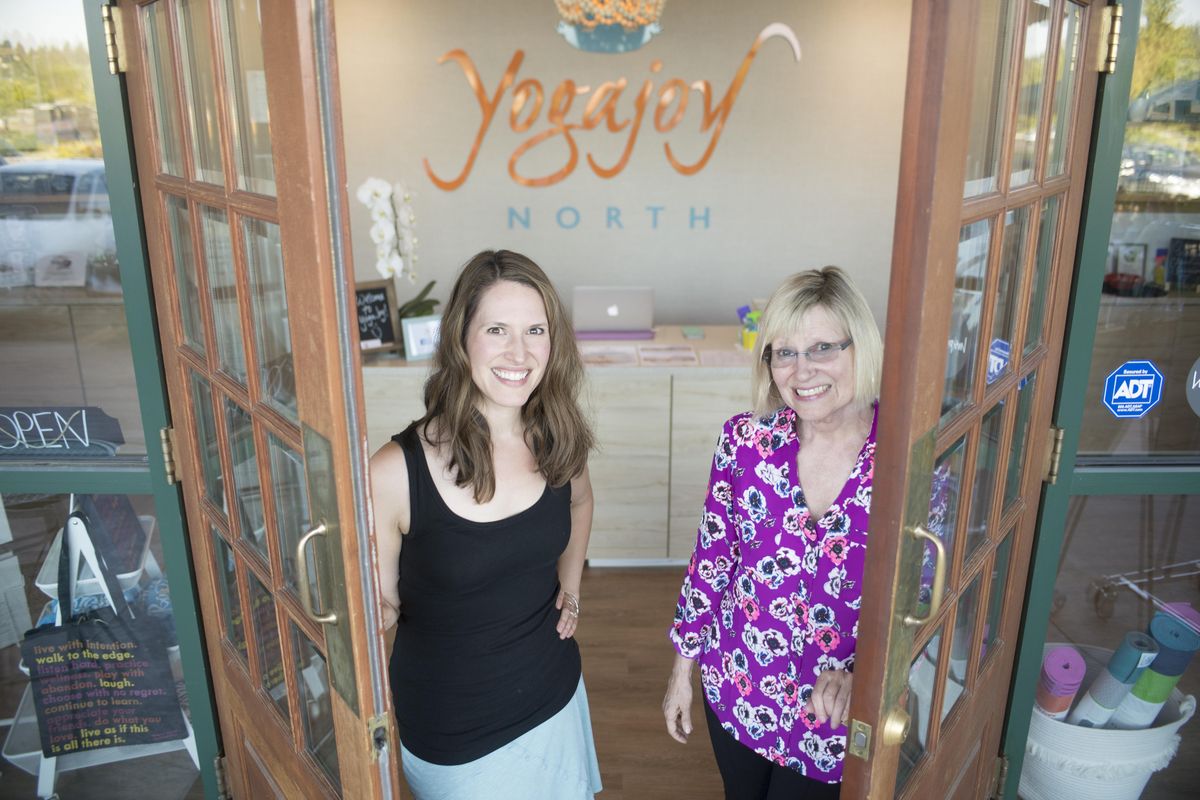 Cher Desautel and her daughter, Sara Douville, have taken their passion for yoga to a new level. In May they opened YogaJoy North, in the Wandermere West shopping center.
Nestled between Mel's and Taco Del Mar, the 2,100-square-foot space features two fully equipped studios and KidJoy, a child care room.
Cubbies for shoes, backpacks and purses line a corner of the entryway, and unique gifts and cards from "Inspired By" line nearby shelves. These are available for purchase courtesy of their retail partner, local author/speaker Deanna Davis and her team at Applied Insight.
Desautel and Douville hope this space will become an oasis of calm and serenity in rapidly growing North Spokane.
Yoga has long been part of Desautel's life.
"Everyone in my family has arthritis, so I was always stiff," she said. "I do yoga almost every day. It keeps me flexible and helps with balance."
She introduced it to her daughter when Douville was a teen, but it was when Douville became a busy mom that she really began to appreciate the benefits of yoga.
"I did prenatal and postnatal yoga with both kids," she said.
With James, 4, and Sadie, 1, in tow, Douville said, "I saw a lot of young mothers like myself, looking for a retreat – a place to exercise and practice self-care, so we can take care of others in our lives."
She and her mom talked about opening a studio, and then while shopping at Mel's in December, she saw the space next door was available. They felt the location which formerly housed a dance studio, was perfect.
"We saw an opportunity to have quality yoga up north," Desautel said.
The two are no strangers to working together. Jim and Cher Desautel founded Desautel Hege (now DH), in 1996 and Douville worked with them for 10 years.
The studio offers a wide range of yoga classes including beginner/basic, vinyasa, restorative, gentle, yin, and yoga for 50+.
"We want to make sure people don't feel judged in the classroom," said Desautel. "We want them to feel comfortable with whatever level of fitness they're at."
She said a dedication to high-quality instruction is what sets YogaJoy North apart.
"We have very experienced teachers."
They employ four instructors and use an independent contractor, as well.
Barre classes are also offered.
"Barre is ballet-inspired and combines cardio, Pilates, yoga and classic stretching," Douville explained.
Janelle Brennan of the Barre Habit partners with them to offer the classes and employs four instructors at the site.
On a recent evening, several women with varying levels of yoga experience arched their backs in the dimly lit studio while the instructor explained each position in a soothing tone.
"Curve your spine like a hissing cat, a Halloween cat," she said.
In the adjacent studio, a handful of women faced a mirror and gracefully stretched at the barre as the teacher offered words of encouragement.
Child care for children 12 months old and older is available at no charge to members with advanced booking, and nonmembers can purchase drop-in visits or packages.
The mother-daughter duo is enjoying the new venture.
"We're already living the dream," said Desautel. "I like visiting with the women who come in. We have people come in who have never tried yoga and we've had people come in who say, 'We're so glad you're here.' "
For Douville, the best part is seeing the transformation in busy mothers like herself.
"People just don't stop," she said. "For me, this is my slow-down time. I love seeing a mom like me come in with a kid on each hip, looking frazzled and then when they leave they look refreshed."
Desautel smiled. "I can't imagine life without yoga," she said.
---