Sports
Grip on Sports: The end of the Empire shouldn't have come as a shock
Thu., July 13, 2017 A GRIP ON SPORTS • So long Spokane Empire. We hardly knew you. Read on.
••••••••••
• It was a shock when the Spokane Shock were sold a few years back, with original owner and founder Brady Nelson deeding the team to Seattle resident Nader Naini, though in hindsight it was a move we should have seen coming.
It was even a bigger shock a couple years later when Naini and the Shock left their name behind and moved from the Arena Football League to the Indoor Football League, though in hindsight it was a move we should have seen coming.
But nothing compares to the shock we felt yesterday when the Empire, the IFL version of the Shock, and Naini announced they were ceasing operations for the 2018 season, though in hindsight it was a move we should have seen coming.
No matter what the business, sports-related or otherwise, it runs on money. And when there is less money coming in than being paid out, a business – unlike the government – is going to shut down sooner or later.
Your favorite restaurant, shoe store or big-ticket department store is no exception. No bucks, no Buck Rogers, or something like that.
The Empire just wasn't profitable. The bottom line was the bottom line, literally.
So Naini is suspending operations, a euphemism businesses have used for years so they can close up shop while still holding out hope for those affected.
It wasn't too long ago a local restaurant closed downtown, saying it was suspending operations at its current site as it prepared to open up the hill. It hasn't happened yet and my money is on it not happening.
Same with the Empire.
"What I'm hoping is it might stimulate a local partner (to get involved)," Naini told our Jim Meehan. "It's been hard for me as someone who lives on the other side of the state to make an impact with the local community."
Shuttering the franchise seems an odd way to make that happen, but maybe that's just me.
But it really doesn't matter. There hasn't been enough buy in, literally and figuratively, in Spokane the past few years to keep the Shock/Empire afloat. It wasn't there the last few years when Nelson, a local guy, owned the team. It hasn't been there in the Naini era either.
Which is weird, considering the love affair the Spokane fans seemed to have with the team back in the AF2 days. The Arena was always full, the fans always loud and the games always fun. Or seemingly so.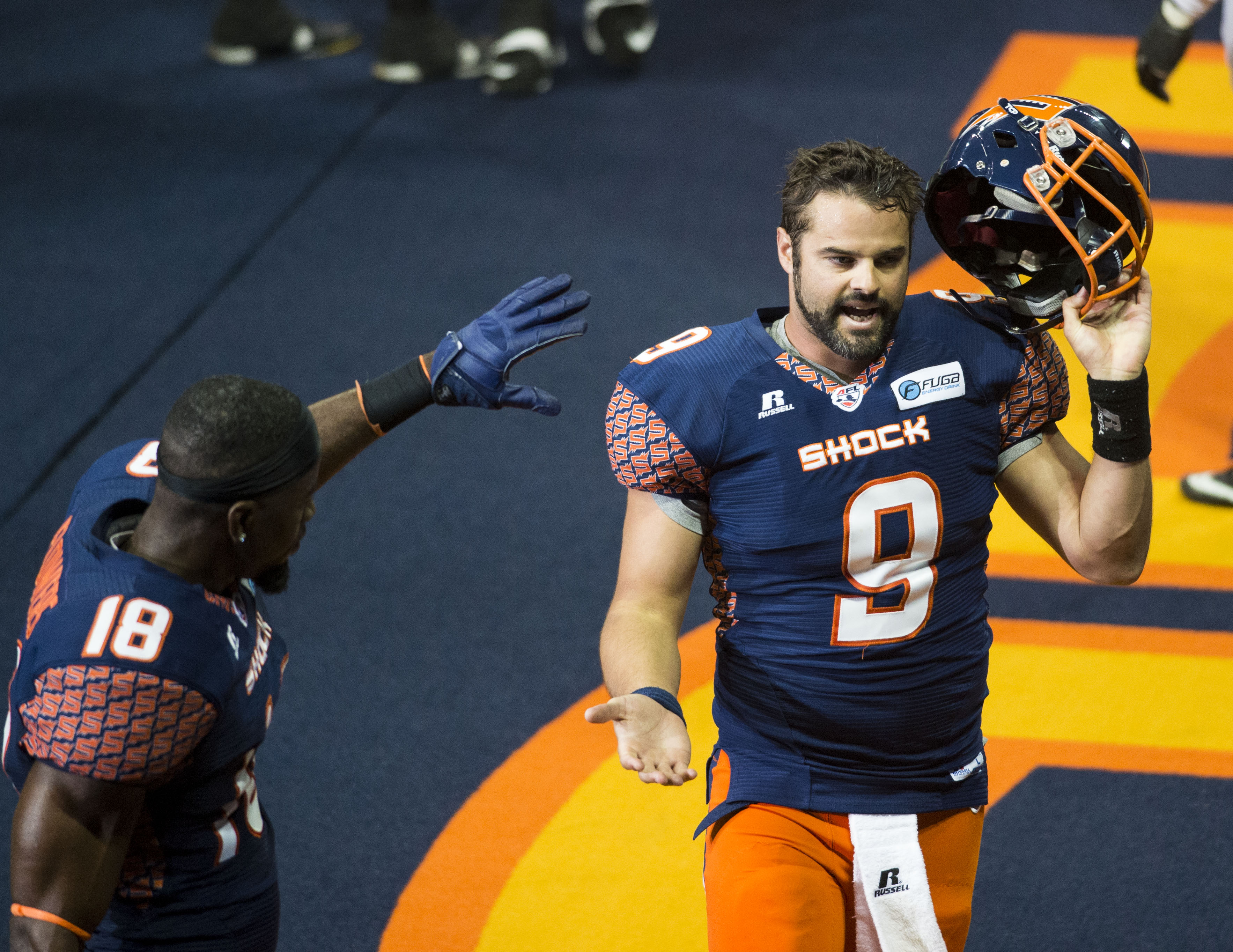 But that dynamic changed with the death of AF2. The AFL was a fly-by-night outfit and still is. The IFL seems a bit better run, with a better business model, but the game is different and didn't seem to connect with the Spokane fan.
And so we reach the end of Spokane's indoor football story. For now.
When the Shock was consistently drawing more than 10,000 folks to the Arena, there was some rumblings around town that other sports-minded individuals wished they had been involved. But the door was closed.
It's open now. There is a hard-core group of fans, estimated by Naini at about 2,000, who would jump in to help with their wallets. The IFL needs teams. And the Spokane Public Facilities District, always looking for Arena tenants, especially ones in the spring and summer, is sure to support a local investor.
If there is one to be had.
•••
WSU: The Times' Stefanie Loh catches up with Riley Sorenson and checks in on his most recent battle with cancer. … There are a lot of transfers in Division I college basketball. And the trend line seems to be upward. … A former Idaho quarterback is trying to win the starting spot at Oregon State.
Gonzaga: The Zags were honored for their academic prowess.
Indians: Spokane headed out on the road and picked up a 6-4 win at Vancouver. … Elsewhere in the Northwest League, Eugene rallied for a win at Hillsboro and Everett held off Tri-City.
Empire: The news yesterday afternoon elicited this story by Jim as well as a John Blanchette column on the franchise and its history. … There are IFL franchises doing well. Case in point: the Arizona Rattlers.
Mariners: The word "underperformed" came up yesterday. It was spoken by general manager Jerry Dipoto and it was used in describing the M's first half. You think manager Scott Servais liked hearing it? … East Coast bias? Stupidity? You be the judge (I've already made up my mind). … You have questions? Ryan Divish has answers.
Seahawks: Paul Allen is a good owner. And Kenny Easley was really good when he was playing for the Hawks. We can all agree on that, right?
Sounders: The United States Mens National Team didn't play all that well in its Gold Cup match with Martinique in Tampa. But thanks the Jordan Morris' two second-half goals, was able to pull out a 3-2 pool-play win.
•••
• Step by step, I've set a personal record. A streak of days exceeding a certain number. Reaching a goal. It's up to a DiMaggio-like, wait for it, three days. Wow. … Just a reminder. We won't be here Saturday morning. Taking a personal day. We'll be here tomorrow and Sunday. But not Saturday. Got it? Until later …
Subscribe to the sports newsletter
Get the day's top sports headlines and breaking news delivered to your inbox by subscribing here.
You have been successfully subscribed!
There was a problem subscribing you to the newsletter. Double check your email and try again, or email
webteam@spokesman.com
---
Subscribe and login to the Spokesman-Review to read and comment on this story