Leaving the streets: Housing challenge gives homeless youth a shot at independent living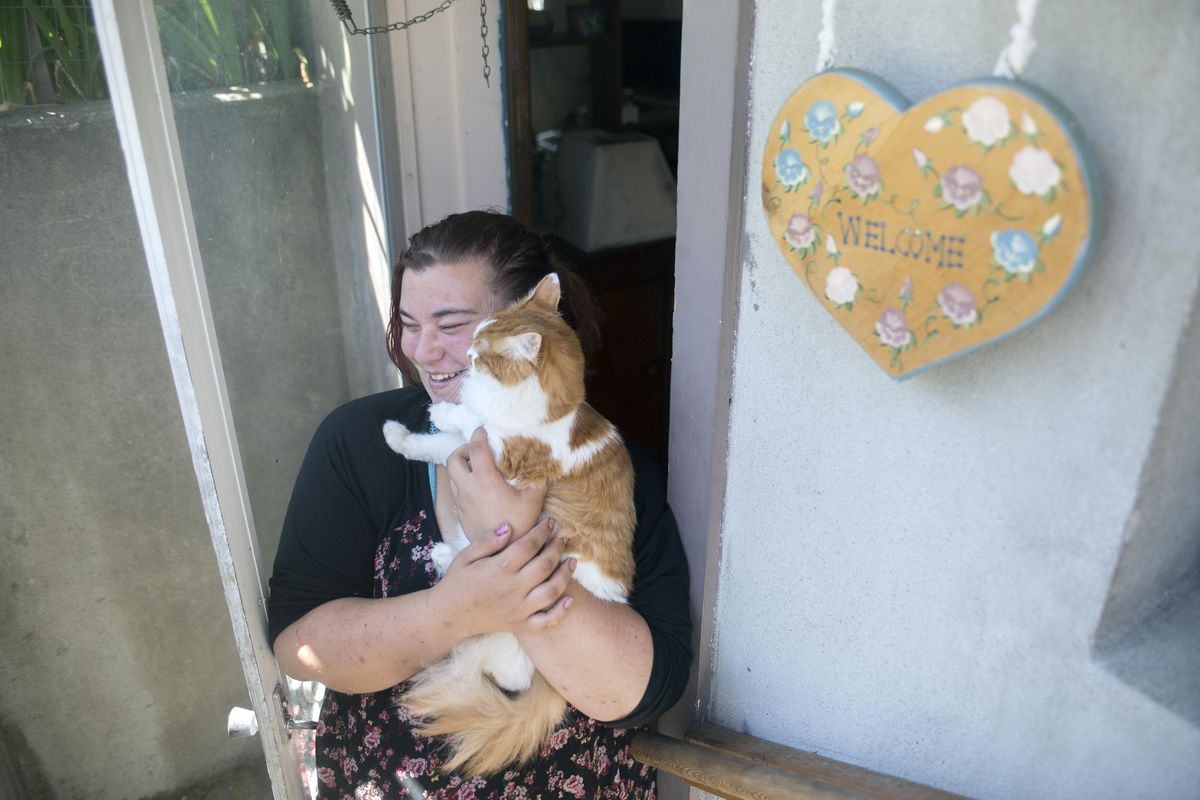 Raevn DeAugustino's apartment bears all the hallmarks of a recent move-in.
Her basement studio has a single chair with a stool and a small table. The wood floor is home to several piles of clothes and bedding, which serve as hiding places for her nearly year-old cat, Leo, an orange and white tabby and Maine Coon mix.
DeAugustino's case manager, Candi Poe, showed up on Wednesday morning with a move-in basket, featuring items such as a shower curtain and soap, that sent the 21-year-old into peals of theatrical glee.
"Oh my gosh, garbage bags!" DeAugustino exclaimed, laughing.
Even unfurnished, the modest apartment is a triumph for the young woman. Before moving in less than two weeks ago, DeAugustino had spent the past three years homeless and living on Spokane's streets after aging out of the foster care system with no place to go.
Spokane is in the final weeks of a challenge to house 100 homeless young people, ages 12 to 24, in 100 days. King and Pierce counties also are participating, with backing from A Way Home Washington, an advocacy group for homeless youth.
DeAugustino is one of 65 young people who have so far found a permanent place to live during the challenge, thanks in part to a collaboration between social service agencies and the city to make it easier for young people to get evaluated for housing.
Running from conflict, finding
the streets
Jim Theofelis, A Way Home Washington's founder and executive director, said homeless young people are especially vulnerable on the streets. They're often targeted for abuse in shelters, and some who were abruptly kicked out of their parents' home may be completely unprepared to survive on their own.
"Family conflict is the biggest reason young people become homeless," he said. That includes abuse by parents or their partners, parents kicking out gay or transgender children, or parents who can't handle their child's mental illness when symptoms start showing.
DeAugustino grew up in Hunters, Washington, and says she was physically and verbally abused by her stepfather starting when she was young. When she was 7, her mom left the man, but "she didn't start making good choices then either," she said.
Her family fell apart when DeAugustino was in middle school. Her mother left the girl with her two younger sisters at home, promising to be back in a few days. It would be months before she returned.
When she was home, her mother would sometimes smoke marijuana in the house and force DeAugustino's younger sisters, who were elementary school aged, to take hits. Eventually, DeAugustino made the difficult choice to contact child protective services with help from her uncle. She was 12.
"That was probably the hardest thing I've ever done, because I feel like I tore apart my family," she said, breaking into tears.
DeAugustino would spend the rest of her life as a minor bouncing between foster homes. For a period, she lived with her uncle, but was kicked out when her bipolar disorder started showing symptoms he wasn't equipped to deal with, she said.
At 18, she dropped out of high school, which she called the worst decision of her life. Some foster kids are eligible for extended foster care, but she didn't want to stay with her family and didn't think they'd want to keep her. With nowhere to go, no work experience and no high school diploma, she started living on the streets.
A crash course
in independent living
Housing homeless young people presents its own challenge. Unlike adults, who may have some experience working or living in an apartment, young people often start with nothing.
Young people who grew up with stable housing and stable families can transition to adulthood gradually, learning life skills from parents or mentors and often getting help with a first job search, first lease and cast-off silverware to furnish a new home.
"The No. 1 transitional housing model in this country are college and university dorms," said Bridget Cannon, director of youth services at Volunteers of America, which runs the Crosswalk shelter for homeless teens.
Rather than learning introductory biology or how to pay bills, DeAugustino picked up a new set of skills over the next three years.
She learned to cover herself with something dark when sleeping in a park and to be nearly silent to avoid being discovered and kicked out.
She learned that while she was technically an adult, shelters like the House of Charity and Hope House weren't safe places for her, because of the possibility she'd be attacked or yelled at by older residents.
She learned that the bathroom at Hayes Park locks from the inside, and that if she got there by 6 p.m., she could stake out a spot and squeeze in about three hours of sleep before she would hear banging on the door.
After she was drugged at a party and woke up in a park by the freeway with no memory of how she got there, she learned to carry a knife.
She learned kids younger than she would turn to meth because it let them forget about the pain and trauma that led to their homelessness.
"That's hard to watch someone who's struggling so hard in life that they destroy themselves. They don't want to feel it anymore. It's very grim," she said.
Her first Christmas on the streets, she remembered getting on the bus in 4-degree weather, wearing flip-flops, a tank top and sweatpants. An older woman noticed her.
"She gave me a coat and told me I shouldn't give up, that it was just beginning. That was the first kindness anyone had shown me that year," DeAugustino said, tearing up again.
Finding a way out
DeAugustino eventually went to Spokane Neighborhood Action Partners, she said, after a friend tricked her by saying they were going somewhere else. She missed her first appointments with her caseworker and sat outside the office trying to decide if she should go in.
"I kept chickening out," she said. It was hard to accept help after three years of hearing no, and she thought other people were more deserving. But in April, she met Poe and started working to find an apartment.
Poe said the hardest part of housing homeless young people is convincing landlords to take a chance on them, since they often have no rental history and no income. Her SNAP colleague, Amanda Seybert, said she often feels like a used car salesman.
Though Poe's title is "housing specialist," she wears many hats and often feels more like a surrogate parent who has to instruct her clients on everything from GED programs to basic cooking. At her appointment with DeAugustino, Poe walked her through forms for her ongoing rental subsidy.
SNAP has so far housed 14 young people as part of the challenge. The agency created a new assessment designed specifically for young adults after finding the typical form wasn't adequately capturing how vulnerable some homeless youth were.
The point isn't to house 100 young people in a blitz and call it a day on July 29 when 100 days are up, A Way Home Washington director Theofelis said. The organization hopes the challenge will be a starting point to help better identify strategies for housing young people while bringing awareness to the challenges they face.
"Our hope is we're going to be able to push forward from day 101 to 365 and beyond, implementing what we've learned," said Tija Danzig, the city's homeless program services manager. One big gap they've identified is the lack of a shelter for young people over 18 who don't feel safe mixing with older adults at places like the House of Charity.
To get results, the challenge consulted with people in the trenches: social workers and homeless youth who well know the challenges they face. Teams from all three counties met in Seattle for a kickoff.
James Payne, a 24-year-old who got a transitional housing apartment after living in a van with his parents for two years, is part of the advisory team for the challenge. Payne works for Volunteers of America doing homeless youth outreach and was asked to be part of the group implementing the challenge because he knows what it's like.
When young people face barriers, Payne said, " We're trying to pave the way to break down those barriers." A big part of that is coordinating among different service providers and making sure young people know what's out there.
One of Payne's suggestions was making a booklet of youth-specific resources to hand out at Cup of Cool Water and Blessings Under the Bridge, both places frequented by homeless youth.
Payne himself is hoping to move out of transitional housing and into a permanent apartment soon.
The road home
DeAugustino made her first step toward shelter over Memorial Day weekend. SNAP workers discovered they had funding that could be used to buy motel rooms and wanted to keep their most vulnerable clients off the streets during the holiday.
Poe told DeAugustino to come to her appointment that Friday and bring her stuff.
"When they gave me a hotel room to sleep in instead of the park, I cried for a good hour. My own family won't even help me and strangers are treating me like family," DeAugustino said.
A social worker drove her to the motel.
"My understanding was there was a bit of a dance party in the car on the way up," Poe said, teasing.
DeAugustino would spend nearly a week at the motel before going back out on the streets. Soon after, Poe found an apartment, and DeAugustino's application was accepted.
Sleeping through the night is difficult for her after years of being vigilant on the street, she said. When she does get to sleep, the neighbor's yapping dogs sometimes wake her up. Poe suggested trying to buy a fan to mask the noise.
She's working on a GED and would eventually like to go to art school, though for now she paints with acrylics when she can afford them. Her bookshelf is small, but a source of joy. Edgar Allan Poe is her favorite author, but she'll read anything, she said.
Her focus is getting mental health treatment at Frontier Behavioral Health. She wants to work, but struggles with anxiety and other symptoms that make it hard for her to interview. With enough care and practice, she hopes to change that.
She's still adjusting to having her own space, but calls her modest apartment a "light at the end of the tunnel."
"It's so serene to know that I can lock a door. That this is mine," she said.
---