News > Spokane
McMorris Rodgers, Murray critical of VA for keeping Dwayne Thurman on job after manslaughter charge
July 18, 2017 Updated Tue., July 18, 2017 at 10:46 p.m.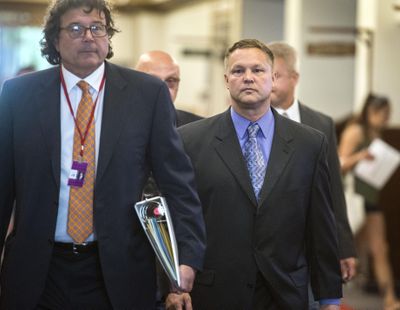 Two of Spokane's congressional leaders said Tuesday that they are critical of the decision by the Department of Veterans Affairs to continue to keep Dwayne Thurman on the payroll despite his being formally charged last week with first-degree manslaughter in the death of his wife.
Rep. Cathy McMorris Rodgers and Sen. Patty Murray both responded to inquiries by The Spokesman-Review following revelations that the VA continues to employ Dwayne Thurman at the VA Homeless Outreach Center, located in downtown Spokane.
"If someone is formally charged with a violent crime, that person should at a minimum be placed on administrative leave until the legal matter is resolved," McMorris Rodgers said in an emailed statement. "Failure to do so means placing our nation's heroes in the hands of someone potentially guilty of a terrible and heartbreaking act."
Murray would not comment about the specifics of the case, but also expressed concern for the Thurman's employment situation.
"I would certainly have concerns if the VA were inappropriately keeping employees on staff or doing anything that could threaten the health or security of our veterans," Murray said. "The first priority of the VA must always be meeting the needs of the men and women who have served our country and deserve our support. I am going to keep pushing them to make sure that principle guides their decision-making at every level, from quality of care to personnel decisions and more."
Thurman, a former Lincoln County reserve deputy, pleaded not guilty last week and Superior Court Judge Annette Plese agreed with a recommendation from Deputy Spokane County Prosecutor John Love to allow Thurman to remain free without a bond pending his upcoming trial for first-degree manslaughter.
Thurman, who turns 44 on Thursday, shot his wife, Brenda Thurman, on Jan. 18, 2016, in their Spokane Valley home. Dwayne Thurman told investigators that he was trying to clean his wife's gun, which he gave her months before as a gift, when it fired and struck her in the chest.
Thurman said the couple, which he claimed were both having extramarital affairs, took the gun on Jan. 17, 2016, to a gun range and said Brenda Thurman's semi-automatic Glock .380 pistol was not functioning properly.
However, tests conducted some 16 months after the shooting by the Washington State Patrol Crime Laboratory found that the gun was working correctly, according to court records.
As part of his release conditions, Thurman was ordered to not possess any firearms. His defense attorney, Carl Oreskovich, said those guns were removed from Thurman's home prior to his court appearance last week.
As for his client's continued employment at the VA, Oreskovich said it is an "entirely appropriate decision.
"He works in the veteran outreach center for homeless veterans, does a good job and people shouldn't be terminated simply on the basis of accusations," Oreskovich said.
Brenda Thurman, 43, also was working for the VA as a counselor at the time she was shot. Her children, Michael Thurman and Gabrielle Corriette, have filed a wrongful death civil suit against Dwayne Thurman in a legal attempt to keep him from profiting from Brenda Thurman's death.
McMorris Rodgers said the nation's veterans "deserve to have the red carpet rolled out for them.
"We've seen stories like this popping up across the country, where employees at the VA who are involved in misconduct or crimes are not fired, or even worse are given a raise or promotion," she said.
That's why McMorris Rodgers said she supported legislation earlier this summer "to give the VA Secretary the ability to hold bad actors accountable."
Bret Bowers, spokesman at Mann Grandstaff VA Medical Center, confirmed last week that Dwayne Thurman remains employed even after he was charged in the case.
Asked about his job title, how many years he's worked for the VA and his current salary, Bowers responded: "I am not authorized to make any additional comment on this employee related issue."
Private investigator Ted Pulver, who was hired to gather information for the civil suit, also questioned the VA's decision to keep Thurman on the payroll.
"He's going to have to, more than likely, shell out a helluva lot of money. I guess the more money he gets paid the better, from one aspect," Pulver said. "It's just another example of the bureaucracy and how some people get easygoing jobs and continue to keep them."
On Tuesday, Oreskovich, as he has in the past, called the shooting of Brenda Thurman a "tragic accident.
"The tragedy would be further worsened by terminating him from his employment," he said.
Local journalism is essential.
Give directly to The Spokesman-Review's Northwest Passages community forums series -- which helps to offset the costs of several reporter and editor positions at the newspaper -- by using the easy options below. Gifts processed in this system are not tax deductible, but are predominately used to help meet the local financial requirements needed to receive national matching-grant funds.
Subscribe now to get breaking news alerts in your email inbox
Get breaking news delivered to your inbox as it happens.
---