News > Spokane
Avista selling to Canadian firm Hydro One for $5.3 billion
UPDATED: Thu., July 20, 2017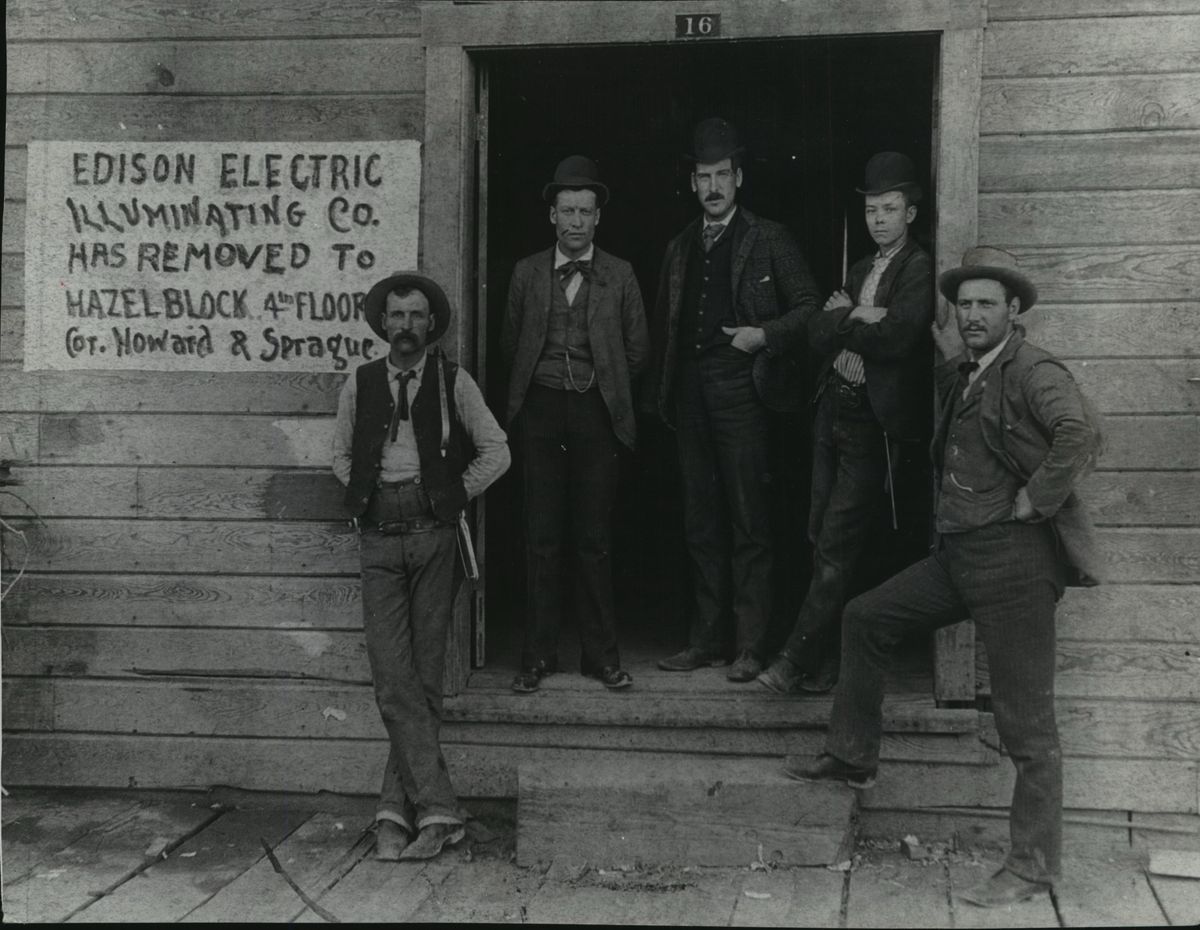 Here is how the electric business of Spokane looked in 1888, when it was known as the Edison Electric Illuminating Company. It was the third company to serve the city and passed out the next year when Washington Water Power took over. (PHOTO ARCHIVE / SR)
Spokane's homegrown utility, Avista Corp., is being sold for $5.3 billion to a Canadian company.
The sale to Hydro One Ltd., described as a friendly acquisition, is expected to be finalized next year. The deal creates one of North America's largest regulated utilities, but will allow Avista to remain headquartered in Spokane, operating as a subsidiary of Hydro One.
"It preserves our identity and helps us continue to chart our own course in a rapidly consolidating utility industry," said Scott Morris, chairman of Avista, which was founded in 1889 when Washington was still a territory.
Avista's electric and natural gas customers in Washington, Idaho, Oregon and Alaska will see little difference after the sale, which is expected to close in the third quarter of 2018, said Morris, who will keep his job as company chairman.
No layoffs are expected as a result of the sale.
Regulators and shareholders must approve the all-cash deal, which includes the assumption of Avista's $1.9 billion debt.
The sale will not affect Avista's pending request for a three-year rate increase in Washington. However, the merger of the two companies should help keep rates competitive in the long term, Morris said.
Avista has about 700,000 customers. After the sale, the combined company will have about 2 million. Both utilities are heavily investing in infrastructure and technology and will benefit from economies of scale, Morris said.
"We can spread out our costs over a larger customer base," Morris said
Hydro One is Ontario's largest electric utility and power transmission company. The Toronto Stock Exchange-traded company is heavily invested in renewable energy, including hydro, wind and solar. It also has nuclear energy in its portfolio. Ontario officially phased out the burning of coal for electric generation several years ago, said Mayo Schmidt, Hydro One's president and chief executive.
Hydro One's assets were once owned by the province but were spun off into a publicly traded company in 2015. The Government of Ontario is the largest minority shareholder, with 49 percent of Hydro One's stock.
Both companies have similar philosophies in terms of meeting their customers' needs and investing heavily in the communities where they operate through charitable giving, executives said.
The purchase of Avista also gives Hydro One a toehold in the United States, Schmidt said.
"We think there are opportunities under (Scott Morris') leadership to grow in other areas of the U.S.," Schmidt said.
The Spokesman-Review
Avista is Spokane's largest publicly traded company, with annual sales of more than $1.4 billion. The utility began as Washington Water Power Co., using the Spokane Falls to generate electricity. In 1999, it changed its name to Avista.
The company owns dams on the Spokane and Clark Fork rivers that generate about half of the electricity it supplies to customers. Avista also owns an Alaska utility, a biomass plant, natural gas-fired turbines and a share of a coal-generating plant in Colstrip, Montana. A subsidiary, Avista Development, has real estate holdings. The company has launched several spin off firms, of which Liberty Lake-based Itron is probably the best known.
About 1,700 people work for Avista. Each year, the company is responsible for about $2 million in philanthropic giving in the communities it serves, and many local investors have Avista stock in their portfolios. Utility stocks traditionally have been considered a stable investment for retirees.
Despite its large presence in the Spokane area, Avista is relatively small for a publicly traded utility. It ranks 46th out of 50 publicly traded utilities in the U.S.
"They are just at a size where they'll be challenged to survive in a consolidating utility industry," said Craig Hart, president and chief investment officer for Hart Capital in Spokane. "There are efficiencies of scale in every business. This is a business where scale helps."
Morris said talks between Avista and Hydro One started earlier this year.
After the sale was announced, Avista's stock rose 19 percent to $51.50 per share in after hours trading.
The sale to Hydro One will take care of Avista's shareholders as well as its customers and employees, Morris said. Avista stockholders will receive $53 for each share of company stock.
"We'll go from having many shareholders to having one shareholder – Hydro One," Morris said.
The loss of a flagship local company saddened some Spokane residents.
"I think it's fair to say Avista has been one of our best corporate citizens. I dearly hope that Hydro One will continue that commitment and tradition," said Patrick Jones, executive director of Eastern Washington University's Institute for Public Policy and Economic Analysis.
Avista has provided leadership in the region's business development going back to Expo '74, and for the late 1980s Momentum Project that led the creation of downtown Spokane's Riverpoint Campus, according to Jones.
"Recently, with the creation of the WSU medical school, Scott Morris has been integral to the success of that effort," he said. "The ability for a community to mount a lot of initiatives … depends to a not insignificant degree on the commitment by local business leaders."
That's particularly true of executives at locally headquartered companies, who have the ability to spend time on longer-term projects that may not give an immediate return, Jones said.
Shaun O'L. Higgins, The Spokesman-Review's retired marketing and sales director and a longtime observer of the region's economy, had a similar reaction.
"The immediate reaction when you see a headline that says Avista is sold, particularly when sold to a foreign entity, is one of absolute shock," he said. "I think a lot of people's jaws are dropping all over town."
When a 128-year-old company that has been a stable, profitable part of the Spokane economy is no longer locally owned, "there's a kind of a sense that somehow we're a little less special as a place," Higgins said.
As for local impacts from the sale, it will take years to assess their true magnitude, he said.
"The current management of both companies is likely to change over the next 10 to 20 years. That's where rubber meets the road in terms of whether there are benefits or liabilities to the Spokane community," Higgins said.
At an afternoon news conference, Morris and Schmidt, who participated by phone, said most aspects of Avista's operations would remain the same, though charitable giving will increase.
Hydro One plans to nearly double Avista's community contributions to $4 million annually. In addition, Hydro One will make a $2 million annual contribution to the Avista Foundation.
After the sale, Avista will be governed by a nine-member board that will include members of Avista's senior management team, directors chosen by Hydro One and directors from Avista's current board.
"We believe this is absolutely the right partnership at the right time," Morris said. "It will be business as usual … You can expect the same local control and the same local company that you've had for 128 years."
Staff writers Treva Lind and Nicholas Deshais contributed to this report.
[timeline id=32]
Local journalism is essential.
Give directly to The Spokesman-Review's Northwest Passages community forums series -- which helps to offset the costs of several reporter and editor positions at the newspaper -- by using the easy options below. Gifts processed in this system are not tax deductible, but are predominately used to help meet the local financial requirements needed to receive national matching-grant funds.
Subscribe now to get breaking news alerts in your email inbox
Get breaking news delivered to your inbox as it happens.
---