News > Crime/Public Safety
Home invader chased off by 17-year-old girl with handgun
July 19, 2017 Updated Wed., July 19, 2017 at 11:08 p.m.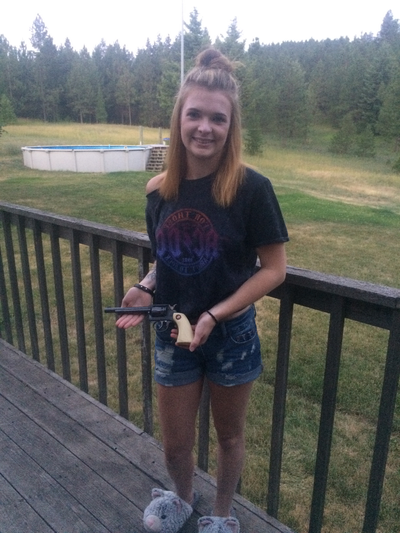 Kimber Wood was lying in bed almost asleep Monday morning, with the TV on low-volume in the background, a handgun lying on the pillow next to her, when a faint sound reached her ears.
She heard the living room screen door swing open, hardly unfamiliar in a house where both cat and dog had learned to open the latch, she said in an interview Tuesday. But then she heard the door close. That trick, she said, her pets had not yet learned, and Wood knew something was wrong.
There had been warnings, she said. Her boyfriend, who lives in her family's home in a rural neighborhood in the Wandermere area, had called Wood's mother to let her know that he saw several police cars in the neighborhood on his way to work. Wood's mother, Tina, passed a similar message on to Kimber and her father, Lenny. That's when the family decided the 17-year-old should have her father's gun, a .22-caliber Ruger revolver, with her while home alone.
Hasitly, Wood grabbed her dad's gun and hid behind her vanity, to the side of her bedroom door, she said. She called her dad and whispered, "Please tell me you're messing with me or something."
He wasn't. He was at work, he said. What was wrong?
Wood told him that there was an intruder in the house. Her father put his cell phone to his left ear and called emergency dispatchers with his work headset in his right ear. As he did so, Wood listened to what sounded to be a man going upstairs and then coming back down. He even went to the basement, she said, where her friendly boxer-mix, Max, was sleeping.
"It's clear" she said she heard him say when he got back to the main level, seemingly to himself. She said she listened as the intruder left the house briefly, then returned. She said she believed he had taken his mother's keys from her purse, but that they would have done him no good since his mother had taken her vehicle earlier that morning.
The intruder then re-entered the house, she said, and came toward the one closed door he hadn't checked yet: Wood's room.
The last thing Wood heard her father say was that the police were on their way. When the intruder reached the door, she said, Wood stood up and asked who he was.
He immediately ran, so Wood threw her phone on her bed and chased him with gun in hand, repeatedly asking who he was, she said.
The intruder ran back to the screen door and around the wraparound porch to the back of the house, where he was fenced in by the guardrail on the back deck.
Jumping the rail, he ran through a stand of fruit trees to a metal wire fence, Wood said. Wood was about 15 feet behind the man and fired a shot at the space between them moments before he hopped over the fence.
Over the next few days, as Wood's story proliferated through social media, some commentators speculated that Wood "missed her target." But Wood disagreed, saying it was never her intention to kill the alleged intruder. She described the shot as a warning to scare him away.
"I refused to be a victim," she said.
Wood stopped at the fence and watched him run toward the garage on her family's expansive property, she said. She'd later discover that he appeared to have stolen her boyfriend's four-wheeler, which had the keys in the ignition.
Wood went inside and got back on the phone with her dad. He was still on the line and had heard the gunshot and the chase, she said, as Wood's bedroom window was open and right next to the back deck.
Lenny Wood said he felt "sheer panic and a lack of control" while everything was happening. He didn't know if the gunshot he heard came from Wood or the man.
He was glad he had taught Wood how to use a gun, starting at the age of 6, and he said he thinks all parents should teach their children how to use firearms.
A Spokane County Sheriff's deputy arrived shortly thereafter to make sure Wood was OK and took off to pursue the intruder. More officers arrived after him, cleared the area and spoke with Wood.
Leading up to the home invasion, deputies had been chasing someone driving a stolen car, according to a news release sent out by the Spokane County Sheriff's Office. The man was speeding and driving recklessly between two lanes as police chased him with their emergency lights on, Sheriff's office spokesman Mark Gregory said.
The man ditched the car in a field and ran on foot to Wood's house, according to deputies, where he broke in, was chased off and stole the ATV.
The man has not been located and an investigation is ongoing, deputies said.
Local journalism is essential.
Give directly to The Spokesman-Review's Northwest Passages community forums series -- which helps to offset the costs of several reporter and editor positions at the newspaper -- by using the easy options below. Gifts processed in this system are not tax deductible, but are predominately used to help meet the local financial requirements needed to receive national matching-grant funds.
Subscribe now to get breaking news alerts in your email inbox
Get breaking news delivered to your inbox as it happens.
---