Idaho Rep. Labrador stops paying wife salary from campaign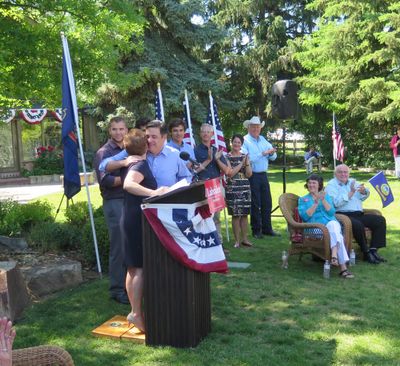 After keeping her on the campaign payroll since his first term in Congress, Idaho 1st District GOP Rep. Raul Labrador stopped paying his wife, Becca, a $2,022 monthly salary on Jan. 1.
Labrador's campaign confirmed Wednesday that Becca Labrador is no longer being paid to keep the campaign's books, and when asked whether she's now being paid by Labrador's new campaign for governor of Idaho, campaign manager China Gum said, "Mrs. Labrador is not paid by either campaign."
Paying a spouse or other close relative with campaign funds isn't illegal, but it is controversial. Labrador has long defended the practice, saying his wife is the "the first one I trust the most in the world." He's also said he once had an employee steal from his law practice, so he's "more than careful."
"It's almost like a Trump thing," said Jasper LiCalizi, a political scientist at the College of Idaho. "It's not illegal. It looks bad, but it's not illegal. Hey, you're allowed to do this – it just doesn't look right."
A USA Today analysis in 2013 found only 32 members of Congress paying salaries to close relatives, including spouses and children, from their campaign funds. In 2007, the U.S. House voted to ban campaign payments to spouses, but the measure died in the Senate.
Labrador this week offered no explanation for the change, which was reported in campaign finance reports filed with the Federal Election Commission. His congressional campaign's last payments to Becca Labrador were $2,022 on Jan. 2, for the November 2016 payroll, and $2,022 on Jan. 18, for the December 2016 payroll. She's received no payments since.
Labrador's latest campaign finance report also shows that he paid $12,000 of his own money to the campaign to purchase a campaign vehicle, a 2013 Ford Taurus, on which the campaign previously had been making monthly payments. "The Labradors purchased the campaign car from the campaign at fair market value," Gum said in an emailed statement.
Both his wife's salary and having "two paid cars" because of his position – one owned by the campaign, and another leased by his congressional office, as permitted by congressional rules – drew criticism from Labrador's Democratic challenger in the last election, James Piotrowski. Labrador defended the practices at the time.
In 2016, Labrador was one of 59 of the 435 members of Congress to lease a vehicle, a 2014 Ford Explorer, with public funds for official use in his district. 2ndDistrict Rep. Mike Simpson also leased a vehicle, but didn't have an additional campaign vehicle.
LiCalzi said Labrador may be clearing away potential issues for his opponents to bring up in what's expected to be a highly competitive governor's race in 2018 – in which Labrador already faces two other high-profile GOP rivals, Lt. Gov. Brad Little and Boise developer and physician Tommy Ahlquist.
Labrador hasn't faced strong election challenges since he was first elected to Congress. He defeated his Democratic opponents in each of the last three elections by increasing margins of 63 percent, 65 percent and 68 percent, running in the heavily GOP 1st Congressional District.
"Those attacks would have more of an effect in a closer race," LiCalzi said. "You have a lot more latitude when you're only running against a Democrat in the 1st Congressional District. Now he's got two big-name, well-financed Republicans in a gubernatorial race, and every little thing could count."
"It sounds like he's trying to clear the decks of some of the issues that have been brought up in the past, take some of the ammunition away from the other two," LiCalzi said. "I think it's pretty smart on his part."
Labrador began paying his wife a monthly salary from the campaign in May 2011, when he was a newly elected freshman congressman. His campaign said then that she worked from home part-time, averaging about 20 hours per week, keeping the campaign's books. Particularly in non-election years, she's often been the campaign's only employee; Labrador said his campaign was "frugal."
---