News > Spokane
Weathercatch: Wet spring produces bountiful fuel source for wildfires
Wed., July 19, 2017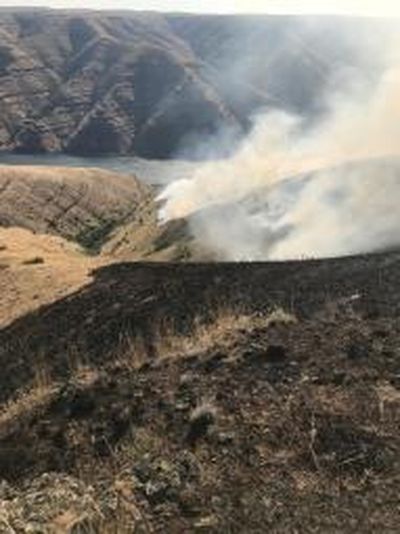 Remember all the rain that fell in March and April? One would think a heavy drench would quell this summer's wildfire danger.
Not so. Instead, spring's precipitation ramped up the risk by producing a bumper crop of grass, sage and other shrubs east of the Cascade Range.
On top of that, many areas in the Inland Northwest haven't seen measurable rainfall since June 15. What's more, July's overall temperature is running 6.2 degrees above normal.
At more than a month without rain – combined with occasional searing heat, gusty winds and low humidity – we've got dense, combustible vegetation blanketing fields, hills and mountainsides.
"There's a lot of fuel out there, and it's ready to burn," Lonnie Click, incident manager for a wildfire near Yakima, told the Seattle Times on June 28. Grasses were as high as 4 feet, he said.
Last weekend another weather-related factor whipped up the hazard: lightning.
The scattered lightning that moved across much of Eastern Washington ignited dry grassland east of Pomeroy early Saturday morning. Called the Snake River Fire, winds quickly spread flames downhill, creating the largest blaze that's currently being fought in Washington state.
The Department of Natural Resources is urging people to be cautious when recreating outdoors.
Even though vegetation typically dries out during summer, this year's shift between wet and dry has been more dramatic than usual.
As for the second half of summer? Firefighters will probably be busy. Weather conditions are expected to be warmer and drier than normal, with periodic breeziness.
Nic Loyd is a meteorologist with Washington State University's AgWeatherNet. Linda Weiford is a WSU news writer and weather geek. Contact: linda.weiford@wsu.edu or nicholas.loyd@wsu.edu.
Local journalism is essential.
Give directly to The Spokesman-Review's Northwest Passages community forums series -- which helps to offset the costs of several reporter and editor positions at the newspaper -- by using the easy options below. Gifts processed in this system are not tax deductible, but are predominately used to help meet the local financial requirements needed to receive national matching-grant funds.
Subscribe now to get breaking news alerts in your email inbox
Get breaking news delivered to your inbox as it happens.
---