News > Pacific NW
Downward goat? Montana yoga class incorporates farm animal into experience
UPDATED: Sun., July 23, 2017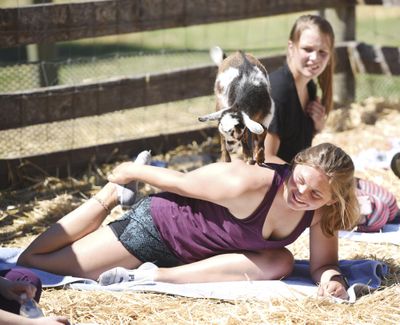 KALISPELL – Robin Goldberg, a placid, soft-spoken yoga instructor from Whitefish, sets down a towel and places a small piece of paper at the head of it.
On it is her plan for today's class; a series of poses, movement sequences and breathing exercises designed to reinvigorate weary souls on a warm, sunny Sunday morning.
Then, as happens often here, a goat starts nibbling on her plan.
It's OK, though, because while everyone here has paid for something called goat yoga, most stopped reading after the first word.
As the goat is shooed away from Goldberg's mat – it's a temporary fix, the goats are far from finished messing with the plan – a bubbly, smiling brunette attempts to grab the attention of the 15 people, mostly women, seated on towels in her yard.
"If you're not getting enough goat loving," Valerie Kneeland says. "Let me know."
"And if you're getting too much goat loving," she adds. "Let me know."
"And if you don't have a goat on your back," she finishes. "Let me know."
Kneeland and her goats, they have consumed the plan.
Here is the new plan:
-Place baby goats on human backs when bent forward. The goats will start chewing on long hair. No one will mind.
-Drop baby goats, without warning, on the head and shoulders of an upright human. There will be much giggling.
-Set a baby goat on Goldberg's stomach as she folds herself backward, her hands and feet the four legs of a table. She will hold the pose longer than she normally would because, today, there is an adorable baby goat standing on top of her contorted human table.
-At some point, just forget the whole yoga thing. A few people will continue the practice but most will just sit there snuggling the eight or so baby goats roaming the fenced-in pen because they're just too darn cute. Goldberg won't mind.
-Say goodbye to the students, and the teacher, at the end of the hour. Notice how they can't stop smiling.
Goat yoga is sweeping the nation. Seriously.
From sea to shining sea, people are paying good money to squeeze into sold-out classes; to do a vinyasa with rambunctious, smiling kids – the goat kind, not the people ones.
The owners of the website www.goatyoga.net claim to host the "original goat yoga" and offer classes at a few locations in Oregon, including a goat yoga and wine tasting evening for a cool $75. The website also sells goat yoga T-shirts, goat yoga jewelry, goat yoga hats, goat yoga lip balm, goat yoga yoga pants, and, for good measure, goat yoga body butter.
Kneeland's goat yoga is not for her own profit, in fact it's only out of convenience and trendiness that she decided to dive into goat yoga in the first place. She lives on a small hobby farm in northeast Kalispell, one that already has goats, along with sheep, chickens, pigs and more, and the classes are held there. Or were held there. Her last class of the year was in late June because "the goats won't be babies anymore."
And the whole point of goat yoga, the whole reason she asked for $25 per person and held two classes every Sunday in the late spring and early summer, was to raise money for a nonprofit called Powdered Soul, whose mission is to fund young ski racers' equipment, training and travel expenses.
Kneeland, however, doesn't really tend toward the straightforward approach (see: goat yoga) and put her own distinctive spin on raising and distributing money. In simple terms, Kneeland saw a problem with the ways kids raised money in other organizations like, for example, the Scouts.
"We all used to take our own Girl Scout cookie flyers or Boy Scout blue and gold, and we used to all do that (ourselves)," she said. "Now, and I'm sure you get this in the office, people bring it around there this code, like 'listen, I bought some sausage last time; buy some cookies."
"And the kids have no part of that, they have no ownership in it, they have no concept of what it really takes for a family to afford things. They don't appreciate how much that one (sports) practice costs or what goes into getting them that, and they're coming away with such a lack of basic skills that they should all have."
To remedy this, Kneeland in February became involved in Powdered Soul and upended the quid pro quo cookies-for-sausage racket. First, she finds other area nonprofits in need of volunteer help which, it turns out, is almost all of them. Then, she informs her "kiddos" of the opportunities and signs them up for various volunteer shifts, recording their hours. Kids can also earn hours by participating in "random acts of kindness," a program that included painting rocks in Whitefish with inspiring messages, doing lawn care for the elderly and disabled or other Powdered Soul-approved activities.
At the end of the summer, Kneeland will divide up all the hours worked – the 40 participants this year track their hours on actual time cards – and pay out a per-hour wage to the kids, based on how much they worked. The money will come from things like goat yoga, the program's entrepreneurial program and farmers market, and corporate and individual donors.
"I can't guarantee anyone what their per hour amount's going to be," Kneeland said. "What I can tell them is 'the more dedicated they are, they harder they work, the more money they're going to make.'"
Kneeland has big plans for the future of Powdered Soul, including expanding to invite kids looking to raise money for other athletic and non-athletic programs, not just alpine programs. She's also planning a "random acts of kindness week" for later this year.
But back to the new plan which, it appears, is working brilliantly.
"It was so cute, oh my gosh," smiling teenage goat yoga student Asia Collier says. "I felt like it helped with my balance a lot actually . when you're in a plank, nothing inspires you more to stay in plank than having a goat on your back, so I was kind of pushing it."
Collier is here with her mother, Kim, and her friend, Grace Cady. The three women are almost giddy in the minutes after the class has ended.
"I'm not a huge animal person," Cady says. "But I'd definitely do this again. I want to buy a goat now."
Even the instructor, Goldberg, who describes herself as a "yoga purist," is struggling to answer questions without laughing first.
"There's yoga for everyone," she says. "And whatever brings people in I think it's a healthy thing and then hopefully, at some point, they can benefit more from the peace and tranquility that yoga brings them.
"So whatever brings you to your mat, more power to you."
"A lot of times when you walk into yoga classes everything is very strict and everything is supposed to be super organized," Cady adds. "And I just felt like this wasn't like that at all.
"It was less about finding your inner chi and more like finding your inner joy."
Local journalism is essential.
Give directly to The Spokesman-Review's Northwest Passages community forums series -- which helps to offset the costs of several reporter and editor positions at the newspaper -- by using the easy options below. Gifts processed in this system are not tax deductible, but are predominately used to help meet the local financial requirements needed to receive national matching-grant funds.
Subscribe to the Coronavirus newsletter
Get the day's latest Coronavirus news delivered to your inbox by subscribing to our newsletter.
---
Subscribe and log in to the Spokesman-Review to read and comment on this story