News > Spokane
City officials, volunteers clear out remnants of homeless encampment below Kendall Yards
July 26, 2017 Updated Wed., July 26, 2017 at 10:13 p.m.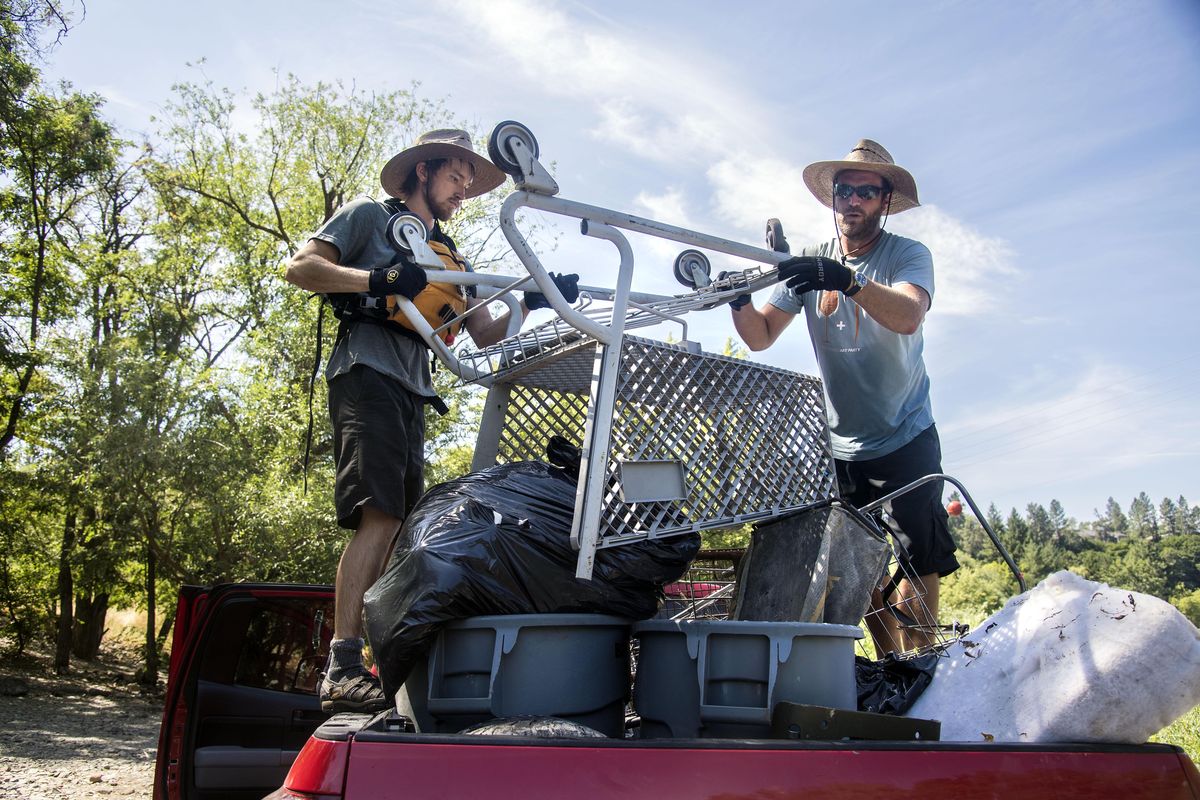 Bernt Goodson, left, and Jule Schultz, of the Spokane Riverkeeper, secure a load of trash, including a shopping cart, lawn mower bag and foam bedding, taken from a homeless camp, July 26 2017, on the Spokane River below Kendall Yards. The City of Spokane Parks and Recreation Department hauled up most of the garbage totaling an estimated 2000 pounds, while the Riverkeeper crew floated on a raft about 500 pounds to a takeout spot on the rivers south bank. (Dan Pelle / The Spokesman-Review)Buy a print of this photo
A homeless camp was cleaned out Wednesday – its residents long gone – with piles of trash and personal belongings hauled away.
The camp's inhabitants, which city officials estimate had been occupying an area below the Kendall Yards neighborhood for several weeks, were evicted on July 20 after Spokane's code enforcement was tipped to their whereabouts.
Brian Coddington, spokesman for the city of Spokane, said the only complaint that code enforcement received about the homeless camp came from KHQ, which jump-started the city's cleanup process.
On Wednesday morning, all that was left to do was to haul out piles of debris left behind. Using a tractor and pulley system, several city Parks and Recreation employees filled up a trolley with mounds of trash and slowly dragged it up the hill, discarding the large black bags of plastic in a city dump truck.
All in all, Coddington estimated about a ton of garbage was collected from the camp.
"Which is quite a lot for a camp that has been here for several weeks," he said.
The goal when clearing camps, Coddington said, is to get those evicted into treatment or temporary housing, rather than allowing them to move onto another stretch of Spokane's streets without assistance. These residents opted not to pursue housing, Coddington said, which is their prerogative.
"We obviously want to make contact with them and get them into housing," he said. "But they don't have to, which is why it's extremely difficult to keep them from setting up these camps."
Debbie and Herb Rotchford, who were enjoying a cup of coffee and a pastry on the front patio of Paper and Cup coffeehouse a few yards from the city workers, said they were unaware the camp existed.
While they don't live in Kendall Yards, they said it's a tough balancing act code enforcement walks when weighing the safety of the community around the camp with the safety of those living in it.
"When you talk about trying to ensure we have a healthy community, think about what that means," Herb Rotchford said. "That means for everybody."
Also there to help clean out the camp were Jule Schultz and Bernt Goodson, a pair of river enthusiasts at Spokane Riverkeeper, a nonprofit that contracts with the city to regularly clean up the Spokane River. Using their inflatable raft, the two ferried about 400 pounds of trash, they estimate, from the camp to Peaceful Valley, where they proceeded to haul it to an area dump.
Schultz said the nonprofit has extracted a few thousand pounds of trash this year – much higher than their average. On Wednesday, some of the items they cleaned out included a piece of an old military backpack and a pair of rusted shopping carts.
"We keep some of the stuff, but a lot of it you wouldn't want to keep," Schultz said.
Local journalism is essential.
Give directly to The Spokesman-Review's Northwest Passages community forums series -- which helps to offset the costs of several reporter and editor positions at the newspaper -- by using the easy options below. Gifts processed in this system are not tax deductible, but are predominately used to help meet the local financial requirements needed to receive national matching-grant funds.
Subscribe now to get breaking news alerts in your email inbox
Get breaking news delivered to your inbox as it happens.
---